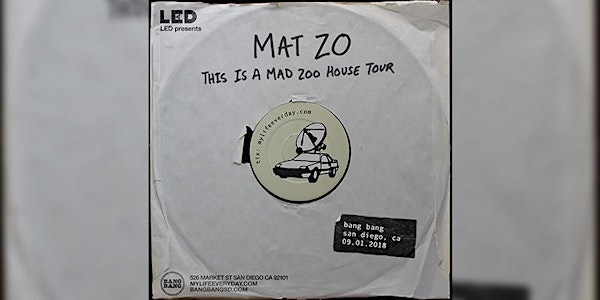 MAT ZO
MAT ZO AT BANG BANG
When and where
Location
Bang Bang 526 Market St San Diego, CA 92101
About this event
LED presents...
Mat Zo
Born in London, England in 1990, Grammy-nominated electronic producer Mat Zo (Matan Zohar) is the son of painter Israel Zohar and violinist Wendy Caron Zohar, and brother of singer Alma Zohar. Surrounded by a talented and musically-inclined family, the young Zohar first picked up a musical instrument at the age of eight after his father gave him a guitar as a birthday present. He lived in Cleveland, Ohio up until the age of 11, at which point Zohar returned to London and further explored his musical interests by forming bands and playing drums and bass. In his mid-teens, however, his attention shifted toward electronic dance music, with acts such as Chemical Brothers and Daft Punk providing a significant influence. Zohar began DJ'ing around London and soon progressed to producing his own material.
Creating catchy trance and progressive house, he released his first single "Exodus" on a:LOUD Recordings at the age of 16. Soon enough, his productions captured the attention of established scene DJs such as Airwave, Andy Moor, and Markus Schultz, who would play his tracks throughout the latter 2000s. It was during this same period that major trance producers Above & Beyond and Lange were praising his talents, and Zohar continued to issue remixes and 12" releases. When not producing euphoric trance, Zohar recorded drum'n'bass under the pseudonym MRSA on Hospital Records.
Damage Control He soon found a home on the dance label Anjunabeats and issued several solo ventures and mixes. He saw his stock rise further when the collaborative track with Porter Robinson called "Go Easy" topped the Beatport Charts in 2012. That track would appear on his debut LP, which arrived in 2013, topping the Billboard Heatseekers chart. Damage Control went on to receive a Grammy nomination for Best Dance/Electronic Album and featured appearances by Public Enemy's Chuck D and singer Rachel Collier. Zohar returned three years later with Self Assemble -- released on his own Mad Zoo label -- which featured I See Monstas and Sinead Egan. The three-song Mad EP followed months later.
- - - - - - - - - - - - - - - - - - - - - - - - - - - - - - - - - - - - - - - - - - - - - - - - -
Bang Bang
www.bangbangsd.com
www.twitter.com/BangBangSD
www.instagram.com/BangBangSD
For bottle service inquiries please contact Zach at (510) 910-1959
- - - - - - - - - - - - - - - - - - - - - - - - - - - - - - - - - - - - - - - - - - - - - - - - -
LED presents
www.myLifeEveryDay.com
www.twitter.com/LEDpresents
www.instagram.com/LEDpresents