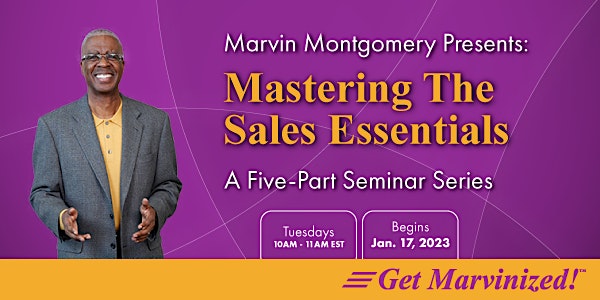 Mastering the Sales Essentials Training Series
In this 5-part series, you'll learn proven habits and techniques to help boost your sales.
When and where
Date and time
Tuesday, January 17 · 7 - 8am PST
Refund Policy
Contact the organizer to request a refund.
Eventbrite's fee is nonrefundable.
About this event
Lately, does it seem nearly impossible to close a sale? Do you keep getting 'ghosted' by leads? Are you struggling to overcome objections? Or, are you losing out to the competition because of price?
The sales landscape is becoming more and more complex.
While much has changed, one thing remains the same: the need to master the sales essentials.
Whether you're a newbie, a seasoned sales professional or a business leader, it's been proven that you can change your habits for the better and boost your sales. It's not too late!
You'll learn how at my Mastering the Sales Essentials Training Series.
Session Dates:
Session 1: January 17
Session 2: January 24
Session 3: January 31
Session 4: February 7
Session 5: February 14
Session Times:
10:00 A.M. - 11:00 A.M. EST
Location:
Successful salespeople and business development professionals have benefited from applying my proven sales methods. And you can too!
Price:
General Admission: $350 Per Company
At This Popular Series, You'll Learn How To:
Become a Trusted Advisor
Determine Whether You Have a Suspect or a Prospect
Learn How to Do a Thorough Assessment and NOT an Information Dump
Sell Value Not Price
Overcome Customer Resistance
Effectively Close for Commitment
What You'll Get From the Series:
A Personal Action Plan After Each Session
An Increase in Sales Productivity
Larger Referral Base
Stronger Customer Relationships
Sense of Professionalism
A Certificate of Completion
Added BONUS:
Your investment includes 30-day follow-up session to discuss accountability, your progress and any questions you may have
100% personalized access to Marvin during and after the training series
Join the thousands of professionals from across the nation who've benefited from my 30+ years of experience boiled down into energizing workshops, seminars, presentations, and books.
Come to this series, and you're guaranteed to learn new skills that will take your sales game to the next level. COME GET MARVINIZED!
About Marvin Montgomery
For more than 30 years, Marvin Montgomery, AKA "The Sales Doctor," has earned widespread national recognition and praise for his informative, practical and stimulating programs that reflect his basic philosophy: "Preparation and practice are the keys to sales success."
Marvin began his career with one of the nation's largest jewelry chains and worked his way up to the director of sales position. In total, he trained more than 1,200 associates in 95 stores during his time with the organization. Since that time, Marvin's captivating presentations have assisted hundreds of organizations to meet or exceed their sales goals using his training programs.
In addition to his training programs, Marvin has given keynote addresses, public workshops and presentations for all industries, professional services, chambers, associations and organizations of all sizes. He is the author of Practice Makes Perfect: The Professional's Guide to Sales Success as well as the soon to be released book Training Wheels. Learn more at www.marvinmontgomery.com.
Testimonials
"I really enjoyed your series, Mastering the Sales Essentials. Not only it was a great refresher seminar, but it opened my eyes to ask the suspect the important questions I need to find a solution that fits best for their needs and budget. I must always remember not to be afraid, be in control of the sales process, be confident, be kind, and have FUN! I will engage myself better in the conversation with the suspect and think before I speak. I will be more prepared, make myself a trusted advisor, become a better active listener, use the "Pause" more, listen to their pain, and peel the onion to ask more questions about it. I will hold the suspect accountable with a budget to close the sale or not….. then move on and not waste my time. I want to thank you for lifting me up for the upcoming 2021."
Eli D.
"Thank you for Marvinizing me! I certainly appreciated the opportunity to work with you in the Mastering the Sales Essentials Training Series. This was an awesome experience for me. I am looking forward to the follow up conversation we will be sharing. Thanks again, especially for all the information you are able to share with everyone that participates in your numerous training courses. You have certainly been blessed with a talent!"
Ryan R.


About the organizer
For more than 30 years, Marvin Montgomery has earned widespread national recognition and praise for his informative, practical and stimulating programs that reflect his basic philosophy: "Preparation and practice are the keys to sales success."