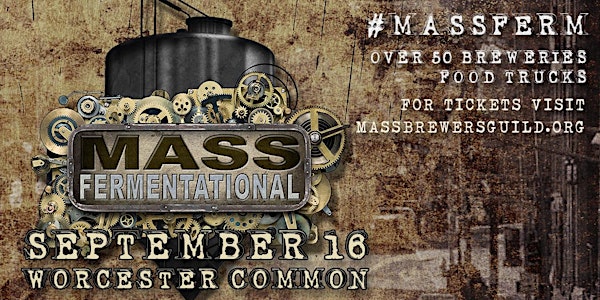 Mass Fermentational
When and where
Location
Worcester City Hall 455 Main Street Worcester, MA 01608
Description
Fresh off the heels of its successful Power Beer Fest, the Massachusetts Brewers Guild announces its second beer festival and fundraiser of the year, the Mass Fermentational - pouring 54 breweries strong.
Breaking tradition from its typical location, The World Trade Center in Boston, the fall festival is changing venues to Worcester Common and expects to draw 2,500 patrons to the green on Saturday, Sept. 16 from 1 to 5 p.m.
Tickets are $45 for General Admission and includes unlimited two-ounce beer samples from participating breweries. Non-drinkers that wish to enjoy the atmosphere and an afternoon with friends -- but are not sampling -- can purchase a Designated Driver ticket for $10. Once inside the festival, patrons can purchase gourmet eats served up by several food trucks onsite; Big T's BBQ, Press'n It, Sabor Latino, StoneFire Wood Pizza Napoletana, Teddy's Lunch Box, Travelin' Bones BBQ and Trolley Dogs.

Participating Breweries: 3 Beards Beer Co., 3cross Brewing Co, Aeronaut Brewing Company, Amherst Brewing, Bad Martha, Barrel House Z, Barreled Souls, Battle Road Brewing Company, Bent Water Brewing, Big Alice Brewing, Big Elm, Bone Up Brewing Company, Boston Beer Works, Brewery Ommegang, Cape Ann Brewing Co, Castle Island Brewing Co., Clown Shoes Beer, Cold Harbor Brewing Company, CraftRoots Brewing, Down The Road Beer Co., Element Brewing & Distilling, Exhibit 'A' Brewing Company, Farmer Willie's, Flying Dreams Brewing Co., Foundation Brewing Co., Greater Good Imperial Brewing, Grey Sail Brewing, Harpoon Brewery, Honest Weight Artisan Beer, Ipswich Ale Brewery, Jack's Abby Craft Lagers, John Harvard's Brewery & Alehouse, Lefty's Brewing Co., Lookout Farm Brewing, Lawson's Finest Liquids, Lord Hobo Brewing Co., Mast Landing Brewing, Mayflower Brewing Co., Medusa Brewing Company, Merrimack Ales, Mighty Squirrel, Moon Hill Brewing Co., Newburyport Brewing Co., Night Shift Brewing, Riverwalk Brewing Co., River Styx, Samuel Adams, Springdale Beer, Start Line Brewing, Switchback Brewing Co., Tree House Brewing Co., True West Brewing Co., Wachusett Brewing Company, Wormtown Brewery and Zero Gravity Craft Brewery.
The Massachusetts Brewers Guild is a nonprofit organization that exists to protect and promote the interests of craft breweries across the Commonwealth. More than fifty breweries are expected to pour at the Mass Fermentational, which will raise funds to create educational and marketing programs for local breweries and support the organization's government affairs work.
Massachusetts Brewers Guild events are organized by craft brewers for craft brewers. To date, more than 122 breweries exist across the state. Breweries employ locals, drive traffic and tourism to the Commonwealth and pour world-class craft beer to thirsty locals and travelers. Massachusetts' breweries are ranked among the best in the world, country and region, with accolades and awards being announced weekly.
**NO REFUNDS, NO EXCEPTIONS. THIS IS A 21+ EVENT, NO EXCEPTIONS. IDs REQUIRED AT THE DOOR. NO DOGS ALLOWED EXCEPT SERVICE ANIMALS. THIS IS A CRAFT BEER INDUSTRY EVENT -- NO CIDER IS SERVED. THIS EVENT IS RAIN OR SHINE**
For questions, or more information, download the MBG's new mobile appilcation "Mass Craft Beer" -- and check out the FAQ page, now available for download in iTunes and Google Play stores.