Description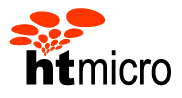 HT Micro is a leading manufacturer of ultra-miniature switches, sensors, and precision components serving both the commercial and military markets. HT operates a state-of-the-art high volume, production fab that specializes in metal-based devices. HT's technology can be found in a variety of applications ranging from the transmission of high-frequency mobile wireless data, to sensing motion without contact, to analyzing g-force signatures.
See the Fab floor and be introduced to the company's fabrication process. There will be two 45-minute tours (2:00 pm & 3:00 pm) on Wednesday, October 25.

Register here for a Manufacturing Day tour and get a behind-the-scenes look at their facility!