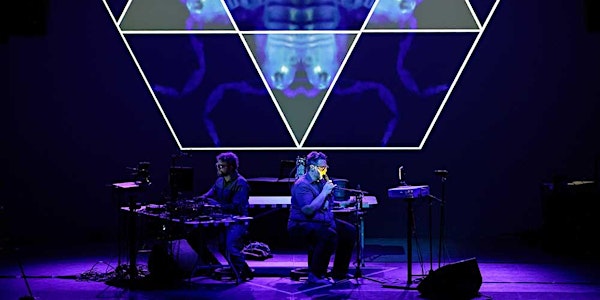 Multiple dates
Mallory Catlett / Restless NYC - DECODER: Nova Express
Mallory Catlett / Restless NYC - DECODER: Nova Express. Created in collaboration with G Lucas Crane, Jim Findlay & Keith Skretch.
By The Chocolate Factory Theater
Date and time
June 24 · 7:30pm - July 9 · 9pm EDT
Location
Chocolate Factory Theater 38-29 24th Street Queens, NY 11101
Refund Policy
Contact the organizer to request a refund.
Eventbrite's fee is nonrefundable.
About this event
DECODER: Nova Express is the third in a trio of multi-media concerts (following Soft Machine and Ticket that Exploded) that explores the language and prophecy of William Burroughs on the merging of body, media, and machine. The concerts reimagine his 1960's Nova Trilogy (each concert named after a novel in the series) known for Burroughs' use of cut-up and his theory of the virus - a biological agent and idea that in the age of the internet and post pandemic is foundational to contemporary life. In this sense, DECODER acts like a time machine that confronts the physical sensation of living today, by traveling back to a point of origin, a time when the political and ideological problems we now face first became unavoidable.
The name, DECODER, comes from the 1984 German cult film inspired by Burroughs' manifesto, "The Electronic Revolution", that explained how to use tape recorders to cause civil unrest. At the center of our performance is that tape recorder, the analog device Burroughs himself used, which is connected to an array of interactive digital technology to create the cut-up machine he predicted. Cassette-tape DJ and sound artist G Lucas Crane and performer Jim Findlay bring this machine to life, acting as both fictional characters and real-time systems operators, decoding the present by cutting in episodes of Burroughs' intergalactic space odyssey. Cutting up sound and image simultaneously, they play a set list of kaleidoscopic dreamscapes, prophetic pronouncements, and surreal routines of colonial fantasies and alien eroticism that expose their complicity in the system that controls them.
DECODER: Nova Express, the third and final concert of the series, is the long play version of all three novels. Its fully realized set, inspired by the two-manned Gemini space capsule, is a small, isolated triangle that continues onto the vertical plane on a rhomboid screen where the visual output the performers generate live is projected. The images used to reflect the intergalactic battle being waged around us, are pulled from internet trash - from viral videos to political speeches. The dizzying alignment of sound and image, language and event, creates a recalibrating affect that seeks to reveal a code in the overload. Like an inoculation against a virus, DECODER seeks to strengthen your resistance to the media oversaturation that often tricks you into accepting injustice as normal, unavoidable, inevitable and escape the prejudices of the mind that keep you from a liberated experience of time and space.
Director: Mallory Catlett. Performer and Set: Jim Findlay. Performer, Sound and Video Manipulation: G Lucas Crane. Video: Keith Skretch. Interaction Design: Ryan Holsopple. Dramaturg: Alex Wermer-Colan. Lighting: Yuki Nakase. Costume Enver Chakartash.
About the organizer
The Chocolate Factory Theater exists to encourage and support artists in their process of inquiry. We engage specifically with a community of artists who challenge themselves and, in doing so, challenge us.  We believe that by supporting the labor of these artists, we contribute to elevating New York City as a thriving and more equitable marketplace of ideas. The Chocolate Factory embraces artistic practice as an integral part of the artist's whole life, an essential component of the life of our community and a key element of a larger national and international artistic dialogue. As such, we host artists as our equal partners with shared autonomy, trust and appreciation. While we seek to make big ideas and extended relationships possible, we commit to working at a small, intimate and personal scale, with few artistic compromises or boundaries. We achieve all of this by creating a vessel for artistic experimentation through a residency package serving the whole artist - salary, space, responsive and flexible support for the development of new work from inspiration to presentation. The Chocolate Factory received an Obie grant in 2009. Its works have received Bessie and Obie Awards and have toured nationally and internationally.