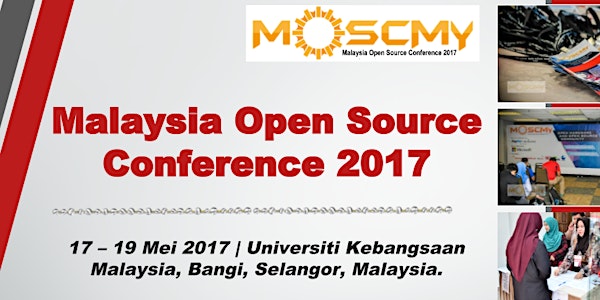 Malaysia Open Source Conference 2017 (MOSC MY 2017)
When and where
Location
Fakulti Teknologi & Sains Maklumat Universiti Kebangsaan Malaysia Bandar Baru Bangi, Selangor 43600 Malaysia
Refund Policy
Contact the organizer to request a refund.
Description
Malaysia Open Source Conference 2017 MOSC MY
Ticket for single day entry is available : RM150
MOSC MY 2017 official website : http://www.mosc.my
or http://lanyrd.com/2017/moscmy2017/
MOSCMY 2017 schedule :-.
Registration by Local Order (government) or payment by cheque, or you could not used PayPal payment gateway. Offilne payment available.
Register yourself by click "Get Tickets" and select you ticket type and Checkout.
Fill in your detail and click "Other Payment Options" and "Send invoice" button at the bottom of the page. We will contact you.
You can email to registration@mosc.my and CC moscmy@gmail.com for more inquiry.
Payment by Malaysian Banks can used this link :-

https://www.ticket2u.com.my/event/9353/malaysia-open-source-conference-2017

Over the years, Malaysia Open Source Conference or MOSC MY have brought together thousands participants, of CEOs and leaders, vendors, consultants, associations and regulators from around Malaysia and the world to address mutual challenges and share information on Open Source Software.
With "Open Source In Financial Services" as the theme for year 2017, we are addressing the main technology focus and trends for most consumers.
MOSCMY 2017 is set to explore the Open Source software and technology at the Enterprise level, and to promote the development of local Open Source solution for Enterprise environment to be use worldwide.
Date : 17-19 May 2017 (Wednesday Till Friday)
Time : 9am till 5pm
Venue : Faculty of Information Science & Technology, Universiti Kebangsaan Malaysia, Bangi, Selangor.
http://lanyrd.com/venues/22722938/vgdky/
http://www.ftsm.ukm.my/location.php

For more information visit www.mosc.my or email to secretariat@mosc.my and email CC to moscmy@gmail.com
The schedule will be updated on http://lanyrd.com/2017/moscmy2017 and http://www.mosc.my
Harisfazillah Jamel
secretariat @ mosc.my
1 Feb 2017
http://blog.harisfazillah.info/
http://lanyrd.com/profile/linuxmalaysia/
Telegram +60196085482

PS. FYI, this event is run by volunteers. As days go by we are rapidly increase momentum. This is the largest "Teh Tarik Session" for open source community in Malaysia.