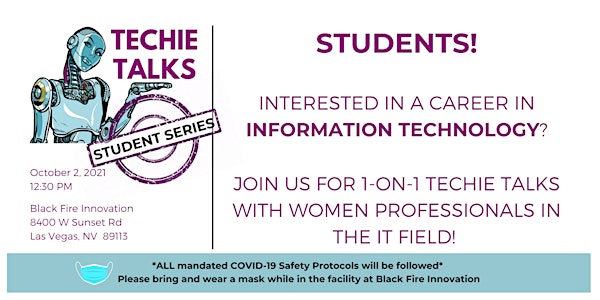 LV Techies Presents: Techie Talks (Student Series)
Young Women! Are you a Student interested in a career in the field of technology?! Join us!
When and where
Location
Black Fire Innovation 8400 West Sunset Road #400 Las Vegas, NV 89113
About this event
This event provides an opportunity for female students in Middle & High School to see all the various possibilities of career and educational pathways into futures in the field of Information Technology.
Come chat 1-on-1 with professional women in a variety of different tech roles, grab some fun swag, get stamps from speakers and enter raffle to win a Microsoft Surface Tablet! Also check out speaker Chelsey Rider and "Your Social Media Profile".
What you see you can be!
For more info on the LV Techie Awards, visit us at http://thelvtechies.com/
*ALL mandated COVID-19 Safety Protocols will be followed *
What is The LV Techies?
The Las Vegas Techies ​bring together the technology community to build a dialogue and spur meaningful action towards creating solutions to increase the number of women in the tech field.
By bringing together the female student population to engage with and learn from the female Information Technology workforce, the groups strives to introduce females students to the variety of career options in the field of technology. All too often the only careers discussed in middle and high school are those in coding and cyber security. While these are incredibly important career paths, the group hopes to expose female students to the vast and diverse educational and career pathways to careers all touching the fields through STEM studies.
By introducing the students to and highlighting and promoting the amazing female work force in technology careers in Las Vegas, these events amplify the impact of women across technology industries and helps to accelerate the growth of the entire sector. The Las Vegas Techies events takes a "what they will see, they will be" mentality showcasing all the various paths women have taken to impact the technology industry.
ALL mandated COVID-19 Safety Protocols will be followed.