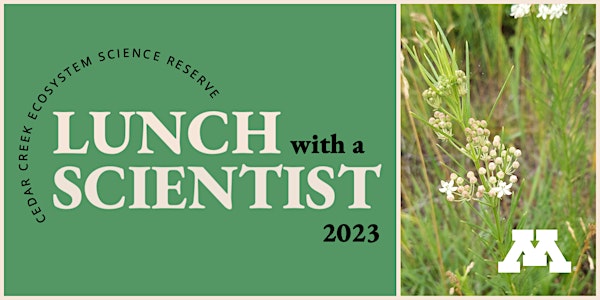 Lunch with a Scientist - Patterns of Ecosystem Change
Free, virtual Lunch with a Scientist Lecture through Cedar Creek. Join us every 2nd Tuesday of the month. Donations welcome - details below.
About this event
1 hour 30 minutes

Mobile eTicket
Join us for Lunch with a Scientist hosted by Cedar Creek Ecosystem Science Reserve. Every second Tuesday of the month, Minnesota-connected scientists will highlight scientific research related to ecosystems. The Lunch with a Scientist program is available in an online webinar format year-round with options to attend in person at Cedar Creek Ecosystem Science Reserve (2660 Fawn Lake Drive, NE; East Bethel, MN) from April - October.
The Lunch with a Scientist Lecture Series is free to the public. Please consider making a suggested donation of $5-10 if you are able to. Donations go toward the Cedar Creek Fund which supports education and community programs at Cedar Creek, including science field trips, public events, and other education initiatives. We are grateful for donations of any amount and they do make a difference. Donating only takes a few moments, and your tax-deductible gift can be done completely online. Make your gift now.
February 2023 Lunch with a Scientist - Online
Change is constant, which is also true of habitats and ecosystem communities. Our Lunch with a Scientist lecture for February will focus on patterns of ecosystem community change within abandoned farm fields and the mechanisms behind these patterns. The end of the presentation considers how to use models to predict changes in ecological communities in Minnesota and beyond.
About the Scientist
Adam Clark received his PhD in Ecology, Evolution, and Behavior from the University of Minnesota in 2017. His dissertation work, conducted at Cedar Creek Ecosystem Science Reserve, explored how interactions among prairie plant species and their environments influence ecosystem properties. During his postdoc at the German Centre for Integrative Biodiversity Research in Leipzig, Adam continued to explore ways to quantify stability and coexistence in real-world ecosystems. Since 2020, Adam has worked as an Assistant Professor in the Institute of Biology at the University of Graz in Austria. His research currently focuses on how ecological communities are able to persist across space and time, using both empirical data, and theoretical models.