Los Angeles Agritecture Workshop

Saturday, April 1, 2017 at 4:00 PM

-

Sunday, April 2, 2017 at 7:00 PM (PDT)
Event Details
About the Workshop
An interactive design workshop that matches professionals into three small teams. Those teams then develop a concept urban or vertical farm for a pre-selected site in LA. Participants will benefit from a crash course in hydroponics, aquaponics, vertical farming, economics of urban agriculture, and mentorship throughout the workshop.
Click here for a short video summarizing Agritecture Workshops
At the conclusion of the workshop, an audience will gather on April 1st at 4:00pm at Perkins+Will's office for the presentation and networking session. Workshop teams will present their concept farms to the audience and to a panel of judges, who will select the winning team. A networking session will follow to conclude the event.
You MUST Apply to Participate in the Workshop
This workshop will sell out as it is strictly limited to 30 participants, whom will be divided into three teams of 10. Workshop participants will need to apply here in order to be considered for their ticket. Presentation only tickets, however, are available to all.
The deadline to apply for workshop participation will be Monday, Feb 27th at 5pm PST. However, after that time, applications will still be accepted for the event's waitlist. 
Once applicants are accepted, they will be given a promocode that will allow them to purchase their ticket on this Eventbrite page.
Team Composition
We will collect applications of potential workshop participants, and then do our best to balance the teams to include at least one of the following professionals:
-Architect
-Grower
-Entrepreneur 
-Engineer
-Financial Professional
-Marketing Professional
-Sustainability Manager
-Student
Workshop Ticket Pricing
$100 + Eventbrite fees before Feb 27
$125 + Eventbrite fees after Feb 27
Student tickets are free.
Discount or free tickets can also be made available to appropriate applicants.
 $10 + Eventbrite fees for presentation only tickets, which are immediately available to all.
Refund Policy
Full refund available before Feb 27
After Feb 27th, no refunds  
Presentation Only Tickets

If you choose to purchase a $10 presentation only ticket, please be invited to join us beginning at 4:00pm on Saturday, April 1st at Perkins+Will's 7th street office. There will be networking available leading up to the keynote by Colin Archipley, team presentations, and than a longer networking session to follow.
Full refunds available for presentation only tickets until day of event.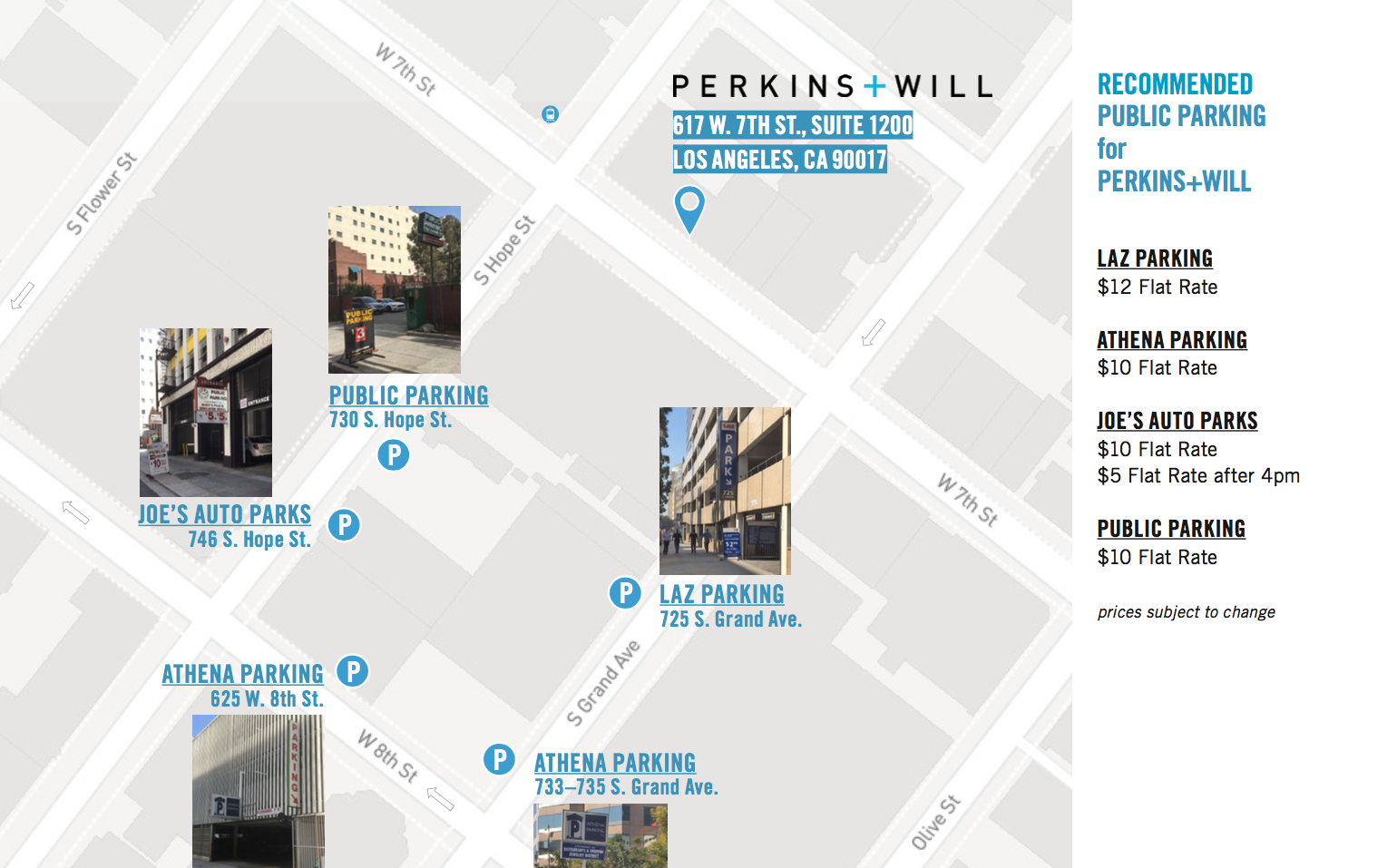 Keynote Speaker:
Colin Archipley, Archi's Acres : 
Colin, along with his wife Karen, are the founders of Archi's Acres; a first of it's kind farm, utilizing hydro-organic production techniques and being certified organic since 2006. Colin and Karen also created Archi's Institute for Sustainable Agriculture (AiSA) in partnership with Cal Poly Pomona. AiSA has trained transitioning military as well as civilians in sustainable organic agriculture and entrepreneurship since 2007.  To date over 450 students have come through AISA, which was formerly known as VSAT (Veterans Sustainable Agriculture Training.)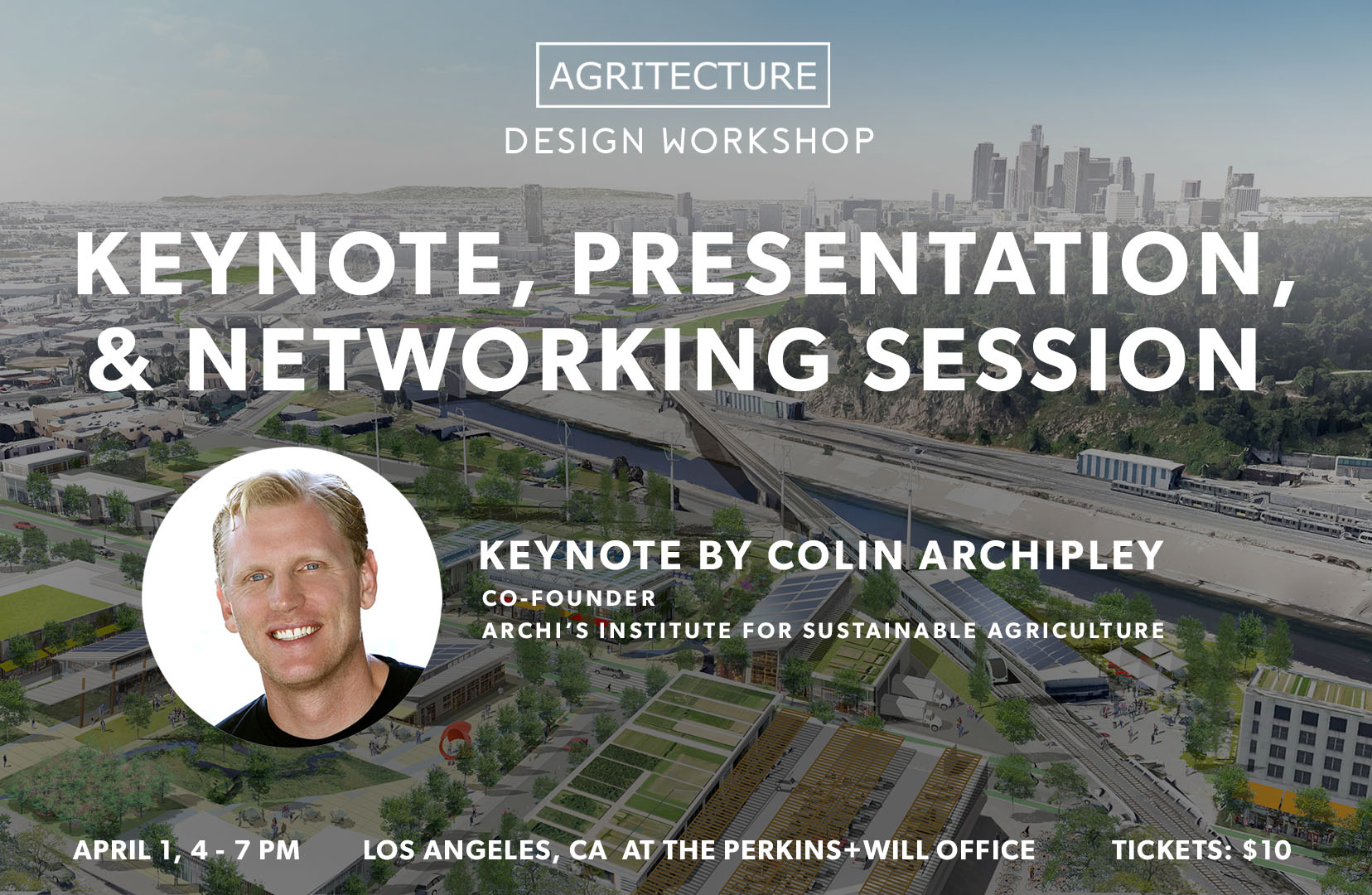 Tentative Schedule: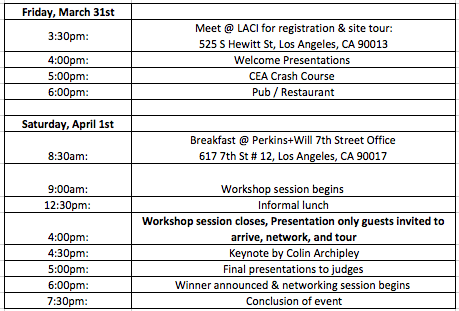 Design Site: Workshop participants will be designing around a site mentioned in the RiverLA Urban Ag in the CASP plan. Click here for more information on RiverLA. 

Parking: Parking at LACI for the Friday portion of the workshop is $5.
We strongly recommend taking public transportation for the Saturday portion of the event. Below are your commute options: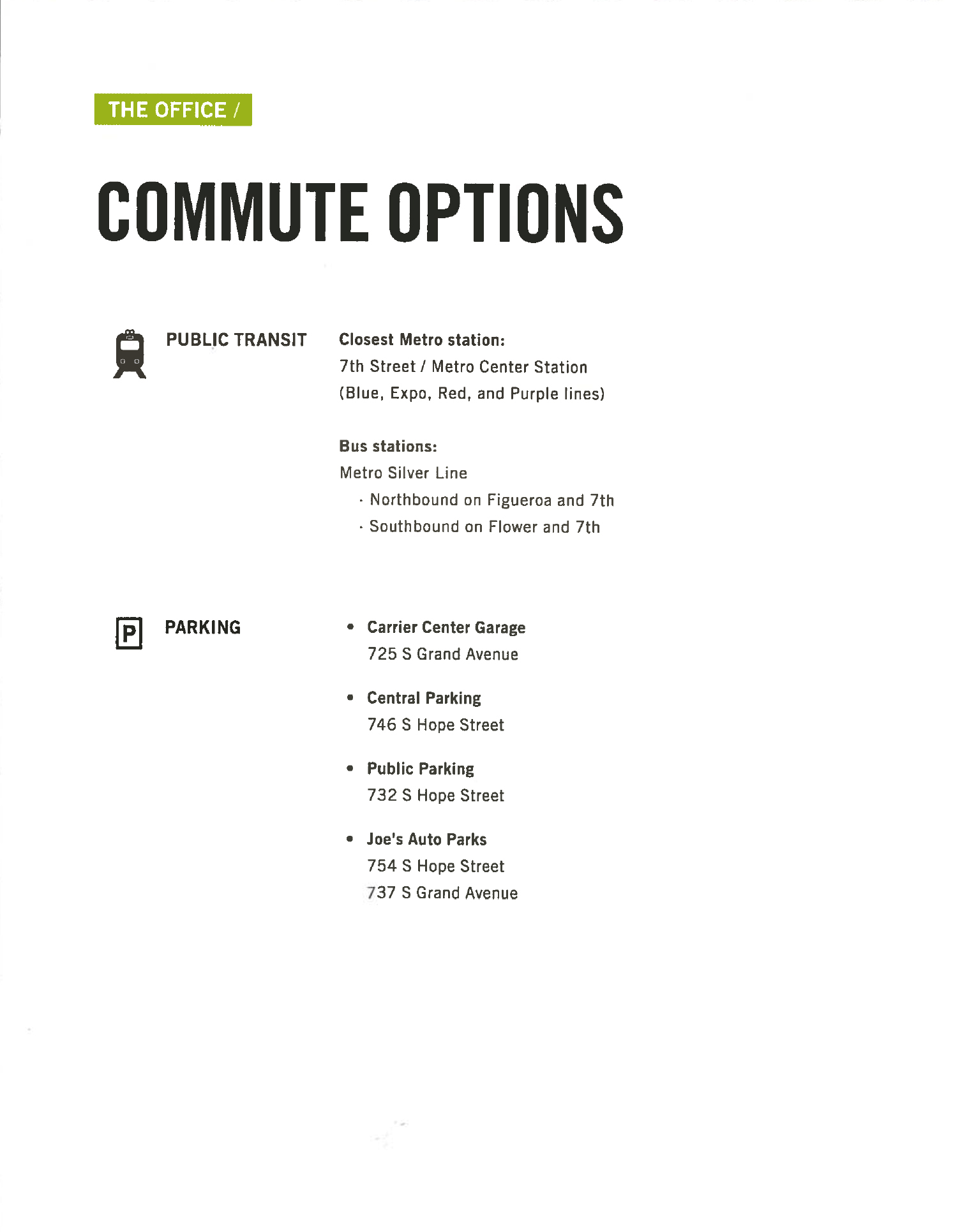 Judges:
1) David Rosenstein, Executive Director at OurFoods 
2) Ohaji Abdallah, Project Manager / Architectural Associate, City of Los Angeles
3) Sandra Kulli
Gold Level Sponsor: Perkins+Will
Event Facilitator: Blue Planet Consulting
Seed Level Sponsor: LA Urban Farms
Student Sponsors: Vertical Green
If you're interested in sponsoring, please contact andrew(at)agritecture.com for details.
Past Workshops:
Check out past workshops held in New York, Las Vegas, Atlanta, Minneapolis, Fresno, London, and Boston.
Website & Social Media:
Visit @Agritecture or http://agritecture.com/workshop for more info.
Location: 
Perkins+Will Office
617 West 7th Street, Suite 1200
Los Angeles, CA 90017
Reminder: Apply here in order to be considered for your ticket.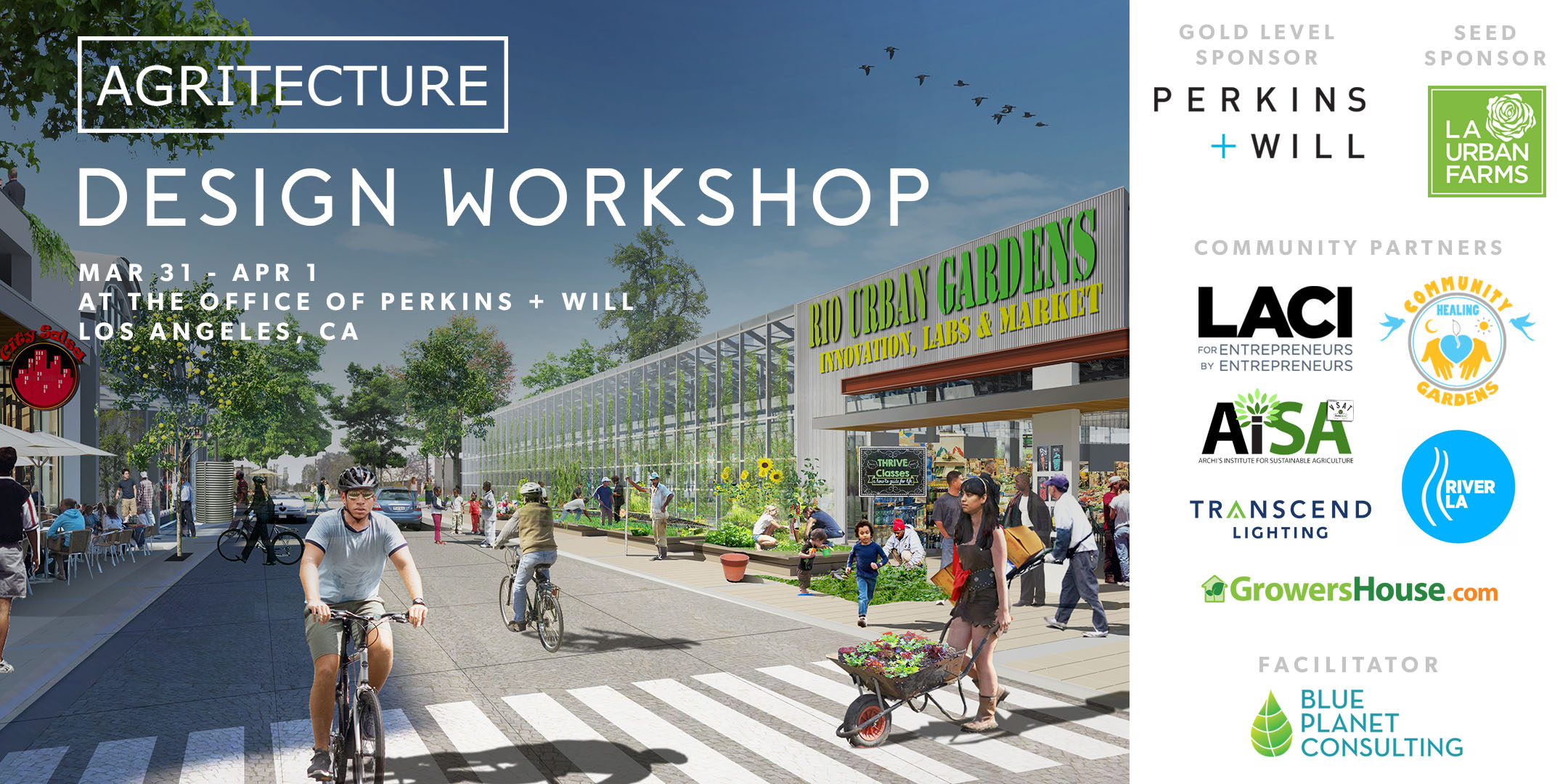 When & Where

Perkins+Will
617 7th Street
## 12
Los Angeles, CA 90017


Saturday, April 1, 2017 at 4:00 PM

-

Sunday, April 2, 2017 at 7:00 PM (PDT)
Add to my calendar