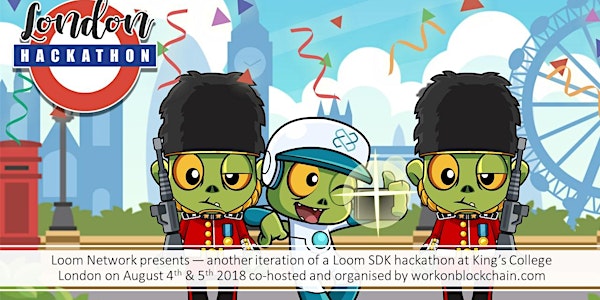 Loom's Blockchain Game Hackathon is Coming to LONDON on August 4-5, 2018
When and where
Location
King's College London Room K4U.12 Strand London WC2R 2LS United Kingdom
Description
Loom Network and Work on Blockchain are pleased to invite you to attend an epic hackathon in the beautiful King's College London Strand campus on August 4th & 5th, 2018.
Are you a game developer interested in learning more about Blockchain and how it can revolutionise the future of gaming?
Are you a game designer interested in finding out how Blockchain technology is creating new and exciting opportunities to rethink how games are designed?
Perhaps you are a Blockchain developer interested in finding out how to make a truly decentralised and scalable Blockchain game?
Want to meet the CEO and Founder of the Loom Network and find out more about the story behind this amazing project?
Come together at this hacakthon to build exciting games leveraging the power of Blockchain!
Don't wait until last minute, we have limited space so sign up early!
>>>> Deadline to apply to participate: July 31st, 2018. <<<<
The judging panel consists of a reps from Loom Network and Work on Blockchain who are looking to hire people (full-time or part-time) interested in building on Ethereum.
------- EXCITING PRIZES -------
For the winners there will be serious bragging rights, swag and exciting prizes!
------- WHO YOU ARE -------
To be able participate you need to have some experience in one (or more) of the following areas:
- Experience with game development (Unity, Cocos, JavaScript, etc.)
- Blockchain Development Experience
- Game Design
You have an interest in building apps on Ethereum - (technical knowledge not required — the mentors will be at the event to help you through building your first DApp).
------- WHAT TO EXPECT -------
Sprinkle some caffeine powder on your fish n' chips and get ready to rumble in a weekend Blockchain game hackathon with some of the best in London!
At the start of the hackathon, you will be given a copy of the Loom SDK.
Not to brag, but every game developer who has played around with the Loom SDK in past hackathons has raved about its ease-of-use.
------- WHAT TO BRING / PACKING LIST -------
1. Laptop (macOS/Linux/Windows 10)
2. Lot's of energy, enthusiasm, creativity and willingness to learn
So, you'll be WELL ARMED to code up some incredible projects - examples from some previous Loom Network hackathons:
------- WHAT IS PROVIDED -------
1. Loom SDK
2. Loom developer support
3. Blockchain and Ethereum Dev Mentors
4. Refreshments
At the start of the hackathon, you will be given a copy of the Loom SDK.
…and after you are fully set up, you can begin using our game SDKs for Unity, Cocos, Phaser.js, Truffle / Web3, or JavaScript to build a DAppChain game.
The Loom SDK also comes with built-in example DApps you can simply download and run with minimal setup time.
For example…A Unity-based side-scrolling adventure game, a social network, and browser-based games using Phaser and WebSockets are some of those example DApps that can be run out of the box.
Think of those as the "Hello World" equivalent of what's possible with our SDK.
------- WANT TO KNOW MORE? -------
New to Loom Network? Start here -> https://medium.com/loom-network/everything-you-need-to-know-about-loom-network-all-in-one-place-updated-regularly-64742bd839fe
If you'd like to stay in the loop with all the updates we are constantly shipping, go ahead and subscribe for our private mailing list at Work on Blockchain (https://www.workonBlockchain.com/) sign up page. We will be hosting multiple hackathons, coding workshop and regular technical deep dive. Stay tuned!