London:Innovation in Service Operations using TRIZ: 2 Day Training

Thursday, 29 November 2018 at 09:00

-

Friday, 30 November 2018 at 17:00 (GMT)
Event Details
Could innovation help your service processes?
Kinetik Solutions is providing a 2-day course focusing on TRIZ. The course is suited for the complex organisations.
What is TRIZ?
TRIZ means "the theory of inventive problem solving". TRIZ provides problem definition and solution tools, in order to support a creative mind-set. It is as much about people as it is about processes. We have applied this technique to service delivery with thought provoking examples to help you innovate.
The course objectives are to:
Explain the concept of TRIZ
Search for 'ideal' solutions to a complex problem
Find opportunities around resourcefulness and minimising harm
Explain the Contradiction Matrix around TRIZ
Demonstrate the path of innovation as defined by TRIZ
Understand the 40 generalised principles of TRIZ relating to the service sector
Use the TRIZ concepts to examine your specific problems in digital or traditional services.
We will use the TRIZ card game that is designed exclusively for use in the service industry and includes 5 service types: Self Service, Direct Service, Pre-Service, Bundled Service and Around Service.
Click the image below to watch our short video on TRIZ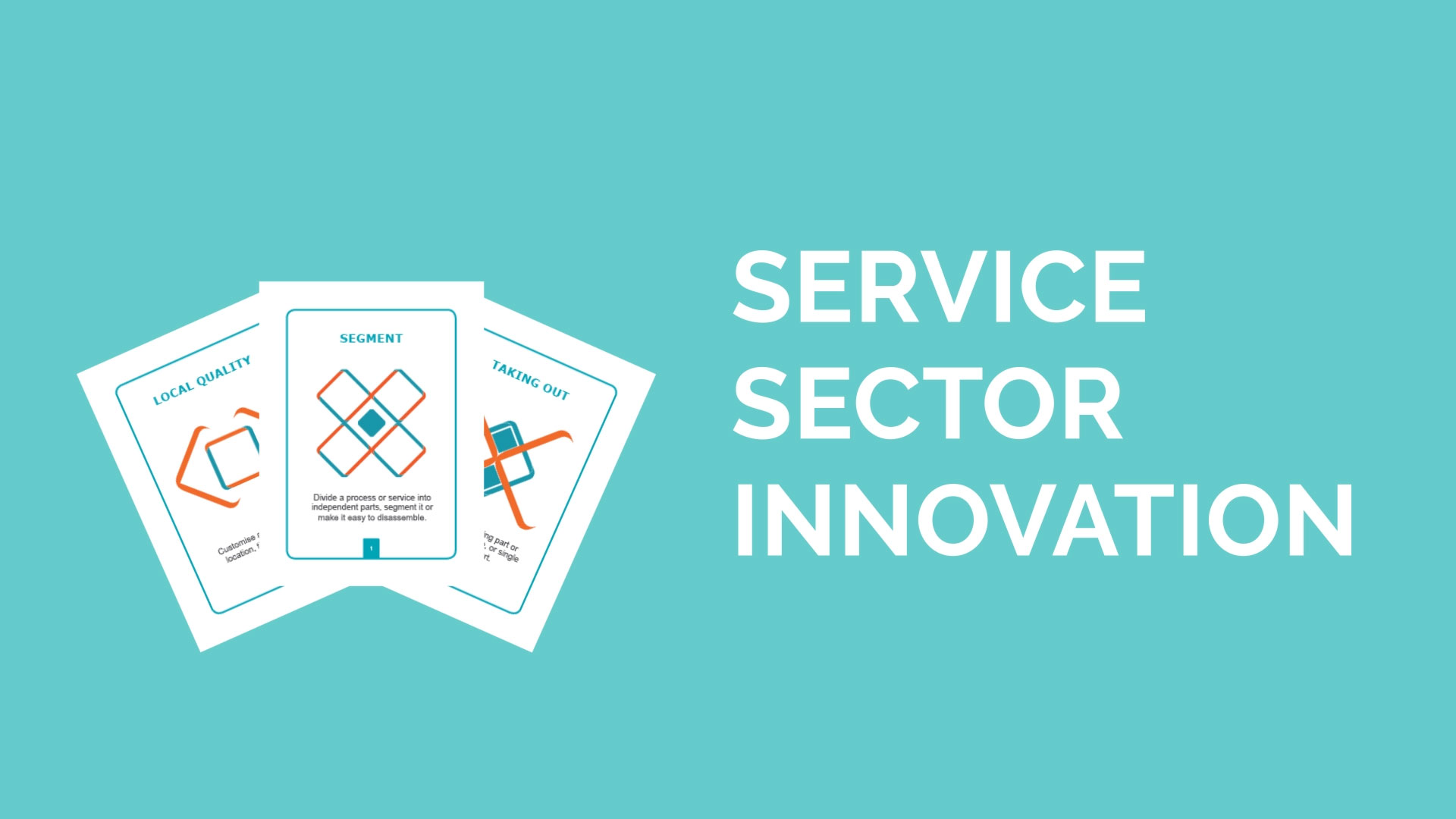 At the end of the course the participant will:
Understand the key concepts of innovation using TRIZ
Be able to share knowlege of TRIZ with their colleagues on the ideas of 40 principles, contradictions, ideal solutions and resourcefulness.
Be given one of our TRIZ for Service card games to takeaway
Be given a foundation certificate will be issued on completion of the course.
Who should attend?
This course assumes no prior knowledge of TRIZ
Senior Mangers and leaders who work in the service sector, particularly in the areas of operational delivery e.g. Operational Director, Operational Managers, Customer Service Managers, Sales Operations, Sales Director, Maintenance Manager, Inventory Managers, Supply Chain Manager, Product Director.
There is a maximum of 20 places on this course in order to ensure active engagement and interactive learning.
Why train with us?
The training is delivered by our consultant who has over 20 years of experience, giving them a breadth of specialist knowledge in addition to a strong ability to identify with your specific needs
Our training is hands-on with practical exercises, ensuring that attention is maintained throughout, using a 'learning by practise' approach.
We have deep experience of change management, process excellence, and innovation in our training; our joined up experience can help you bring about sustained improvement
Details of our trainer Ketan Varia
| | |
| --- | --- |
| | Ketan is the Director of Kinetik Solutions, a management consultancy firm, specialising in sustainable business change and operational excellence. The Kinetik way of working is pragmatic and collaborative, actively engaging with all levels of staff to find the right solutions. Ketan has delivered operational excellence projects across the globe, including Australia, Brazil, China and Sri Lanka. He is the author of a book The Art of Transformational Change. |
Feedback from a client.
| | |
| --- | --- |
| | "You have well and truly kicked off the beginning of our culture change. The vast majority of the feedback that I have received so far from the stakeholders, including General Managers for countries that have been completed, has been overwhelmingly positive." - ADP |
About Kinetik Solutions
Kinetik Solutions is an operational excellence consulting business that delivers business transformation, process excellence and change management in operational settings. With an ethos of high quality and integrity, Kinetik Solutions will drive you towards sustainable perfection.
We have worked with FTSE 350 clients from diverse sectors such as government, retail and consumer services, construction, automotive, and health. Our past clients include Nations Trust Bank, ADP, EMI Music, Fluorocarbon Plastics Manufacturing, Hertz Cars.
FAQs
Where can I contact the organiser with any questions?
You can contact the course leader Ketan Varia on Skype (ketantvaria) or on mobile +447803009053 or by email at kvaria@kinetik.uk.com.
Can I make a reservation and ask you to invoice my company/organisation directly?
That is certainly possible although we will need a purchase order from your organisation and full contact details of your finance departement. Please contact us on bebetter@kinetik.uk.com to make relevant arrangements. Please Note: until we receive the payment, your place on course is not confirmed. We will confirm your place once we receive payment.
Will you send out a detailed course agenda?
We will send onboarding material including a detail course agenda on registration. If you are curious contact us and we can show this to you!
Can I contact any of your clients for references?
We would be delighted to provide references and client details, based on your sector. We expect you to check that we can 'walk the talk'.
When & Where

Trafalgar Square Office (Regus)
1 Northumberland Avenue
WC2N 5BW London
United Kingdom


Thursday, 29 November 2018 at 09:00

-

Friday, 30 November 2018 at 17:00 (GMT)
Add to my calendar
Organiser
WHO WE ARE
Kinetik solutions was formed in 2007 and delivers business transformation, process excellence and change management in operational settings. We have delivered work to several large organisations including ADP, Barclays Bank, British Airports Authority, Hertz Cars MITIE and several public sector organisations including the NHS. We have worked globally across 5 continents. We have even published a book on change management!
HOW WE DELIVER
We are the catalyst for operational change. In order to drive change effectively for our clients, kinetik solutions has developed 5 unique solutions areas which can be adapted for each business. This, combined with our way of working means we take pride in working with clients to sustainable results above all else. Our team has extensive experience in large scale transformations in both private and public sectors with each consultant having 10 years of senior business or consulting experience.
OUR PHILOSOPHY
We craft our work based upon 'on the ground realities' in combination with our experience and commitment towards perfection. We work in collaboration, at all levels of your organisation, making our work value for money. We believe that the best way of embedding change is to develop a clear vision of future state, deep engagement with your change team and shaping key projects. We believe in keeping you always in charge and depart as soon as your team can sustain itself.
OUR WAYS OF WORKING
We are driven by high quality and integrity in everything we do:
We actively engage with all levels of client's staff to find the right solutions that work for the environment/culture

We work in a joint client/consultant team transferring knowledge from day one

We have a flexible, open and purposeful approach that creates trust and mutual respect

We focus on sustainability – we would prefer improvement to be driven by client staff and not by external consultants over the long term

We work with clients in a way to create emerging futures
WHY WORK WITH US?
Flexible – As a boutique consultancy we are pragmatic and agile
Value for money – We focus on delivering high quality results, not on building our brand.
Integrity – We take pride in delivering to requirements and never like to waste clients money
Influence – We thrive on building influence using emotional intelligence, strength of character and strong listening.
Adaptable methods – We work with clients on solutions that become embedded and need low maintenance.