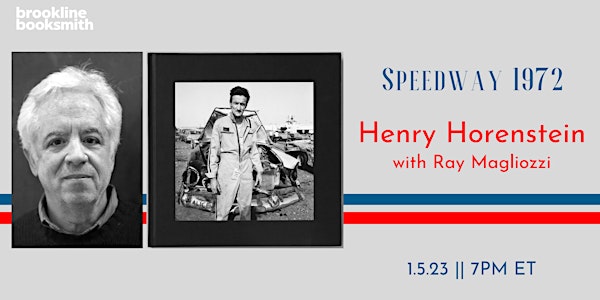 Live at Brookline Booksmith! Henry Horenstein with Ray Magliozzi
Read on for important details for this live, in-person Brookline Booksmith event.
When and where
Location
Brookline Booksmith 279 Harvard Street Brookline, MA 02446
Refund Policy
Contact the organizer to request a refund.
Eventbrite's fee is nonrefundable.
About this event
In person at Brookline Booksmith! Celebrate the release of Speedway 1972 with photographer Henry Horenstein, in conversation with Car Talk's Ray Magliozzi.
Register for the event!
RSVP to let us know you're coming! Depending on the volume of responses, an RSVP may be required for entrance to the event. You will also be alerted to important details about the program, including safety requirements, cancellations, and book signing updates.
Livestream!
Barring technical difficulty, this event will be livestreamed to our store YouTube channel. No registration is required for the livestream.
Reserve a book!
Books will be available for purchase at the event, but you can ensure that you get a copy by preordering on this page. You can pick your book up after 6:30PM on the day of the event.
Can't make it to the event? Preorder the book here to have it signed, and choose to have it held or shipped from the store!
FOR INFORMATION ON ACCESSIBILITY AND COVID PRECAUTIONS, PLEASE SCROLL ALL THE WAY DOWN.
If you have trouble checking out, check the Eventbrite FAQ located here.
Speedway 1972
"As I started to look at the photos I recognized most of the cars and I began to marvel at the skills of some of these drivers and their teams for keeping these heaps going. They must have been geniuses... As I looked over the photos for a second time I noticed that for a book about stock car racing there are more pictures of the people than their cars and this is something else that Henry and I share. On Car Talk we used the cars as an excuse to talk to people and get to know them and their stories." -- Ray Magliozzi
While at grad school in the early 1970's Henry Horenstein would attend Speedway races in New England to see his brother-in-law compete. In front of his camera the drivers would fly around the track in beat-up cars customised for racing at breakneck speeds in the hopes of small town glory.
Horenstein's joyful images present us with a slice now of what the world of motor racing looked like then, before racing became big business, as it slowly morphed into NASCAR--the world's fastest growing sport.
"I was still in grad school and I was looking for subjects. There had to be good pictures there for a wanna-be historian-with-a-camera. What better than an old-school sport that would certainly be extinct one day? I'm still waiting. My brother-in-law Paul raced stock cars—old. Paul's cousin Dickie Simmonds owned the local Gulf station and modified the junkers that Paul drove at places like the Seekonk Speedway (Seekonk, MA) and the Thompson Speedway (Thompson, CT). Paul and Dickie had friends in low places." -- Henry Horenstein
Henry Horenstein has been a professional photographer, filmmaker, teacher, and author since the 1970s. He studied history at the University of Chicago and earned his BFA and MFA at Rhode Island School of Design (RISD), where he studied with legends Harry Callahan and Aaron Siskind. Henry's work is collected and exhibited internationally and he has published over 30 books, including several monographs of his own work such as Honky Tonk, Histories, Show, Animalia, Humans, Racing Days, Close Relations, and many others. His next monograph, Speedway 1972, which features photographs made 50 years ago, will be published in 2022. He has also authored Black & White Photography, Digital Photography, and Beyond Basic Photography, used by hundreds of thousands of college, university, high school, and art school students as their introduction to photography. His Shoot What You Love serves both as a memoir and a personal history of photography over the past 50 years. In recent years, Henry has been making films: Preacher, Murray, Spoke, Partners, and Blitto Underground, which premiered in 2021. He is currently in production on Where Everybody Is Somebody, a film about Cajun Louisiana. Henry is professor of photography at RISD and lives in Boston.
About Brookline Booksmith
We are one of New England's premier independent bookstores, family-owned and locally run since 1961. We offer an extensive selection of new, used, and bargain books; unique, beautiful gifts; award-winning events series; and specialty foods. Every day, we strive to foster community through the written word, represent a diverse range of voices and histories, and inspire conversations that enrich our lives. Find more at brooklinebooksmith.com!
EVENT ACCESSIBILITY
This event will take place in Brookline Booksmith's Used Book Cellar, which is only accessible by stair. If possible, the event will be livestreamed to YouTube. ASL interpretation may be provided (based on the availability of interpreters) but must be requested at least 2 weeks in advance of the event. Seats are limited. Please email us at tickets@brooklinebooksmith.com as soon as possible if you require ASL interpretation, guaranteed seating, or other accommodations. We will do our best to serve your needs!
IMPORTANT NOTICE REGARDING COVID & IN-PERSON EVENTS:
Please note that any Brookline Booksmith in-person event may be canceled by the bookstore, publisher, or author based on concerns about health and safety around the time of the event. Wherever possible, any in-person appearance canceled due to COVID will be moved to the Brookline Booksmith Zoom as a Webinar at the same date and time, and all tickets & registrations will be transferred to the online event. Book signing details may change. Refunds may be requested in the case of a virtual pivot or event cancellation.