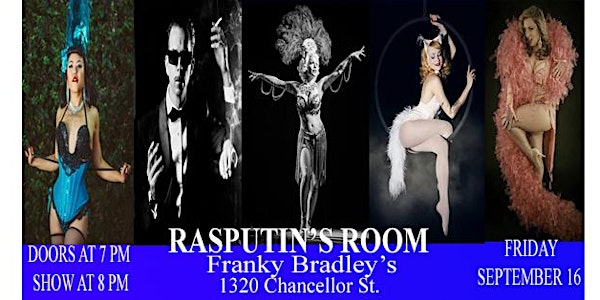 Lil' Steph presents RASPUTIN'S ROOM: The International Extravaganza
When and where
Location
Franky Bradley's 1320 Chancellor Street Philadelphia, PA 19107
Refund Policy
Contact the organizer to request a refund.
Description
Lil' Steph presents RASPUTIN'S ROOM: An International Extravaganza
September 16, 2016
Franky Bradley's
1320 Chancellor St.
Doors at 7 pm, Show at 8 pm
"How can you sincerely repent if you have not sinned?"-Rasputin
The time has come to satisfy your craving for sinful behavior. RASPUTIN'S ROOM brings you an extravaganza of opulent indulgence every 3rd Friday of the month. RASPUTIN'S ROOM is a lavish evening overflowing with sumptuous burlesque, riotous comedians and spellbinding chanteuses. RASPUTIN'S ROOM features a rotating cast of top notch local ecdysiasts as well as the most alluring international performers! RASPUTIN'S ROOM is Philly's Poshest Burlesque Show now in it's 4th year.
Featuring:
Seductive Crooner, SONNY VARGAS (Prague)
The Criminally Cute, LIL' STEPH (Philly)
The Dark Flame of Desire, MINX ARCANA (NYC)
A Cocktail of Sexiness, MISS COOL CAT (Prague)
The Everlastingly Luscious, LELU LENORE (Philly)
with kitten, BETTE MACHETE (Philly)
Enjoy dinner and a show! In true Rasputin style indulge in an array of specialty cocktails, beer, wine and delectable food from the Franky Bradley's menu!
http://www.frankybradleys.com/FrankyBradleys_DinnerMenu.pdf
Ticket Description:
Advanced tickets: $12-
At the door: $15
Rasputin's Room was featured as one of PW's Top Weekend Picks:
http://www.philadelphiaweekly.com/arts-and-culture/PWs-Weekend-Picks-June-21-23-212502941.html
http://www.philadelphiaweekly.com/arts-and-culture/PWs-Weekend-Picks-Rasputins-Room-GayBINGO-and-more-286401411.html
Rasputin's Room was also highlighted in the Philadelphia Weekly article "One day in Philadelphia: 24 hours of life in the city"
http://www.philadelphiaweekly.com/news-and-opinion/cover-story/One-day-in-Philadelphia-24-hours-in-the-city-216675451.html
Performer websites:
www.pragueburlesque.com
https://www.facebook.com/Lelu-Lenore-1630230163864669
About the producer:
The Criminally Cute Lil' Steph is an international showgirl and Philadelphia burlesque producer. She has been producing burlesque shows in Philly for over 6 years. Lil' Steph is producer of the monthly show, Rasputin's Room now in it's 3rd year. Lil' Steph began performing burlesque in 2006 and since then she has performed on countless stages across the country in NYC, D.C., Charleston, Boston, New Orleans, San Francisco and LA to name a few. She has performed in numerous festivals, among them The Burlesque Hall of Fame, The New York Burlesque Festival,The Caput Mundi International Showcase, World Burlesque Games and won "Most Classic" at the Carolina Burlesque Festival in 2013. Lil' Steph has performed in 7 countries, in cities including Paris, Rome, and London, performing at world famous venues like Queen Calavera in Hamburg, Paleis van de Weemoed in Amsterdam and with Prague Burlesque at the Royal Theatre. In 2016 she was featured in the Queen Calavera calendar with top notch burlesque performers from around the world.
.