Description

PHAT Girl Fresh is proud to bring Life Styled Honors back to Atlanta, Georgia for 5th consecutive year. Life Styled Honors will commemorate the 5th anniversary PHAT Girl Fresh brand (a brand that strives to educate and empower the female gender) while celebrating the lives of this year's esteemed honorees.
This year's honoree list features a lineup of trailblazers with noteworthy success in media, entertainment, style and activism. The 2018 Life Styled recipients are:
This year's Life Styled Honors event is being hosted by Comedian Starr Carter and will mimic the amazing sold out PHAT Girl Fresh presents Life Styled events of the past 4 years. However, there will be new and exciting twist as promised with every event. Doors will open at 4:00 p.m. and our media sponsor, The Curvy Fashionista will have curvy correspondent Joy Tribble on the pink carpet conducting interviews. At this time guest will free to shop, socialize, eat and drink; The show will begin at exactly 5:30 pm.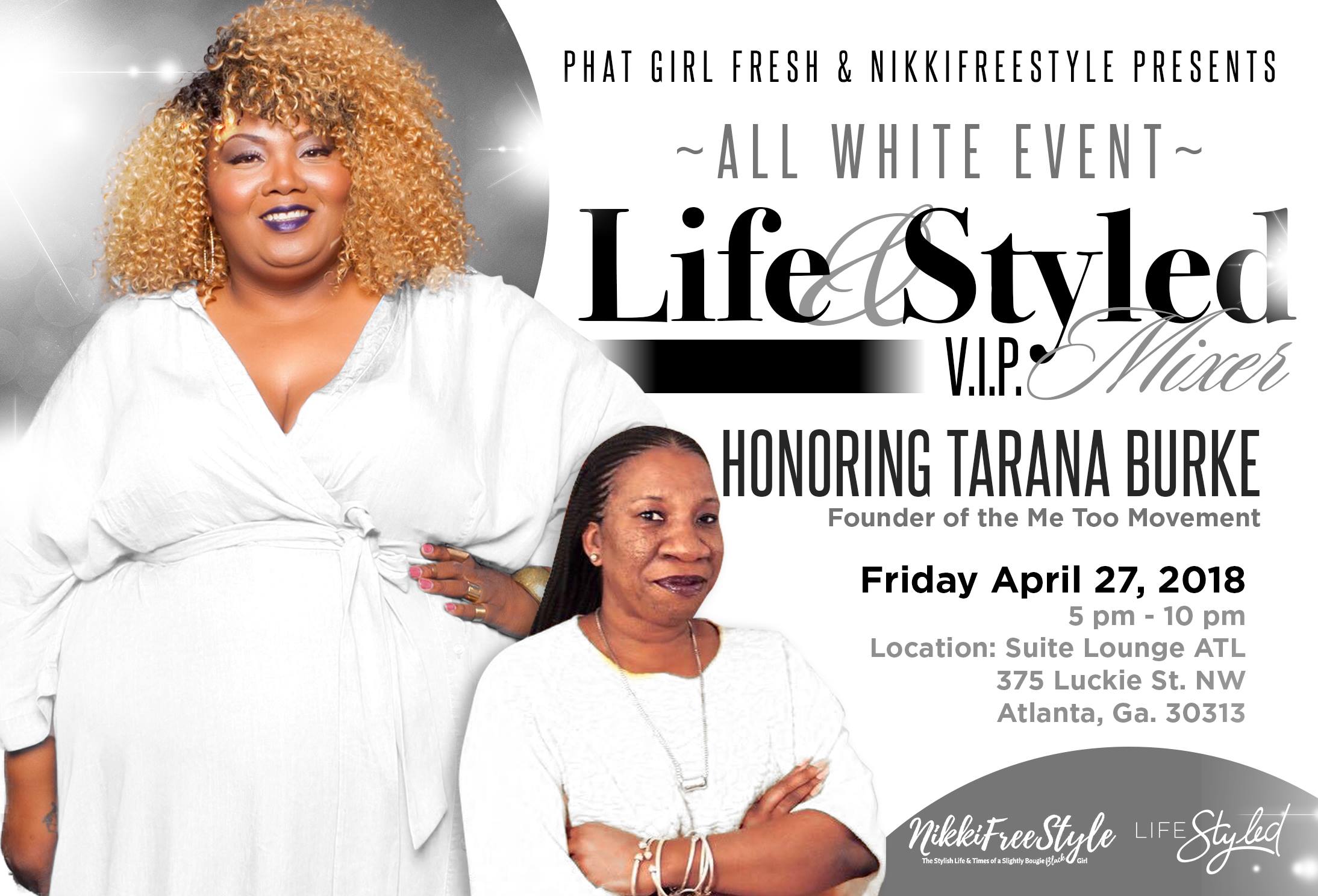 In addition to the main event, there will be an all white VIP Mixer held on Friday April 27, 2018. The Life & Styled VIP Mixer will take place on the roof top of Suite Lounge ATL which is located at 375 Luckie St NW, Atlanta, GA 30313 and will honor Women's Rights Activist Tarana Burke. Our pink carpet hosted by Joy Tribble, she will begin receiving guest and conducting interviews at 6:00 p.m.


For information about the Life Styled Honors event or sponsorship opportunities, contact Lifestyled@phatgirlfresh.com


Organizer of Life Styled Honors
​
Maui Bigelow's mission is pretty simple – to create a path for bold, beautiful women to shine, grow, and glow in both personal and professional brilliance.
The curator of PHAT Girl Fresh, a digital platform that blends feminism with social, fashion, and beauty culture, Maui is known for bringing progressive, authentic conversations with a southern charm only she can provide. A rising public figure, she draws hundreds of thousands of yearly readers through her experiences in healing and personal transformations, social change work, and Plus style and beauty.
A consummate writer at heart, Maui has loaned her voice to numerous platforms, including Gorgeous In Grey and The Curvy Fashionista, two respected sources in Plus size fashion and beauty. She has been recognized for her writings on diverse topics, such as body positivity, and her willingness to encourage and empower women. Named the 2016 Blog Correspondent during Full Figured Fashion Week, her most recent reflective post titled "I have cancer, but Cancer Doesn't Have Me" was featured in Ebony Magazine and sparked a conversation about diagnosis in her community.
Respected as a voice in the plus size community who speaks to body positivity, inclusion and self-love, Maui is also creator and producer of PHAT Girl Fresh Presents: Life Styled, a tribute event that honors and celebrates promising and notable female leaders in fashion, entertainment and empowerment. The annual event is hosted in Atlanta, GA and features an all-white mixer, designer showcase, runway show, and vendor shopping.
Notoriously known for her viral post, "Crop Tops & Big Bellies: I Wear What I Want, Even At A Size 24", Maui has been featured in articles for Plus Model Magazine, Mic.com Bustle, Buzzfeed, Yahoo, Allure, Good Housekeeping, and Seventeen Magazine, just to name a few. She has also been named Curvy Couture's Curvy Girl Of the Month and was a guest on The Chenese Lewis Show, a highly-respected radio show hosted by expert commentator and self-esteem advocate, Chenese Lewis.
With forthcoming projects, partnerships and speaking engagements underway, this Plus powerhouse is showing no signs of slowing down. Through her original thinking and progressive conversations, Maui Bigelow's signature work and global influence will forever imprint her in history as a pioneer in Plus.