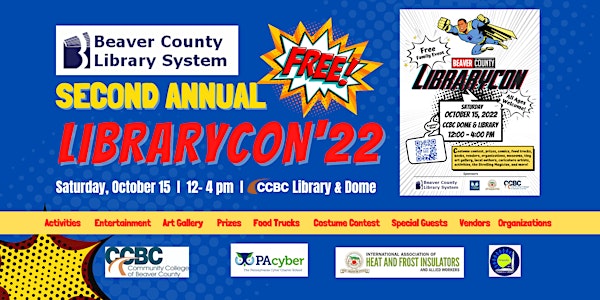 LIBRARYCON'22
LIBRARIES ASSEMBLE... again. (Free Event- All Ages)
When and where
Location
The Dome at CCBC Campus Drive Monaca, PA 15061
About this event
LIBRARYCON is back!
Join us for our second annual LIBRARYCON: a free afternoon of costumes, food trucks, vendors, entertainment, music, hands-on activities and your friendly neighborhood libraries. Register today!
LIBRARYCON is in the style of a traditional Comic Con, with more of a community focus that includes local organizations, vendors, food trucks, costume contest and cosplay guests. The libraries will have booths based on their genres (think Anime, Horror, Stranger Things, Disney, Star Wars, Harry Potter) with hands-on activities, take-home crafts, and free resources for both children and adults. Our partnerships with local parks, museums, and organizations will also have tables, mobile labs and more hands-on attractions, bringing more activities and information to people of all ages!
PRIZES:
Everyone who completes their library stamp pass can enter it into THE GOBLET OF KINDLE FIRE to win a brand new Kindle Fire Tablet. 3 winners! Drawing @3:30
PA Cyber will be raffling off Carnegie Museum of Natural History tickets.
Costume Contest @2pm:
Prizes for :
Child (Ages 2-12)
Teen (Ages 13-18)
Adult (Ages 18+)
Group (All ages. 2 or more people)
All costumes must be family-friendly and appropriate for all ages. Use good judgment when selecting which costumes and props to bring to the show. Costumes will be judged based on :
Creativity – Was the costume made creatively, colorfully, and does it show personality?
Originality – Does the costume stand out from the rest?
Effort – Did the costume take time and effort?
Authenticity – How accurate and thorough is the costume?
GENERAL COSTUME / PROPS / WEAPONS POLICY
All weapons must be non-functional. The following are NOT allowed:- Airsoft rifles or paintball guns- Illegal weapons (obviously)- Water pistols with water in them (if you have painted a water pistol as a prop and there is no water in it, that is OK)- No metal weapons: This includes metal tips, swords, knives, throwing stars, etc.-No sharp weapon edges or tips: This includes wooden tips and edges that are too sharp.
-No projectile objects: Do not project fake arrows, do not throw glitter or fake snow, etc.- No potentially hazardous special effects (pyrotechnics, etc.)
Check out a few pictures below from last year's event.