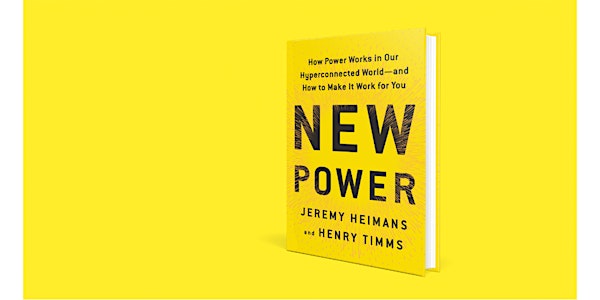 Leveraging New Power
By Communication Leadership
Date and time
Saturday, October 13, 2018 · 6 - 8:30pm PDT
Location
University of Washington 3946 W Stevens Way NE Nanoengineering & Sciences Building, Room 181 Seattle, WA 98105
Description
Leveraging "New Power": An evening with Henry Timms of the 92nd Street Y and co-founder of #GivingTuesday (with special guest Megan Ferland of Girls Scouts of Western Washington)
From #MeToo to #BlackLivesMatter to #MAGA, evidence of "new power" (along with their highly shareable hashtags!) is exploding. Gone are the days when brands or ideas are able to succeed without the support and participation of an invested community. Customers, donors, and constituents now demand ownership over an idea, product, or movement for it to achieve maximum success. And it's producing some very real, sometimes startling change.
That's the premise to the national bestseller (and shortlisted as a Financial Times "Book of the Year") New Power: How Power Works in Our Hyperconnected World--and How to Make It Work for You by Henry Timms and Jeremy Heimans. It's also a phenomenon that is central to the UW's Communication Leadership master's program. That's why New Power is required reading for all our students this fall and why co-author Henry Timms will join us for this public conversation
Timms and Heimans argue that the future will be won by those who can spread their ideas better, faster, and more durably—citing dozens of examples, including our region's own Girl Scouts of Western Washington. Having a connected and passionate crowd on your side is vital to achieving your goals. But how can you do this in an authentic way that will foster sustainable support from your community?
Join UW Communication Leadership director Hanson Hosein as he engages in conversation with Henry Timms, co-author of New Power and CEO of the 92nd Street Y along with special guest Megan Ferland, CEO of the Girl Scouts of Western Washington— who will speak specifically to the effectiveness of this new power model. By attending, you will come to understand how you can leverage the new power model to spread your idea, sell your product, or mobilize your movement.
This event is open to all--current students, alumni, faculty, and the general public. The conversation will include ample time for questions from the audience and will be followed by a hosted reception where you'll have the chance to connect with other professionals and have your copy of New Power signed by the author.

PROGRAM
6:00 - Doors open
6:30 - Conversation begins
7:30 - Reception and book signing
8:30 - End
ABOUT HENRY TIMMS
Henry Timms is President and CEO of 92nd Street Y, a cultural and community center that creates programs and movements that foster learning and civic engagement. Under his leadership, the 144-year-old institution was named to Fast Company's "Most Innovative Companies" list. He is the co-founder of #GivingTuesday, a global philanthropic movement that engages people in close to 100 countries that has generated hundreds of millions of dollars for good causes. Henry is a Hauser Visiting Leader, Center for Public Leadership at Harvard Kennedy School and Visiting Fellow at Stanford University's Center on Philanthropy and Civil Society. With Jeremy Heimans, Henry co-authored the book New Power: How Power Works In Our Hyperconnected World - and How to Make it Work for You, described by David Brooks in the New York Times as "the best window I've seen into this new world".
ABOUT HANSON HOSEIN
Hanson Hosein is the Director of the Communication Leadership master's program at the University of Washington and the President of HRH Media Group LLC. He's a pioneer of multimedia storytelling: as an Emmy and Overseas Press Club award-winning journalist for NBC News, a solo TV war correspondent with MSNBC and CBC and a documentary film director.
ABOUT MEGAN FERLAND
Megan Ferland is Chief Executive Officer of Girl Scouts of Western Washington (GSWW), which serves approximately 25,500 girls through over 12,000 volunteers. GSWW's vision is empowering girls of every race, ethnicity, income level, religion, ability, sexual orientation, gender identity and geographic location to make the world a better place. Megan has been CEO for several other youth development organizations including Girl Scouts of Colorado; the Colorado Children's Campaign, a non-profit using research and policy to advance children's needs; and Texas CASA, a statewide non-profit advocating for abused and neglected children in the child welfare system. She was also chief of the Texas Attorney General's Juvenile Crime Intervention Division.
ABOUT COMMUNICATION LEADERSHIP
The Communication Leadership master's program at the University of Washington offers a cutting-edge curriculum and a chance to work with pioneering professional faculty in a world-class university setting. We provide our students engaged mentorship and a chance to apply skills learned in classes through transformative partnerships with key local and global organizations. Comm Lead graduates are purposeful storytellers, inclusive community-builders, and effective, ethical advocates for people and ideas. Learn more at commlead.uw.edu.


To request disability accommodation, contact the Disability Services Office at 206-543-6450 (voice), 206-543-6452 (TTY), 206-685-7264 (fax), or dso@uw.edu. The University of Washington makes every effort to honor disability accommodation requests. Requests can be responded to most effectively if received as far in advance of the event as possible, preferably at least 10 days.