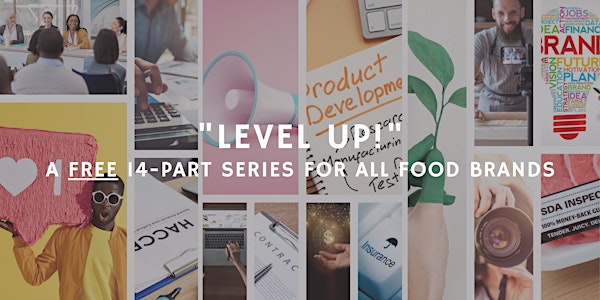 "LEVEL UP!"
Tàstès presents "Level Up!" in partnership with LaunchPoint Culinary, SKU and Naturally Austin
When and where
Location
Adelbert's Brewery TBD2314 Rutland Dr #100 Austin, TX 78758
About this event
RECURRING BOOTCAMP TAKES PLACE EVERY TUESDAY
"Level Up!" is a free 14-part bootcamp series for emerging and startup brands looking to equip themselves with the tools they need to be successful. Learn a plethora of information, resources and best practices from industry experts and leaders. Help get your brand off the ground or get on the right track. Brands of all stages of achievement will meet top experts in the CPG and food and beverage industry as well as Consultants ready to help you execute on what you just learned. Topics are as granular as the basics of fundraising, to bootstrapping, and as abstract as photography.
WEEK 1: BRANDING & PACKAGING DESIGN
This topic covers the aspects of how to create a brand and why: What aspects are important and required on the label or packaging, and how does a product stand out on the shelf?
UPCOMING TOPICS
· BOOTSTRAPPING
· HOW TO RUN A SUCCESSFUL DEMO
· CUSTOMER ENGAGEMENT
· PRODUCT DEVELOPMENT
· MARKETING
· OPERATIONS, PRODUCT EFFICIENCIES AND SOPs
· PR FOR YOUR FOOD OR BEVERAGE BUSINESS
· SHELF LIFE TESTING & FOOD SAFETY
· FOOD INDUSTRY PREPAREDNESS & DUE DILIGENCE
· EFFECTIVE DESIGN—WEBSITES, DECKS, STORYTELLING
· BASICS OF RAISING FUNDS
· LEGAL—WHAT DO I NEED TO KNOW?
· INSURANCE
· TAKING BETTER PHOTOS
· MEAT COMPLIANCE WITHIN THE STATE OF TEXAS
· FOUNDER PANEL
· SUSTAINABILITY