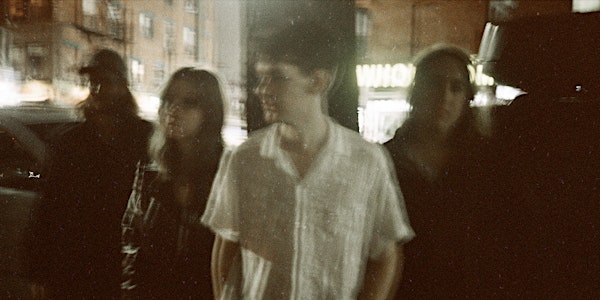 Location
DC9 Nightclub
1940 9th St NW
Washington, DC 20001
About this event
Proof of Vaccination REQUIRED
DC9 will require proof of vaccination for entry. Physical card or digital photo will be accepted. Proof of vaccination must match name on photo ID and will be checked at the door.
You can find more information HERE.
Things change quickly and we are all in the same boat trying to navigate and do our best to keep our concerts and communities safe. We appreciate your patience and understanding with our staff as we navigate this together. Thank you for your cooperation & continued support!
This is an ever changing situation and we reserve the right to change these policies at any time.
Laveda

WEBSITE | FACEBOOK | INSTAGRAM | TWITTER | SPOTIFY | BANDCAMP | SOUNDCLOUD

On their 2020 debut album What Happens After, Laveda draw a post-apocolyptic landscape through layers of colorful sound and ethereal melodies. The band fuses polished pop song clarity with a 90's guitar driven sound reminiscent of groups like The Sundays or My Bloody Valentine. Founding members "Jacob Brooks and Ali Genevich explore the great yawning unknown. From the freedom and uncertainty that rests at your fingertips or the distant and possibly desolate future, they capture adolescent restlessness with big walls of sound and a dreamy melodious warble" writes Toronto based blog Ohestee. NYC's Look At My Records! calls Laveda "a young band with a fully realized voice and perspective, and What Happens After couldn't feel timelier."

Brooks and Genevich spent most of the summer and fall of 2021 in Los Angeles, working again with producer Dylan Herman (Beck, Pynkie) on their second full-length LP. The record is anticipated to release this fall on NY/VT based label Paper Cup and features the full live band, including Dan Carr (bass) and Joe Taurone (drums) throughout.

GLOSSER

FACEBOOK | INSTAGRAM | TWITTER | SPOTIFY | BANDCAMP

GLOSSER's Riley Fanning and Corbin Sheehan's kismetic meeting was born out of a search for meaning within their separate musical endeavors. Both avid artists in their own right, Sheehan was looking to expand his band, and Fanning was hoping to start one. Inspired by the likes of Beach House, Weyes Blood, and Phoebe Bridgers, they wrote songs together the first night they met, and GLOSSER was created in the front room of their house in the D.C. suburbs. Partnered with producer and genre-defying singer/songwriter Bartees Strange, he feels GLOSSER's music emphasizes a "depth that isn't found in other indie bands" and their time spent in his studio, 38 North, resulted in a sound so undeniably enigmatic and effervescent and new.