Description
Join us to celebrate our Ladies That UX Phoenix kickoff along with the Season 2 Premiere of Expose UX!

Ladies That UX Phoenix is a monthly meetup group focused on creating a welcoming, transparent community of women that are interested and passionate in making the world a better place for users through UX. Our aim is to be a supportive place for women in UX to connect, mentor, share and build their skills with one another. Learn more about Ladies That UX Phoenix and where to find us at www.ladiesthatux.com/phoenix.

We're celebrating our kickoff in partnership with Expose UX for the upcoming, exciting Season 2 premiere of Expose UX! Expose UX is the web TV show where startups compete for prizes while getting feedback from user experience experts. It's Shark Tank for UX design. Learn from the experts' advice and improve your own product! Watch past episodes from Season 1 here and watch the Season 2 Trailer here.

Join us starting at 6:00 p.m. and connect with Ladies That UX to learn more about our group and upcoming events followed by the official Expose UX screening premiere at 7:00 p.m. and post-networking gathering at 8:00 p.m.

All are welcome for this event! Come join us at MOD coworking to be part of the first audience to see the only UX focused TV show and be a part of a fun, welcoming community of women in UX!
Event Schedule
6:00 pm - Doors open, Networking

7:00 pm - Words from organizers, Premiere Screening

8:00 pm - Post-episode UX discussion & Networking

9:00 pm - Wrap-up
This event is free and open to the public, but seating is available on a first come first served basis so make sure to arrive on time. See you at the Premiere!
Learn from these User Experience Experts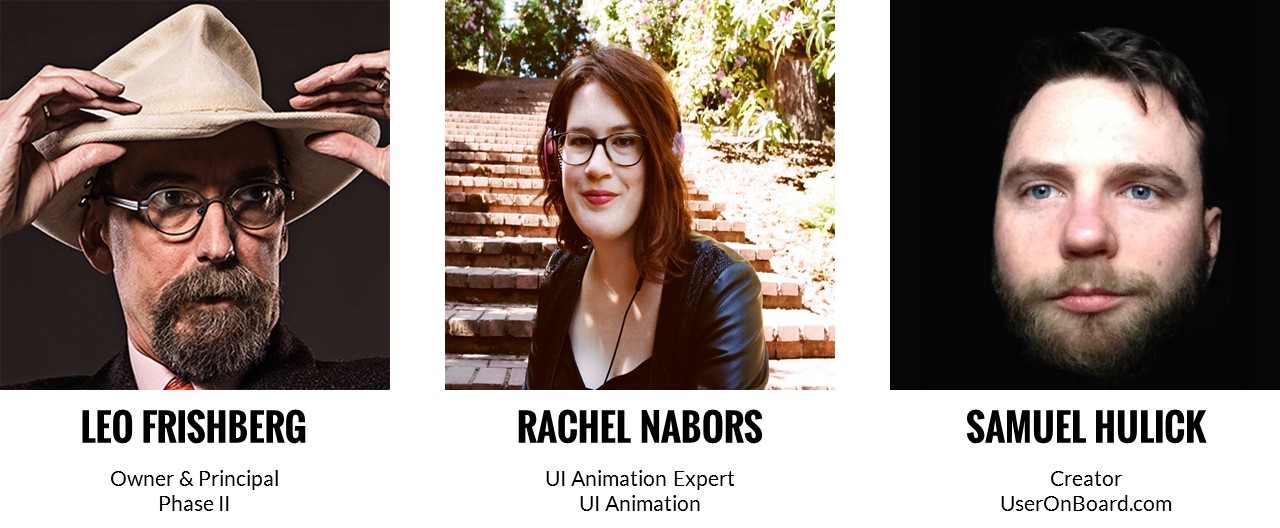 Leo Frishberg is Founding Principal of Phase II, a Portland, OR based UX and product strategy consultancy. His UX leadership extends back 30+ years. As Product Design Manager at Intel, he led multiple enterprise UX teams. As Principal UX Architect at Tektronix, he established UX as a strategic component of the business. Most recently, he authored Presumptive Design, a leading-edge design research method.
Rachel Nabors is a UI animation consultant and international speaker in Portland, Oregon. She curates WebAnimationWeekly.com, founded the Animation at Work community, and represents the interests of web animation folk as an invited expert at the W3C.
Samuel Hulick is the author of The Elements of User Onboarding. As the creator of UserOnBoard.com, he's combined UX savvy and a cat-like curiosity for measuring UX impact to become an expert in onboarding. His approach is shaped by over a decade of web experience, theories taken from behavioral psychology, video game design, and even filmmakin