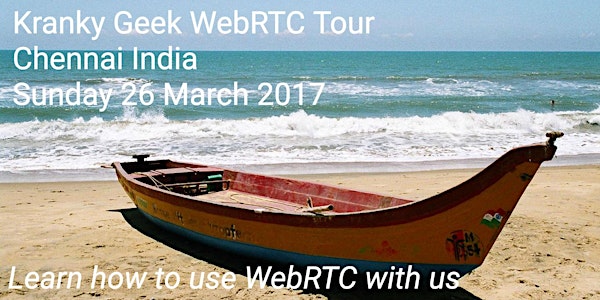 Kranky Geek WebRTC Tour - Chennai
When and where
Location
IIT Madras Research Park 32 Kanagam Road Chennai, TN 600113 India
Description
Want to learn about real time communications using WebRTC? Kranky Geek, the respected experts on WebRTC who host fun technology events globally - now bring a fast and furious WebRTC Tour to India for March 2017. Join us!
WebRTC allows you to quickly embed live video and audio communications into your mobile and web applications. WebRTC technology was the result of major investments by Google, Mozilla, Microsoft, Cisco and others over the past 5 years and is behind-the-scenes live video/audio technology for applications like Facebook Messenger, WhatsApp, Houseparty, Salesforce SOS and Slack, to name just a few household names.
WebRTC is growing dramatically, enhancing user experiences for all kinds of applications across industries, including telehealth, distance e-learning, financial services, e-commerce, e-sports and more. This is an excellent opportunity for you to learn from the experts we've assembled for this fantastic half-day event.
This is a hands-on Kranky Geek event, so bring your laptop. We will be giving demonstrations and showing you how easy it is to start building with WebRTC.
The purpose of this event is to jumpstart your development knowledge on WebRTC video and audio technology and provide you with relevant information to enable you to make the right choices in your development efforts. Here's what you'll learn:
Who is using WebRTC today and what are the leading applications
Getting starting with some coding fundamentals
Client side development and customization for your applications
Server side elements you'll want to consider
Social networking
PLUS food and drink (of course)
This WebRTC learning event features leading speakers providing both a technical and user experience prospective, identifying the questions that need to be answered and the decisions to be made.
Logistics
The event is being held at the IITM Research Park conference facility.
The event will start promptly at 2:00 pm on Sunday, 26 March. Please arrive on time as this is a hands-on event and you'll need to keep up with the group.
Please note that space is limited for this event, so register now if you plan to attend. Questions? Email us at info@krankygeek.com
Payment
This is FREE event, however, you must be pre-registered to attend via this Eventbrite page and come prepared to actively participate!
Other Tour Cities
Bangalore, Sunday 19 March 2017 @ 12 pm
Hyderabad, Friday 24 March 2017 @ 2 pm
Sponsors
This event is made possible by the great sponsorship from Tokbox. They have organized a complementary TokBox WebRTC Developers Workshop, with a deeper hands-on coding drill-down in Chennai, on Tuesday 28 March - sign up here!