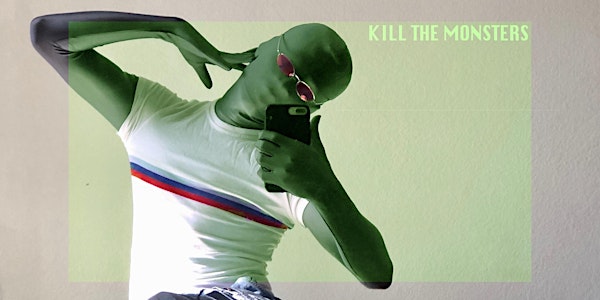 KILL THE MONSTERS
When and where
Location
Human Resources Los Angeles 410 Cottage Home Street Los Angeles, CA 90012
Description
Los Angeles based dancer, choreographer, and photographer, Jobel Medina will premiere two new solos for the first time in two years at the Human Resources Los Angeles, July 20th.
"Medina demonstrates an artistic maturity that is beyond his years" -Jeff Slayton // SEEDANCE
Highly physical and thought-provoking, Jobel's new solos undertake problematic subjects with humor and sensuality. By merging both experimental practices and over-the-top drama inside his process, he's become less burdened by the extreme seriousness that often paralyzed his creativity.
Solos will be performed by Sarah Butler and Jobel Medina with a special guest, Joey Navarrete-Medina and a music collaboration with Dylan Marx.
*Plus, a series of artwork by Sarah Butler will be open for viewing and purchase before and after the show.
Bring cash for drinks!
Venmo is also accepted.
Get to know the artists:
JobelMedina is a dancer, choreographer, and photographer based in Los Angeles. Born and raised in the Philippines, Jobel migrated in the U.S. at the age of twelve. He received his Bachelor of Fine Arts in dance at California State University, Long Beach and has been a member of Ate9 Dance Company since 2017, where he worked closely with Danielle Agami and also performed works by Shahar Binyamini and Tom Weinberger. In 2018, Jobel was one of the six interpreters to perform Tino Sehgal's "Selling Out, (2002)" at the Hammer Museum in Los Angeles, CA. As a freelancer, he's worked with choreographers such as Christopher Bordenave of No1 Art House, Kate Wallich and The YC, Ania Catherine & Dehja Ti, Rebecca Lemme, Keith Johnson, Andrew Winghart, and Whyteberg. He's also appeared in multiple music videos including Mac Miller, Anderson Pak, Noah Crus, Raveena, Watsky, Jareena De Marco and more. Recently this year, he performed for Shaun Ross's musical debut at the Los Angeles Pride Festival in West Hollywood.
Jobel has been commissioned to choreograph for The Assembly, PGK Dance Project, and CSULA Dance Department and has presented work at multiple venues and festivals throughout the states. Additionally, he's taught dance workshops at various universities such as CSULB, CSUF, CSULA, and in multiple high schools including Huntington Beach Academy of Arts, AB Miller Conservatory of Dance, and Laguna Beach HS.
Following this dance concert, Jobel is eager to take on film and photography projects in the next few months to strengthen his skills behind the lens. In the fall, he'll be attending CalArts for his MFA in Dance with integrated Media.
SarahButler is a performance and visual artist based in Los Angeles. She graduated from Cornish College of the Arts in Seattle, WA with a BFA in Dance and has been a founding member of Danielle Agami's Ate9 Dance Company since 2012. With Ate9, Sarah has performed at prestigious venues nationally and internationally, including Jacob's Pillow, American Dance Festival, the American Platform for Dance at The Joyce, and Context Vishneva Fest in Moscow, Russia, among others. Sarah has taken part in the creation of new freelance dance works with Tom Weinberger, Alex Ketley of The Foundry, and Jobel Medina. She has guest taught at Cornish College of the Arts, California Institute of the Arts, and currently teaches Ate9 open classes in Los Angeles. Sarah has designed and built large-scale, wearable pieces for her own performance-based productions including her flowerhead sculpture, featured in DTLA's Art Walk in 2017 in collaboration with visual artists Laurie Shapiro and Darren Sarkin; and The Guest House, her most recent collection of photography, embroidery, & poetry work, was shown as a part of Seattle's Capitol Hill Art Walk in March 2019. Later this month, she looks forward to performing with singer-songwriter Russian Red at Jardin Botanico Alfonso XIII in Madrid, Spain.
JoeyNavarrete-Medina found dance in Fontana, CA at the AB Miller Dance Academy with Nicole Robinson in 2005. In 2014, he received his BFA in Dance at CSULB where he graduated Cum Laude and received the Dizzy Feet Scholarship. Comprehensively certified through Body Arts and Science International (BASI) Joey has taught Pilates with dance specialization in various settings. He collaborates frequently on dance works with his dance partner Rosa Rodriguez-Frazier and goes to different parts of Mexico to perform and facilitate contemporary or partnering workshops as a way to stay connected with his Mexican American roots. Joey has performed in various projects around Southern California and has worked with The Assembly Dance, No1 Art House, Acts of Matter, Keith Johnson/Dancers, Rosa Y Joey Dueto Collectivo, Whyteberg, plus more. Joey is entering his second year in the World Arts and Culture/Dance Program where he is pursuing his MFA degree in choreographic Inquisition.
DylanMarx is a musician, composer, producer, and educator currently living in Los Angeles, California. He's released music under the names Clownfisher, Moths, as well as his own. His albums Moths (2016), Champions (2018) and Midden (2018) are all available on Bandcamp and Spotify. He is currently an MFA Candidate at the California Institute of the Arts.