Description
Chase away the autumn chill with 3 easy comfort food dishes that utilize a variety of fall favorite ingredients. We begin by rolling out fresh dough for sausage pumpkin pinwheels, stuffed and shaped by each kid chef. Next, we mix together buttery noodles and rich marinara sauce for a scrumptious pasta casserole: no-fuss baked ziti. Class ends with the ultimate fall dessert: warm mini apple pies, filled and uniquely decorated by your kid chef. With these comforting dishes, it's easy to fall for this awesome autumn class!
*This class may accommodate Dairy-Free and Vegetarian dietary restrictions. Sorry, Gluten-Free options not available.
Chef Sony: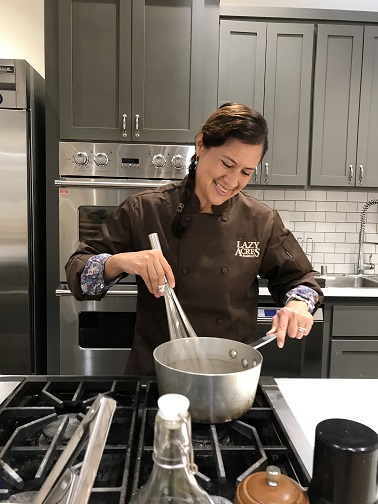 About Chef Sony:
As a young child, I studied my mother in the kitchen as she would create intricate and laborious traditional Mexican dishes using various herbs and spices. Thinking about it now, I can feel the warmth of the kitchen, smell the chilies roasting in the oven and hear the continual simmering of something delicious on the stove. These were, and are, to me, the sights, smells and sounds of love. So began my love affair with cooking and eating dishes of various cuisines.
Although my education and training is in biology, I've been cooking almost all of my life. What I found is that science and cooking are so similar - there are protocols (recipes) to follow, but there is a lot of room for experimentation as well, so long as you have a handle on the basics. I delight in making up creative and delicious dishes for family, friends and my community. I hope my deep history with food and love for teaching inspires each young chef that walks into the Moonlight Room classroom.
FAQ'S:
Kids' Classes:
*This class is designed for kids 5-9 years of age and is drop-off, only.
What does "Hands On" mean?
Hands-on changes from class to class, but it generally means getting your hands dirty. From rolling sushi to slicing and dicing, the class will be designed around the theme and age group of the class. We'll provide the tools, so don't fret! Most of the tools are what you'd have at home, as we try to encourage taking the lessons learned in the class and apply them at home.
Is there a Dress Code?
We strongly recommend wearing clothes appropriate for the kitchen. Closed-toed shoes, sleeves above your elbows, and a way to tie up longer hair are all strongly recommended.
What do if my child has a food sensitivity or restriction?
We've got substitutes prepared! Each time you purchase a ticket it will ask you to list your dietary restrictions. Please be as explicit as possible. If there's a class with a major component, ie. flour in pasta making, that might conflict with your sensitivity, we ask that you please consider another class that removes possible cross-contamination. Although we usually can accommodate nearly every allergy/diet restriction, there may be a chance we will not be able to for a particular class. If there is a concern, we will be sure to reach out to you and refund the ticket before the day of the class.
Do I need to bring my ticket to class?
Nope! We do check-ins by name so all you need to bring is your lovely self.
Is there a waiting list?
Unfortunately, our classes are on a first-come, first serve basis. If you're interested in joining our classes, we encourage you to sign up early!
Do you do private events?
What's your refund policy?
We're happy to refund your ticket up to 24 hours before the event. This allows our chefs adequate time to prepare materials and ingredients for the class.
What if I have more questions?
Please reach out to us at the following email: EncinitasMarketing@Lazyacres.com
**Please note- this style of class does not include seating. Just like your kitchen at home, it's easier to prep, chop, and slice while standing! Please wear comfortable shoes. Also, our kitchen tends to fluctuate occasionally in temperature. Please bring a jacket in the event the room gets a bit chilly. This class is subject to cancellation,