Zoom link will be provided via email. Sessions include a full "walk-thru" of the KEYS Program.
About this event
Our mission: provide Prince George's County residents ages 18-24 with Employability and Training skills to attain & maintain employment.
Information Sessions take place online via Zoom, link will be sent via email. Sessions include a full "walk-thru" of the KEYS Program-Enrollment, Registration, Employability Seminars, Internship/Training to Graduation & Job Placement. Participants are welcome to ask any questions they may have about KEYS Careers and next steps for Enrollment, Fall 2020. If you have not already done so, please also fill out our online program application:
https://www.employpg.org/youth/keys/
The KEYS Program is a Youth Services program under Employ Prince George's designed to provide out-of-school at risk youth; ages 18 to 24 with the necessary tools to become competitive in today's workforce. KEYS will provide career pathways, career training, credential attainment, and supportive services to young adults who may face barriers to gainful employment.
How do we do this? This is done through exciting but vigorous eight-week employability seminars on work readiness skills, soft skills, life skills, and a host of vital workshops. Additionally, we partner with local businesses where the participants gain hands-on work experience. We also pay the participants while we train them and provide them with new employment opportunities. Our various services afford great exposure and opportunities for youth by providing them with the necessary tools for college, occupational skills training, and/or employment.
KEYS is a federally-funded program under the Workforce Innovation and Opportunity Act (WIOA) and Department of Family Services (DFS). Program participants are comprehensively assessed to identify their individual skills, abilities, interests, and employment goals. All participants experience some barrier to employment such as being a foster child or ex-offender, basic skills deficiency, homelessness, or pregnancy/parenting to name a few. Prospective participants are subject to program eligibility requirements as well. Each participant is exposed to educational services and training that will increase their skill sets for today's competitive labor market. In addition, our youth will participate in a paid internship or training program and receive 12 months of follow-up services and assistance for placement in permanent jobs, training programs, and educational opportunities. OUR NEXT CO-HORT BEGINS FALL 2020!
Employability and Training services are available in the following Career Services:
Retail
Hospitality
Warehouse Services
Administrative Services
Information Technology
Healthcare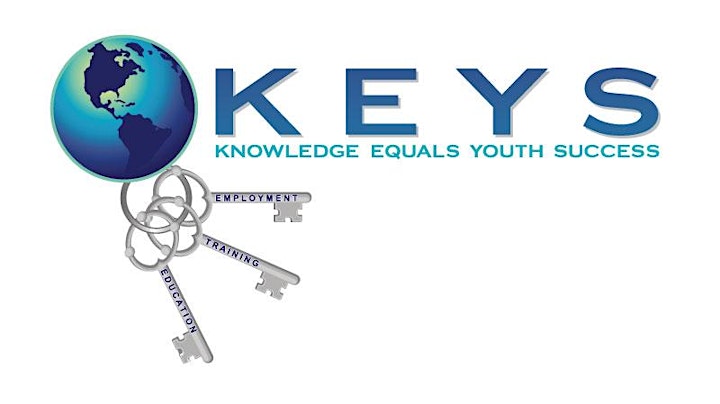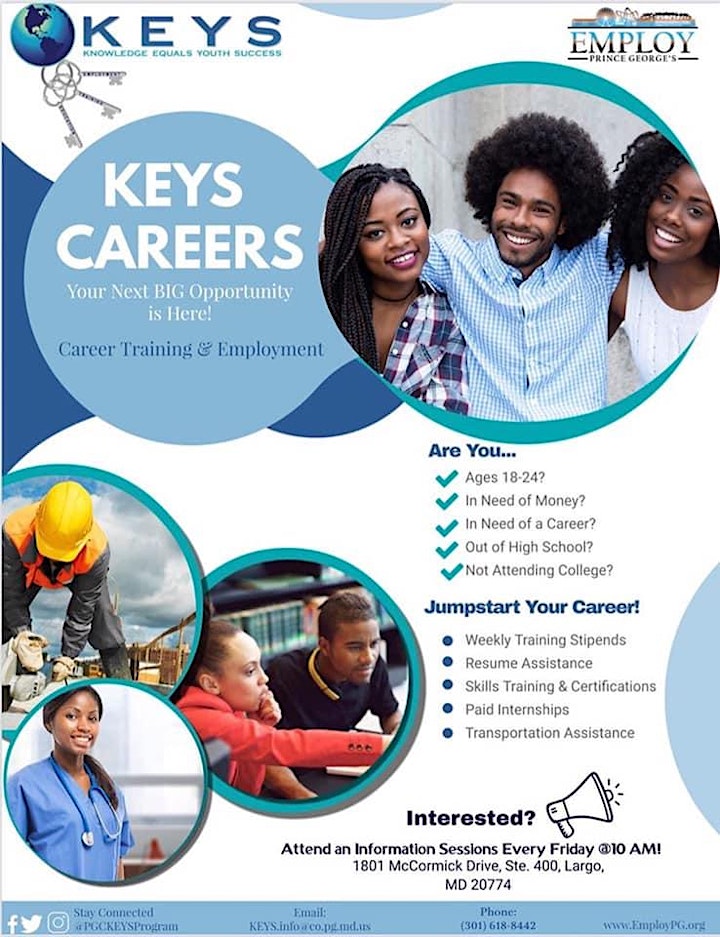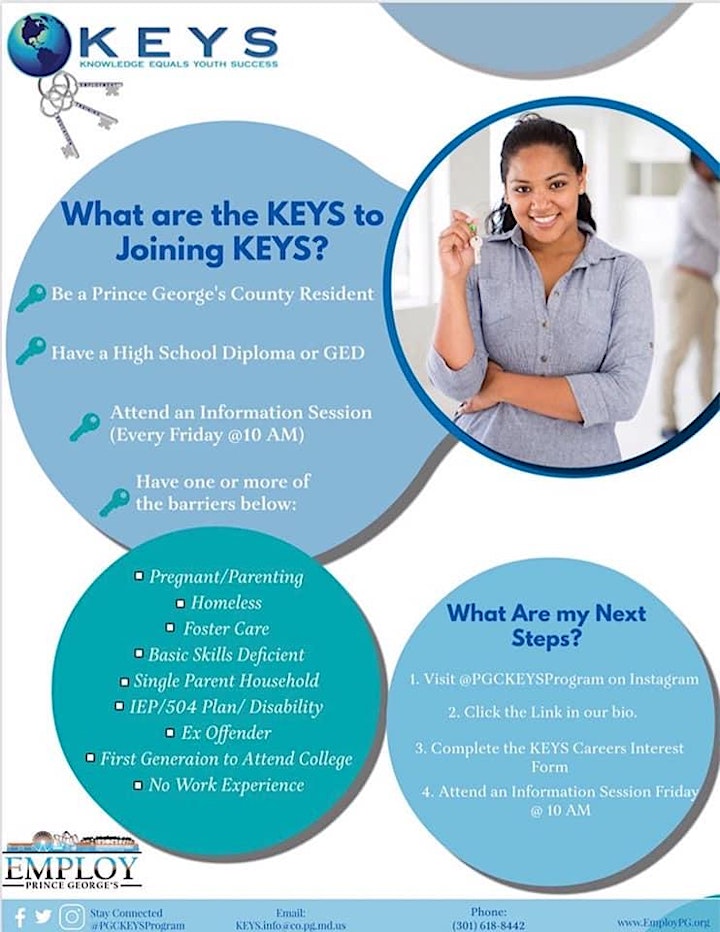 Organizer of KEYS Careers Virtual Information Session
Information Sessions take place online via Zoom, link will be sent via email. Sessions include a full "walk-thru" of the KEYS Program-Application, Enrollment/Registration, Employability Seminars, Internship/Training to Graduation & Job Placement. Participants are welcome to ask any questions they may have about KEYS Careers and next steps for Enrollment, Fall 2020. If you have not already done so, please also fill out our online program application:
https://www.employpg.org/youth/keys/