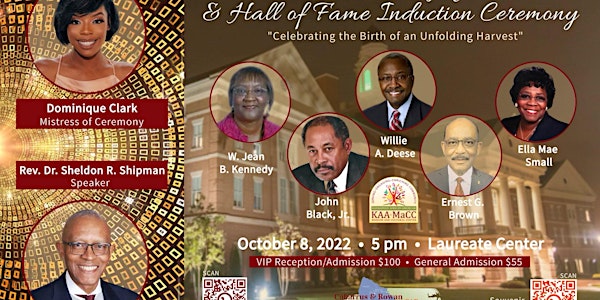 KAA-MaCC 9th Anniversary Gala and Hall of Fame Induction Ceremony
"Celebrating the Birth of an Unfolding Harvest"
When and where
Location
The Laureate Center 401 Laureate Way Kannapolis, NC 28081
About this event
A Night to Remember with KAA-MaCC and Friends
The anniversary celebration commemorates the founding of KAA-MaCC and provides an opportunity to celebrate the distinguished contributions of Cabarrus and Rowan County natives, our supporters, and partners.
The Ninth Anniversary Gala features a "Celebrating the Birth of an Unfolding Harvest" Reception and the Hall of Fame Induction Ceremony."
The VIP reception highlights KAA-MaCC supporters and partners, and its collective impact on the local community. The reception commences the celebration and sets the tone for the anniversary gala Hall of Fame Inductions.
The ceremony for the Hall of Fame Inductions is central to collecting and preserving history. Individuals from Cabarrus and Rowan County are recognized for their significant contributions to society (withstanding the test of time) of lasting value and impact in their respective endeavors. 2022 inductees include Willie A. Deese (Business Executive); Willie Jean B. Kennedy (Educator); John Black, Jr. (Educator); Ella Mae Small (Civic /Community Leader); and Ernest G. Brown (Business Executive) will receive Lifetime Achievement awards. The Hall of Fame serves as a historical account of extraordinary accomplishments; while also promoting the sense of community, pride of heritage and the spirit of excellence of Cabarrus and Rowan natives.
Information Requests: Jacqueline L. Anthony at info@kaamacc.org or 704.925.1314.
COVID-19 Precautions:
Wear a mask. When indoors in public, everyone must wear a well-fitting mask correctly (proper mask size and fit) over their nose and mouth.
Take off your mask while you eat or drink. Place it somewhere safe to keep it clean, such as in your pocket, purse, or paper bag. After eating, put the mask back on with the same side facing out. Be sure to wash or sanitize your hands again after taking off your mask and after putting your mask back on.
When to throw away or change your mask. Disposable masks that become wet or dirty should be thrown away in the trash right away. Do not continue to wear a wet or dirty mask. Replace it with a dry, clean mask. New masks are available, if needed.
Wash your hands (regularly or use hand sanitizer). Hand sanitizers are available, if needed.
Should you attend? Do not if you're sick, have been diagnosed with or exposed to COVID-19, are waiting on COVID-19 test results, or have been told to isolate or quarantine by a health care professional or health department.
Important Document: COVID-19 Safety Acknowledgement, Assumption of Risk, and Release of Claims and Consent
Please read carefully before proceeding. This document contains a legal release of claims and waiver of rights concerning your participation in events held or sponsored for the benefit of the Kannapolis African-American Museum and Cultural Center ("KAA-MaCC").
Download the document to read and sign it before coming to "the Event" or sign it upon arrival at "the Event." Click here to download.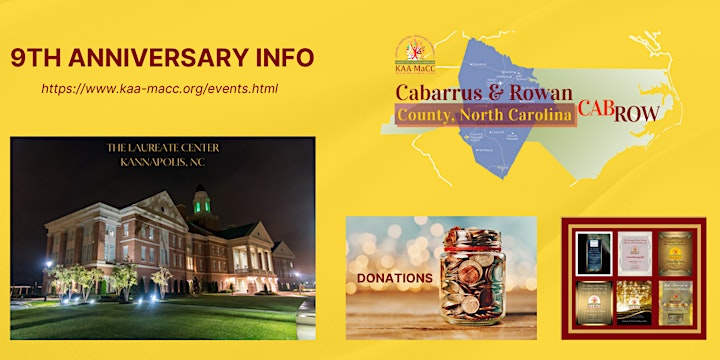 KAA-MaCC 9th Anniversary Souvenir Journal/Sponsorships: Purchase a journal advertisement and/or become a sponsor Today!
Donations: www.kaa-macc.org/donate.html ~~ Text to GIVE: KM-TEXT2GIVE ... (704) 209-4036
What is the KAA-MaCC Hall of Fame Induction Ceremony?
The purpose of the Kannapolis African-American Museum and Cultural Center Hall of Fame is to recognize and honor African-American individuals from Cabarrus and Rowan County, North Carolina who excelled in their respective roles and who helped to bring honor, recognition, distinction, and excellence to their gift/talent. Recognition of individuals in the Hall of Fame will help maintain the spirit, pride, and sense of community as well as serve as a historical account of the African-American presence in Cabarrus and southern Rowan County, North Carolina.
Before the induction ceremony, receptions at the Laureate Center (VIP and General Admission) will be held, along with a silent auction. The program includes a guest speaker, musical entertainment, introductory videos regarding the KAA-MaCC Hall of Fame and inductees, and acceptance of awards by the inductees. Living inductees may be in attendance to accept their induction, whereas deceased inductees will have someone accepting on their behalf.
What is the difference between VIP Reception/Admission and General Admission tickets?
A donation of $55 (General Admission) will include a reception, a silent auction, musical entertainment, dinner, a speaker, and the Hall of Fame Induction Ceremony.
A donation of $100 (VIP Reception/Admission) includes a reception for honorees and special guests at the Laureate Center, a silent auction, musical entertainment, dinner, a speaker, and the Hall of Fame Induction Ceremony.
What is the dress code for the event?
The Dress Code for all attendees is Black Tie optional.
Is Public Parking available for the event?
Guests attending the event should park in the designated areas in the downtown area. Click here for the downtown Kannapolis Parking Map.
Should I bring my printed ticket to the event?
Tickets can be picked up by using 'Will Call' or you can bring your ticket to the event. You must show your ticket(s) upon arrival. Tickets may be scanned at the door, or you may bring your printed ticket, or show your digital ticket on a smartphone.
Is there a meet and greet reception with the inductees?
Only inductees and special guests are scheduled to attend the VIP Reception at the Laureate Center. If inductees cannot attend, they will be honored and inducted into the KAA-MaCC Hall of Fame by a representative who will accept the induction on their behalf.
Is there reserved seating?
Yes, seating is reserved for the 9th Anniversary Celebration. All guests will receive their seat assignment upon arrival.
Is the event venue handicap accessible?
The Laureate Center is ADA-compliant.
What is permitted at the event?
The following is permitted for the event at the Laureate Center and/or the Village Park:
Cameras are allowed at the VIP and General Admission receptions that will be held in the Laureate Center.
Smoking is not permitted.
Food or beverages are not allowed outside.
Only service animals are permitted.
Is there a refund policy?
All tickets are nonrefundable, and there are no exceptions for refunds. No rain dates nor substitutes for tickets are available for this event. If for any reason, the induction ceremony is canceled, or if the inductees are not in attendance, there will not be any refunds. When purchasing your ticket, you will be asked to confirm this information.
How can I contact KAA-MaCC for questions and/or concerns?
You can contact KAA-MaCC via email (info@kaa-macc.org) or telephone (704.925.1314).