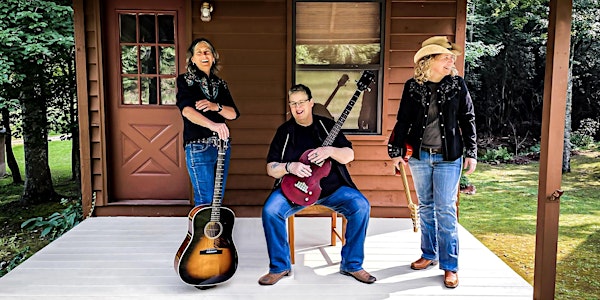 Location
Eddie's Attic
515 B North Mcdonough Street
Decatur, GA 30030
Just Roxie at Eddie's Attic in Decatur, GA!
About this event
Just Roxie
Accomplished musicians, gifted songwriters and vocalists, and longtime friends Lenny Lasater (bass), Linda Bolley (guitars and banjo), and Becky Shaw (guitar, harmonica, button accordion, lap steel) blend their distinctive talents, voices, and styles to create a sound and dynamic uniquely their own. Bringing their refined artistry, stunning vocals, and the wisdom born of life experience to their singing, arranging, and songwriting, their music comes from the heart and speaks to the soul. Each original song and cover takes us on a journey—on the road, to the depths of our hearts and minds, through the full range of our emotions—and ultimately, brings us home to ourselves.
Just Roxie's music is authentic, accessible, organic. It invites us to sit on the back-porch swing, swapping stories that make us laugh, cry, reflect, and remember.With such musical influences as Emmylou Harris, The Wailin' Jennys, Alison Kraus, and Gillian Welch, their style honors classic country, folk, Americana, bluegrass, rock 'n roll, and more. In their songs we hear our own stories: of love and heartache, joy and sorrow, friendship and loss, the momentous and the everyday. Expressed with such honesty and sung so exquisitely, their music affirms, comforts, and strengthens us, as the resonance of their message reassures us that we are far from alone. Insightful and engaging, it speaks of lives well lived, of appreciating what matters, of practicing acceptance and expressing kindness. Just Roxie has a distinctive voice, and something to say.
Just Roxie creates community at every live show, forging an unshakable bond with the audience. The trio's rapport, their warmth and humor on and off the stage, and the passion and energy of every performance welcome us into their circle, making any setting an intimate one. An evening with Just Roxie is an evening spent with cherished friends. You'll leave with a stronger, lighter, more grateful heart: re-energized, renewed, reinvigorated. Just Roxie, like music itself, brings us all together.