Joyce Manor with Turnover, Tigers Jaw, and Prince Daddy and the Hyena
About this event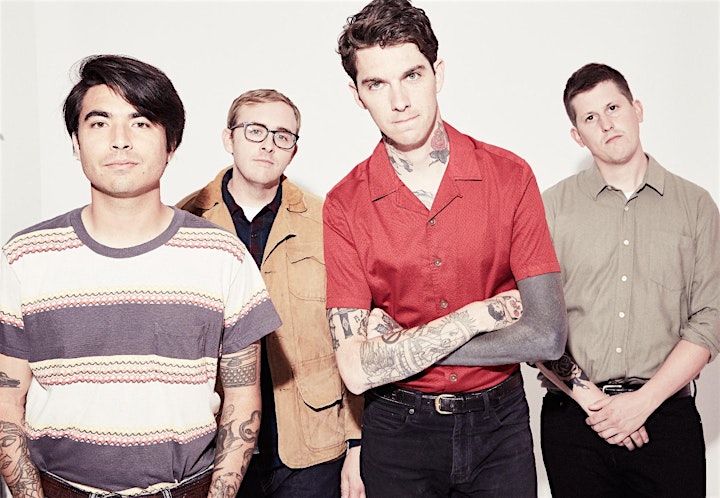 By purchasing tickets, you will be opted in to receive emails from SummerStage.
JOYCE MANOR
Let's start the story of Joyce Manor's Million Dollars To Kill Me at the end of Million Dollars To Kill Me—at the last not-even two minutes of "Wildflowers," a song about light and beauty and wonder that ends the record like a sunrise after a long exhausting night. It's not a sing-along single or a bleaked-out slow-burner. It's brief, understated, and simple but sophisticated as it says what it needs to say in seven sharp lines. And it ends the album with a question instead of an answer, because on an album like this, questions are more honest. If 2016's Cody was about growing up, then Kill Me is about what happens next—the reckonings with love, money, doubt and confusion, and the hope that persists despite it all. That's where "Wildflowers" comes in. Says Barry Johnson, band co-founder/guitarist/vocalist: "'Wildflowers' is my favorite song on the record—maybe my favorite song I've ever written. It's about how something can be so beautiful it breaks your heart."
That's Million Dollars To Kill Me: an album that glides across that tension between two perfectly opposite feelings. That's even how the guitars fit together. It's in the way co-founding guitarist Chase Knobbe can somehow make a song sound sadder and tougher at the same time, says Johnson, or the way Johnson mixes minor and major chords to invoke a precise kind of overpowering melancholy. ("I like when songs have a feeling of yearning," says Johnson. "It just feels good to me. Makes you wanna cry.") It's even in the way the album was made because it didn't start as a Joyce Manor album at all.
After Cody, Johnson contacted Impossibles' guitarist/vocalist Rory Phillips—"One of my musical heroes," he says—to produce the next Joyce Manor album. Phillips couldn't fit the commitment between work and family, but another idea materialized: what if Johnson and Phillips made a new band together? Over email, of course, since they were thousands of miles apart? So Johnson would send his half, and Phillips would send a whole song back, and it worked well. ("It was just really exciting to mail away for a song," says Johnson.) Then it worked too well. When Johnson asked Knobbe to add some guitar—on the original "Wildflowers," actually—he understood what was happening. What he'd thought of as "weird songs that were created with fake drums between two guys who were never in the same room with each other" were revealing themselves as the start of a new Joyce Manor record.
So they made a new Joyce Manor record. With Knobbe, new drummer Pat Ware—"Awesome new drummer," adds Johnson—and longtime bassist Matt Ebert, they wrote enough songs to fill a full-length, and then worked to get the ones lifted from emails to match the ones written at full volume. ("Bedroom charm versus live rock band," Johnson explains.) Their next step was a new step: their first time recording outside their L.A. hometown, at Converge's Kurt Ballou's GodCity studio in Salem, Massachusetts. They recorded daily 10-to-6 so Ballou could spend dad time with his kids at night, and then slept right upstairs in bunk beds: "Kinda felt like camp," says Johnson. "It was a pleasure—I would recommend it to anyone."
Kill Me kicks off with "Fighting Kangaroo," part Jawbreaker wit and part Jawbreaker grit, while follow-up "Think I'm Still In Love With You" digs deep into that pit between pleasant memory and unpleasant present. (Or is that what "Friends We Met Online" does?") There's the instantly catchy "Silly Games," the deadpan blue album Weezer-style pop song where Johnson and Phillips started everything, and the Britpop-py (or Teenage Fanclub-by) title track, with a final line that lands like a boulder toppling off a cliff. There's the acoustic "I'm Not The One," with equal connections to Big Star, Billy Bragg and San Pedro hometown hero Todd Congelliere, who could make a sing-song playground melody sound profound. There's a little studio-inspired experimentation: e-bow on "I'm Not The One" and glockenspiel on "Silly Games," both Joyce Manor firsts. ("I never once suggested putting glockenspiel on anything but I think it works!" says Johnson.) And finally there's "Wildflowers," that unexpected inspiration for turning weird songs with fake drums into real songs with real drums and real everything, really. That's how Kill Me began, and that's how it ends—clear, honest, direct and true. Which is about all you could ask for, whether you're starting a record or finishing it. Or listening to it.
TURNOVER
There is a closeness at the heart of Turnover's aptly titled new album, 'Altogether.' Though it's the first collection the trio has written while living on opposite coasts, the record actually represents the group's most collaborative and connected work to date, showcasing the intuitive, near-telepathic relationship frontman Austin Getz has developed over the years with his bandmates.

"Instead of making things more difficult, being far apart helped us learn to appreciate each other even more," says Getz. "As a band, we're closer now than we've ever been before."

Recorded at Philadelphia's Studio 4 with longtime creative foil Will Yip at the helm, 'Altogether' finds the group breaking new ground on a number of fronts. Pop sensibilities inform the writing for the first time, with elements of funk, jazz, lounge, and disco mingling alongside the band's trademark indie grit and punk energy. Lush melodies and infectious hooks reflect the newfound freedom and confidence that have inspired Getz since his cross-country move to northern California, while adventurous recording techniques and instrumentation lend a fresh perspective without sacrificing the kind of precise detail and rich intricacies that have come to define the band's recent studio output. The result is an album that boasts both sonic sophistication and emotional accessibility in equal measure, a major leap forward in sound and vision that reveals time apart as the true key to togetherness.

The title is fitting in another way as well, according to Getz. "On this record, more than in the past, we wanted to keep in mind the beauty of writing 'popular music,'" he explains. "By that I mean music for people who don't have the time to delve into the niches and find fringe artists, music for those of us who are busy with work or our families or whatever problems might be around. Music is real magic that can change people's days and lives, and the more people listening and loving, the better."

Turnover first emerged roughly a decade ago in Virginia Beach, VA, but the group's critical and commercial breakthrough didn't arrive until six years later, when they cracked the Top 5 on the Billboard Heatseekers Chart with their acclaimed sophomore album, 'Peripheral Vision.' The band—which consists of Getz, his brother Casey on drums, and their childhood friend Danny Dempsey on bass—followed it up in 2017 with 'Good Nature,' a streaming smash that racked up roughly 40 million plays on Spotify alone and which Vice proclaimed to be "their best album yet." Reviews were similarly glowing around the world (Pitchfork praised the record's "rhythmic propulsion and harmonized guitar sparkles," while Exclaim! hailed its "shimmering instrumentation and luscious harmonies," and The Line of Best Fit swooned for its "plush production" and "subtle maturity"), and the album earned the band headline dates everywhere from Brooklyn Steel to The Fonda Theatre along with their first appearance at Coachella.


"With 'Peripheral Vision,' I was starting to experiment with psychedelics, and I was feeling alienated from a lot of the things I'd been raised to believe and accept," Getz reflects. "That album asked a lot of questions, and I felt like 'Good Nature' was my attempt to find the answers to those questions. This time around, though, I found myself in a very different place, both literally and metaphorically."
Starting over from scratch somewhere new, particularly somewhere as rural and isolated as Getz's new home in northern California, proved more challenging than he had anticipated.


"The move was great in a lot of ways," he explains, "but the experience also de-romanticized a lot of the notions I had about leaving everything behind and relocating to the woods. I realized I'd been undervaluing a lot of things that were actually really important to me, like having friends and family close by. I had to come to terms with being a stranger and learn how to trust new people and make new connections all over again."
 
For the first time, Getz found himself looking inwards instead of outwards for inspiration, writing as an act of self-exploration rather than in response to any external stimuli.

"There was a deepening of my relationship with music that came out of the whole experience," he explains. "Instead of waiting for some revelation to arrive, I would make myself sit down with a guitar or at the piano and just play until something interesting happened. Often what came out surprised me."


Sometimes an entire song would reveal itself in ten minutes; other times, Getz would land on a guitar riff or a chord progression that he'd revise for months. The band spent time writing together in-person on tour and during time off in New York and Portland, with Yip flying out to join the band for the latter.

"Will's much more than just a producer for us at this point," says Getz. "He's a close friend and a reliable piece of what our sound has become."

That sound is the product of a remarkably wide range of influences and tastes, which Turnover synthesizes on the album into a whole far greater than the sum of its parts.

"Working remotely for the most part, everybody was able to send ideas around on their own schedules, and nobody felt too protective of anything, so the new songs started to reflect each of our personalities more than ever before," says Getz. "Collectively we like everything from jazz to folk, disco to rock and roll, and a lot in between, and it's where we all intersect that things start to feel special. With the three of us and Will all contributing to the writing together, the songs turned out better than anything any of us could have done on our own. That's what makes the experience of being a band really unique as opposed to just one artistic mind."


'Altogether' demonstrates the band's eclectic mix of personalities from the very start, opening with a lo-fi, jazzy intro that quickly gives way to the driving drums and delay-drenched guitar of "Still In Motion." Like much of the album to come, the song is a meditation on change and perspective, on learning to quiet your mind and appreciate the moment before it's gone. The bittersweet "No Reply" reckons with guilt over failing to be present with a loved one, while the effervescent "Much After Feeling" recognizes the sacrifices we make to stay connected across geographical distance, and the breezy "Parties" grapples with the kind of self-consciousness that can leave us prisoners of our own design.

"There's a part in that song where the tone completely changes," says Getz, "and that represents the moment when your walls finally come down and you start to just appreciate where you are. The lyrics go from describing the nervousness you feel in a particular moment to just describing the moment itself because you're finally out of your head and able to recognize the beauty that's all around you."

Getz taps into that beauty throughout the record, stopping to smell the roses and ground himself in ways that might have seemed impossible even just a few years ago. "Starting to feel at home in the country," he sings on the hazy "Valley of the Moon," while the sultry sax of "Ceramic Sky" hints at the simple and sensual pleasures of falling in love, and the playful "Plant Sugar" channels 80's Britpop as it makes a case for mindfulness.

"I was stressed out when I first started writing that song, but then I looked up at the sky and saw the constellations and felt ridiculous for being worried about anything," he laughs. "It reminded me that sometimes you just need a little change in perspective to appreciate how lucky you really are."

 Turns out, that's all Turnover needed, too.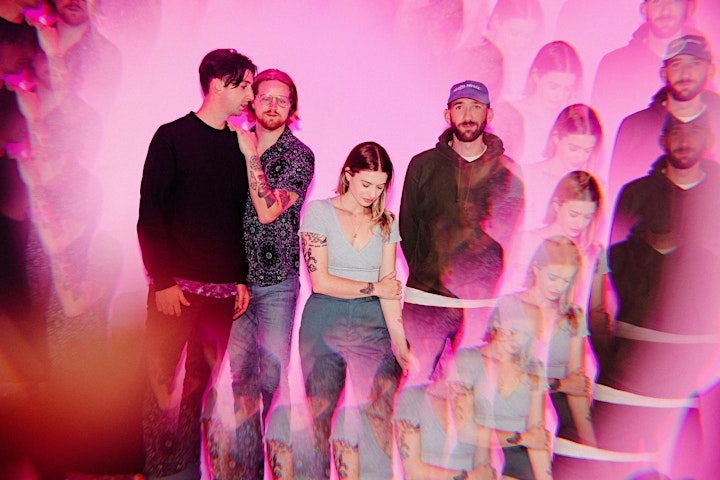 TIGERS JAW
I Won't Care How You Remember Me, by the Scranton, Pennsylvania-based band Tigers Jaw, is an ode to living in the present. As this hectic era of distraction whirrs, ticks, swipes, and scrolls by each of us at an alarming speed, the ability to maintain a sense of priority for the human elements in our lives as well as a reflective understanding of self, remains a lost art. But here, the group has seized upon it. Tigers Jaw's sixth album—and first for new label home Hopeless Records—finds members Ben Walsh (vocals/guitar), Brianna Collins (vocals/keyboards), Teddy Roberts (drums), and Colin Gorman (bass) at the height of their powers, fusing their collective skills with the synchronicity and energy the band honed over several years of non-stop touring. The result is a back-to-the-basement approach elevated by the unmistakable production of their longtime friend and collaborator Will Yip. The band's most sonically ambitious and lyrically affecting album to date, I Won't Care How You Remember Me sees a newfound freshness and creative freedom crystalizing the lush and dynamic world of Tigers Jaw.
Opening with the urgent strums of Walsh's striking title track—featuring Manchester Orchestra's Andy Hull on backing vocals—"I Won't Care How You Remember Me" is a super-charged and emotional ripper about the importance of being direct and truthful with the people in one's life. While at first the song seemed to be an unapologetically defiant statement, it ended up carrying a greater significance for the band, who rallied around it as a sentiment of a shared personal renaissance that sets the tone for the album, as well as the band as a whole. "This album is a hopeful time capsule of a band who has been through a lot together. It's about growth, self-reflection, and figuring out how to be present in the moment to really take stock of what's important, without getting sidetracked by the opinions of others or things out of our control," Walsh says. "Tigers Jaw can get through anything and be stronger because of it. We've endured lots of change over the last 15 years, but a lot of things have remained consistent. We make the music we want to make, we push each other to continue evolving and growing as musicians, and we are so proud of where we are now."
One of the biggest steps of the band's evolution has been in songwriting; while their 2017 album spin found Walsh and Collins splitting the writing duties, I Won't Care marks the first time all four members shared input. "I'm newer to songwriting, but the encouragement and collaboration that happened between us as a band while writing this record built up my confidence and excitement in being a songwriter," Collins says. "Collaborating together not only pushed me as a songwriter, but it also reinforced how good it feels to be in this band."
Gathering together on the heels of a long, intense stretch of touring in early 2019 to work on new material, the foursome found that their dynamic as musicians and friends was firing on all cylinders. The band was tighter than ever before, and considered the writing process a chance to get back to the band's roots with all members in a room together working collaboratively toward a common goal. "We were tearing apart demos and making these songs the best representation of this group of four people that we could," Walsh recalls.
Where spin was a moving soundscape replete with several dense layers of instruments and vocals, I Won't Care pushes the elements of liveliness and human connectivity forward. Minimal layers and takes were used. "After touring so extensively and developing a really strong musical chemistry together, recording in that style seemed like the best approach to capture our band's truest self," says Gorman.
"Cat's Cradle," a thrilling synth-led number written and sung by Collins, tells the saga of a flamed-out friendship in just over two-and-a-half throttling minutes. "This song is about the realization that no matter how much love, effort and consideration you put into a friendship, sometimes it just isn't enough to make it work," explains Collins. "The lyrics touch on how being passive aggressive and not communicating true feelings can just lead to tension, confusion, and frustration in any relationship. I have the tendency to suppress my own feelings and apologize first, so with this song I wanted to acknowledge my own thoughts and feelings while moving forward from that type of dynamic."
The aptly-named "Hesitation" describes "those sinking feelings of sensing that the person you love is beginning to drift away," says Walsh. Originally brought in to the group to record in early 2019, Walsh's song was re-recorded and changed—sometimes drastically—nearly a half-dozen times before reaching its final status. "That song is a testament that we put the work in and were willing to try new things," Roberts says. Elsewhere, the slinky, groovy "New Detroit" evokes the Americana-tinged alt-rock of Gin Blossoms (a personal favorite of Walsh's). "This song was conceptualized while touring Australia after starting a new relationship. I was reflecting on the previous Australian tour years ago when my home life was in a rough place, and that took over the entire experience. I felt mentally split between the two places, unable to be in the moment." The charged "Can't Wait Forever" and "Body Language" pair in yearning with Collins's fuzzed-out "Lemon Mouth" and "Commit," the latter a showcase for the rhythm section's formidable talents.
The album ends with "Anniversary," an anthem of solidarity that fades out on the strains of Walsh's refrain: "We all fall apart in the same way." It's a compelling notion that serves as a reminder of our collective similarities, as well as a signal of Tigers Jaw's undeniable union. "There's no question that we are all best friends, or even deeper—like family," Collins says. "We love playing music together and it feels so good to be in this band and have this camaraderie. We made this record for ourselves, together. We know who we are as a band, and we're gonna keep doing things the way we want to do them and keep learning from each other and growing."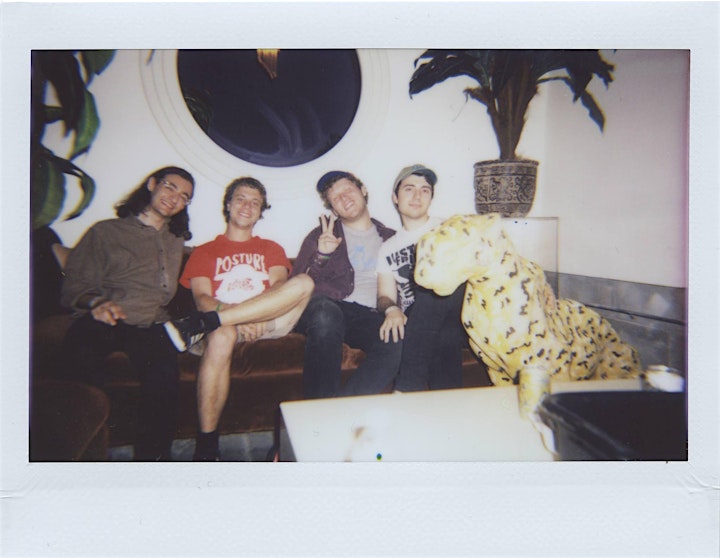 After surviving a cataclysmic event in way east Kentucky, Prince Daddy & The Hyena formed an uncanny alliance in which they perform rad tunes for U!
Performers
Date and time
Location
Capital One City Parks Foundation SummerStage
5th Avenue at 69th Street
New York, NY 10065
Refund policy