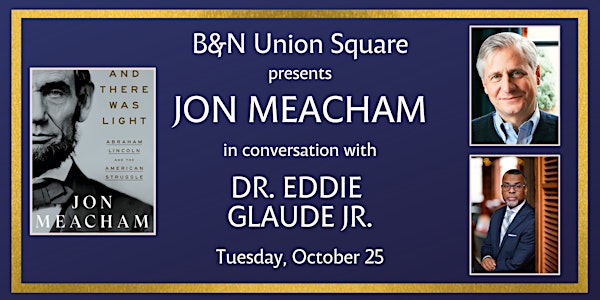 Jon Meacham discusses AND THERE WAS LIGHT at BN Union Square
B&N - Union Square welcomes Pulitzer Prize-winning biographer Jon Meacham on Tuesday, 10/25 at 7:00 PM ET to discuss AND THERE WAS LIGHT
When and where
Location
Barnes & Noble 33 East 17th Street New York, NY 10003
Refund Policy
Refunds up to 1 day before event
About this event
"In his captivating new book, Jon Meacham has given us the Lincoln for our time."—Henry Louis Gates, Jr.
Join Barnes & Noble - Union Square on Tuesday, October 25 at 7 PM ET, as we welcome Pulitzer Prize-winning biographer and #1 New York Times bestselling author Jon Meacham to discuss his new book AND THERE WAS LIGHT: Abraham Lincoln and the American Struggle.
AND THEN THERE WAS LIGHT chronicles the life and moral evolution of Abraham Lincoln and explores why and how Lincoln confronted secession, threats to democracy, and the tragedy of slavery in order to expand the possibilities of America.
Jon Meacham will be in conversation with Dr. Eddie Glaude, Jr. for this special event.
....................................................................................................................
**PLEASE BE AWARE THAT THESE GUIDELINES ARE SUBJECT TO CHANGE DUE TO CHANGING COVID-19 REQUIREMENTS**
To make this event safe and enjoyable for all attendees, please read the below guidelines ahead of buying a ticket, so you know what to expect on the day. To avoid disappointment, we must stress that there will be no access to the event for non-ticketholders.
Barnes & Noble reserves the right to make new rules and orders in its sole discretion with regard to COVID-19 at any time and any person not abiding by the Barnes & Noble directives will be refused entrance or directed to leave the premises.
TICKETING INFORMATION
Admission to the event space for the live event with Jon Meacham.
Due to health and safety and space limitations, those without a ticket will not be permitted to join the queue.
Please arrive by 7:00 PM in order to secure your seat in the event space. Late arrivals may only have access to standing room.
GUIDELINES
Guests will be admitted into the event beginning at 6:30 PM the day of the event. Please have a copy of your ticket available (either printed out or on your phone) for check in.
If not vaccinated, masks are highly recommended.
All books are pre-signed. There will not be a live signing at this event.
In order to attend this event, ticket holders should:
Have not had any contact in the last 14 days with a confirmed COVID- 19 patient.

Not be subject to a quarantine order.

Not traveled in the past 14 days to any state or country that New York has designated as an area requiring isolation upon returning to the state.

At the time of the event, have not experienced in the last 72 hours any body temperature above 100 degrees Fahrenheit or any new symptoms associated with COVID-19. People with COVID-19 have had a wide range of symptoms reported – ranging from mild symptoms to severe illness. Symptoms may appear 2-14 days after exposure to the virus. People with these symptoms may have COVID-19: fever or chills; cough; shortness of breath or difficulty breathing; fatigue; muscle or body aches; headache; new loss of taste or smell; sore throat; congestion or runny nose; nausea or vomiting; and/or diarrhea.
Due to health and safety and space limitations, those without a ticket will not be permitted into the event space.
All event guidelines are subject to change.
If you have any additional questions, please call the store directly at: 212-253-0810.
Please note that Eventbrite is the only authorized dealer for this event. Each person must have a ticket to enter.
_______________________________________________________________________________________
About Jon Meacham:
Jon Meacham is a Pulitzer Prize–winning biographer. The Rogers Chair in the American Presidency at Vanderbilt University, he is the author of the New York Times bestsellers His Truth Is Marching On: John Lewis and the Power of Hope, Destiny and Power: The American Odyssey of George Herbert Walker Bush, Thomas Jefferson: The Art of Power, American Lion: Andrew Jackson in the White House, American Gospel, and Franklin and Winston. A fellow of the Society of American Historians, Meacham lives in Nashville.
About AND THERE WAS LIGHT:
A president who governed a divided country has much to teach us in a twenty-first-century moment of polarization and political crisis. Hated and hailed, excoriated and revered, Abraham Lincoln was at the pinnacle of American power when implacable secessionists gave no quarter in a clash of visions bound up with money, race, identity, and faith. In him we can see the possibilities of the presidency as well as its limitations.
At once familiar and elusive, Lincoln tends to be seen as the greatest of American presidents—a remote icon—or as a politician driven more by calculation than by conviction. This illuminating new portrait gives us a very human Lincoln—an imperfect man whose moral antislavery commitment, essential to the story of justice in America, began as he grew up in an antislavery Baptist community; who insisted that slavery was a moral evil; and who sought, as he put it, to do right as God gave him to see the right.
This book tells the story of Lincoln from his birth on the Kentucky frontier in 1809 to his leadership during the Civil War to his tragic assassination in 1865: his rise, his self-education, his loves, his bouts of depression, his political failures, his deepening faith, and his persistent conviction that slavery must end. In a nation shaped by the courage of the enslaved of the era and by the brave witness of Black Americans, Lincoln's story illustrates the ways and means of politics in a democracy, the roots and durability of racism, and the capacity of conscience to shape events.