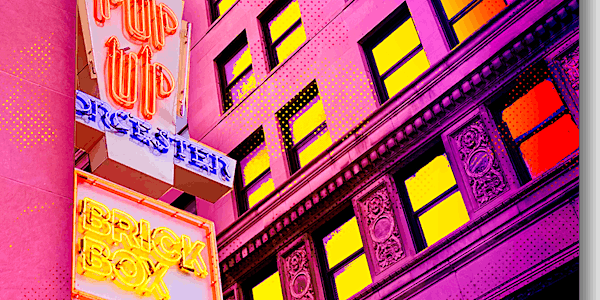 JMAC Access Grants Information Session
Make your work happen here! Learn more about our ongoing partnership with the Barr Foundation to provide rent subsidy and other funding.
When and where
Location
Jean McDonough Arts Center 20 Franklin Street Worcester, MA 01608
About this event
OUR HOUSE/ YOUR HOME/
For a second year, the Barr Foundation will provide generous subsidies and other funding to help creatives present work at the Jean McDonough Arts Center (JMAC).
Funding is available to individuals and organizations that meet at least one of the following criteria:
membership in the Worcester Cultural Coalition
​​leadership from and/or focus on programming that uplifts historically marginalized or underrepresented groups, such as the BIPOC and LGBTQIA+ communities
Funding Opportunity 1: Rent Subsidy in the BrickBox Theater
Eligible presenters will receive subsidized venue rental costs on a first-come-first-served basis through June 30th, 2023 or until available funds are exhausted.
Staffing and other direct costs still apply.
Funding Opportunity 2: Project Sponsorships
By way of a two-step application process, presenters will be selected to receive comprehensive support for a proposed project, including:
up to $10,000 in venue space rental and staffing cost subsidy
​up to $15,000 in discretionary funds to pay creatives, create marketing materials, and cover other direct costs related to the event​
The Project Sponsorships timeline is as follows:​
Jan 19th, 6pm, Info Session
Jan 31st, Midnight, 1st Round Application Due
Feb 24th, 2nd Round Interviews
Mar 1st, Final Selection
Mar 15th, Grantee Orientation
--
INFO SESSION SCHEDULE/
Doors open at 545pm.
Information session from 600pm-700pm.
--
We look forward to seeing you and sharing more about all this exciting news. For now, you can learn more at www.jmacworcester.org/accessgrants!
Thanks,
Team JMAC