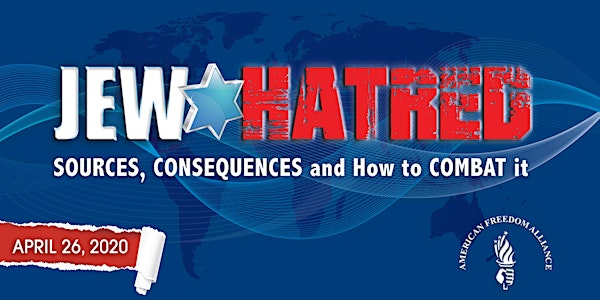 Jew Hatred: Sources, Consequences and How to Combat it
This all-day conference will address the historic and current sources of Jew hatred with focus on the recent resurgence of anti-Jew violence
When and where
Location
Luxe Sunset Boulevard Hotel 11461 Sunset Boulevard Los Angeles, CA 90049
Refund Policy
Contact the organizer to request a refund.
Eventbrite's fee is nonrefundable.
About this event
*** NOTE: EVENT POSTPONED until FEBRUARY**
REFUNDS AVAILABLE or keep your ticket for the February Event
**************************************************************************
Jew hatred is hardly new; for millenia Jews have been hated, with this hatred manifesting itself in ways that range from anti-Jew policies to implementation of comprehensive plans aimed at complete extermination.
But recently, there has been a surge of violence against Jews, of anti-Semitic policies and other means of suppressing and oppressing them.
The reasons for this are complex, wide-ranging, and frankly, difficult to grapple with. This conference will discuss the historic origins of Jew hatred; how it's manifested itself over time; the various reasons for the current resurgence of Jew hatred and why there seems to be an increasing sense of permission to act on it; and especially, we will discuss how to combat it.
Our slate of speakers is outstanding, including experts on Islamic Jew hatred, anti-Semitism in our Universities, Christian roots of Jew hatred, Jew hatred and the Left, efforts in Germany to combat it, the situations in France (bad) and England (better) and many other topics.
Join us for an illuminating day on this timeless and timely topic.
Speakers:
Andrew Bostom - Historian, bestselling author on the issue of Islam
Mort Klein - President of Zionist Organization of America
Robert Spencer - Director of Jihad Watch, Shillman Fellow at the DH Freedom Center, bestselling author
Laurie Cardoza-Moore - Founder of Proclaiming Justice to the Nations
Nonie Darwish - Founder of Arabs for Israel, bestselling author
Artur Abramovych - Co-chair of the "Jews in the Alternative for Germany" group of the AfD party
Guy Milliere - Bestselling author, Fellow of AFA, Senior Fellow of Gatestone, expert on anti-Semitism in France
Dr. Jason Hill - Professor at DePaul University, advocate for Israel and expert on anti-Semitism on campuses
Daniel Greenfield - investigative reporter and Shillman Fellow at the David Horowitz Freedom Center
Larry Greenfield - Fellow at AFA and Claremont Institute, frequent columnist on topics related to Judaism
Evelyn Markus - Dutch director of Never Again is Now, a documentary about the return of anti-Semitism in Holland
Join us for this remarkable assembly of world-class speakers and a day of being part of this truth-seeking and freedom-loving community
We will also be including a special tribute to Phil Haney, a great friend to many of us, our inaugural American Freedom Award honoree, and a national treasure the loss of whom is impossible to fathom. He was eager to speak at this conference and to share his love of the Jews and of Israel, and to participate in any effort to help protect them, and we will be celebrating his life and love, and our good fortune to have known him.
Tickets (All tickets include lunch)
Basic entry: $125 - ($95 if purchased before March 5)
Group tickets: $90 per person for groups of 5 or more
VIP tickets: $225 - includes preferred seating ($195 if purchased before March 5)
Platinum package: $500 - includes a private dinner with the speakers the Saturday evening before and preferred seating at the conference. Make your reservations early as there are limited seats and reservations must be made by March 5.
Special discounts for Students and Military - email for more information
Event Sponsorship: Click Here