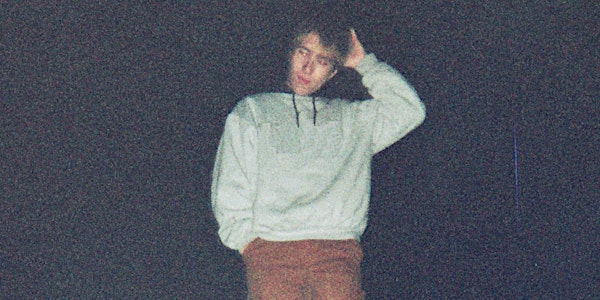 Location
DC9 Nightclub
1940 9th St NW
Washington, DC 20001
About this event
Proof of Vaccination REQUIRED
DC9 will require proof of vaccination for entry. Physical card or digital photo will be accepted. Proof of vaccination must match name on photo ID and will be checked at the door.
You can find more information HERE.
Things change quickly and we are all in the same boat trying to navigate and do our best to keep our concerts and communities safe. We appreciate your patience and understanding with our staff as we navigate this together. Thank you for your cooperation & continued support!
This is an ever changing situation and we reserve the right to change these policies at any time.
Jeff Draco

WEBSITE | FACEBOOK | INSTAGRAM | TWITTER | SPOTIFY

Jeff Draco is a 21-year-old musician from Maryland fusing kaleidoscopic dream pop with vibrant beach rock sensibilities to create "thrashing retro-tinged" (Wonderland) and euphoric music.

Part of a musical family, Jeff found his sonic footing at an early age. In addition to collaborating with Diamond Youth on their Topshelf Records EP, Don't Lose Your Cool, the rising artist also performed in various bands throughout his high school years before venturing on his own in 2017.

From house shows to coveted D.C. venues and Firefly Festival 2019, Jeff Draco toured his 2018 debut album, Paradise, across the east coast while establishing himself as one of indie pop's newest must-hear artists. Along the way, he also shared "For Too Long," which has attracted 180k+ streams, and eventually became the lead single off his six-song EP, 2101.

Releasing music throughout 2020, Draco's funk-infused "Last Night" secured a placement on Spotify's metropolis playlist, and was followed by the Ben Beal collab, "Losing My Mind," "a vibey offering that is most definitely in need of your attention, if you want to start your week off right and indulge in some good vibes and positive vibrations." (Early Rising)

Following a collaboration with Skate Stance, Jeff released "Dreamgirl," a song about "a girl that feels like a dream, and leaves as quickly as she comes," (At Capacity) in June 2021. Made with the help of his band, the song has become one of his most popular, gaining 80k streams in six months, and receiving a nomination for Best Pop Song at the 35th Annual Wammies, a ceremony honoring D.C. area talent.

Ahead of a new EP arriving in Spring 2022, Jeff Draco shared "Fall For Another Day," a song about long-distance relationships, gaining support from Wonderland, Ones to Watch, V13, Soundazed, and Global Money World, a peak moment to a year capped by Jeff Draco accumulating 3 million views and 550k likes on TikTok and sharing the stage with Austin Weber, Moon Tide Gallery, and Never Ending Fall. For more information, please visit JeffDraco.com.