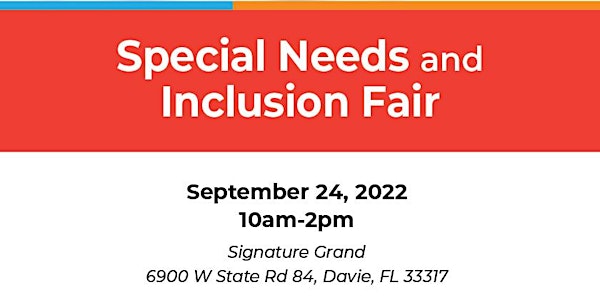 JDCH Special Needs & Inclusion Fair
The annual and newly named Joe DiMaggio Children's Hospital Special Needs and Inclusion Fair is returning on September 24, 2022!
About this event
Join us for a fun and informative day the whole family will enjoy! While kids participate in a variety of exciting activities, parents, caregivers, healthcare providers and anyone interested in special needs and disabilities can learn more about resources available from organizations in Broward County.
Date: Saturday, September 24, 2022
Location: Signature Grand 6900 W State Rd 84, Davie, FL 33317
Time: 10am-2pm
Schedule:
10 am: Doors Open
10:30 am: South Florida Cloggers
11:15 am: Exceptional Theater Company
11:45 am: From Adolescence to Adulthood Workshop by Stephanie L. Schneider, Esq. (Board Certified Elder Law Attorney)
1 pm: Magic Show by Dr. Michael Freimark
1:30 pm: Exceptional Theater Company
Featured Organizations:
Florida Life Care Services
Ann Storck Center
Family Care Council Area 10
Play and Learn Therapy
Bit by Bit Therapy
Broward County Special Populations
YMCA of South Florida
Lighthouse of Broward
Broward Gold Coast Down Syndrome
JAFCO
Elder Law
Light of the World Clinic
FND Broward
Behavior Management Consultants
Broward County Library
Children's Services Council
Cadenza Center
Broward County Public Schools
UM NSU CARD
Atlantis Academy
Broward CDTC
Broward Center for Performing arts
211 Broward
Schott Communities
JDCH Rehab
FND FL
JDCH Child Life
Bright Feats
Exceptional Services
ABA Center of FL
FL Kid Care
Urban League of Broward County
JDCH Patient & Family Advisory Council
Broward County Talking Books Library
APD Cares
Exceptional Theater Company
Positive Development
Toothtales
Community Youth Services
South Florida Chamber Ensemble
Eppy Law Group
Kids Care Home Health
Lollipop Salon
Museum of Discovery & Science
CODA Link
Broward Children's Center
Davie PD
David Posnack JCC
Davie FD
For more information please contact Kacee Reid at kacreid@mhs.net.