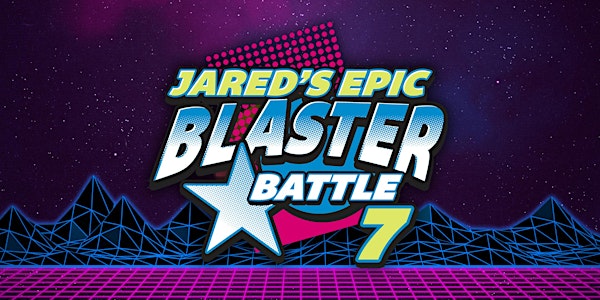 Jared's Epic Blaster Battle 7
Jared's Epic Blaster Battle 7: The Largest Toy Battle in the World! Battle inside AT&T Stadium on a real NFL field covered in obstacles!
When and where
Location
AT&T Stadium 1 AT&T Way Arlington, TX 76011
About this event
Jared's Epic Blaster Battle 7!
The 7th annual gathering of the largest and most incredible foam blaster battle of all time! The current Guinness World Record Holder for "Largest Toy Pistol Fight" - March 2016
Saturday, June 25th, 2022 6pm-10pm
AT&T Stadium
1 AT&T Way, Arlington, TX 76011
ALL AGES EVENT - FREE PARKING - 2 & UNDER FREE
NOW BACK FOR ITS 7TH CONSECUTIVE YEAR! WE ARE STILL THE CURRENT REIGNING WORLD RECORD HOLDERS for the "Largest Toy Pistol Fight", This record has not been challenged.
For 2022 our Arlington Event is the first of three planned in the "Jared's Epic Blaster Battle National Tour" which will be our first time taking the event beyond Texas! You can count on amazing surprises, special guests and global exclusive product reveals! Expect the unexpected at the worlds largest foam blaster event!
Meet your favorite Toy Blaster YouTube Celebrities LIVE in person. These will be announced over time as we get closer to the event! In 2022 we will have MORE special guests than any previous Blaster Battle event!
Battle with your friends and family on the actual NFL field of the Dallas Cowboys, the planets most valuable sports franchise.
Your ticket includes a "Self Guided Stadium Tour" so you are free to roam around the stadium, check out the locker rooms and cheerleader areas and see the many amazing sights inside. This ticket alone is normally $35 per adult!
Here is exactly what you get for your ticket!
-Entry to participate in a 4 hour series of more than 15 amazing foam flinging battles like never before!
-Play with your own blaster toys on a NFL Stadium Field!
-Access to AT&T Stadium Self Guided Tour!
-Photo Op with Guinness World Record Earned in 2016!
-Meet your favorite Toy Blaster YouTube Celebrities
-Hands on with prototype Toy Blasters revealed at the 2022 New York Toy Fair!
-Hands on with pre-release Toy Blaster items announced but not yet available to the public!
-Entry into the Blaster Battle Costume Contest with $1000 in Cash Prizes!
-Exclusive merchandise, collectibles, surprises and more!
The event is the SAME PRICE for any age above 2. Spectators/Parents also require ticket to enter!
TICKET PRICES & QUANITY ON HAND:
TIER 1 - 1-600 - $16
TIER 2 - 601-1200 - $18
TIER 3 - 1201-2000 - $22
TIER 4 - 2001-2400 - $27
TEIR 5 - 2401-4000 - $32
**EVERY TIER IS THE SAME TICKET WITH THE SAME ACCESS. THE PRICE OF THE TICKETS INCREASES AS TIERS SELL OUT TO REWARD ATTENDEES FOR PURCAHSING EARLIER!**
FOR THE SAFETY AND ENJOYMENT OF OUR GUESTS WE ARE ABSOLUTELY CAPPING THE ATTENDANCE OF BLASTER BATTLE 7 TO 4,000 TOTAL PEOPLE.
Need accommodations? This year, we have a special room block with LIVE! by Loews in Arlington with discounted room rates. Book here: https://www.loewshotels.com/live-by-loews-arlington-texas/group-cb-and-jareds-epic-blaster-battle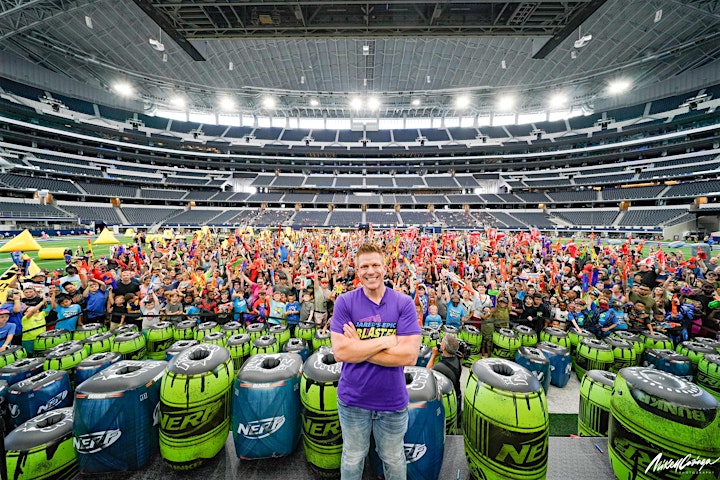 RULES:
-No Strollers Allowed on the Field.
-ALL ATTENDEES MUST WEAR EYE PROTECTION ON THE FIELD.
-No pushing, shoving or physical contact.
-No jumping on, moving or kicking inflatables.
-No blasting event DJ or guests on stage.
-You MUST bring your own unmodified toy blaster and ammo.
-You MUST have at least one toy blaster to participate in the battles on the field.
-Modified toy blasters are not allowed for safety & liability reasons. This includes painted blasters and blasters with 3D printed parts/stocks.
-All bags and purses that come into the stadium must be CLEAR!
PLEASE NOTE - You should prepare for some/all of your ammo to be lost at the event. We will make efforts for you to leave with what you came in with. We are taking this even more seriously in 2022 and will make specific efforts to prevent ammo hoarding/theft.
PLEASE NOTE - We recommend eye protection for ALL PARTICIPANTS but it is MANDATORY for under 18.
PLEASE NOTE - RULES ARE SUBJECT TO CHANGE WITHOUT NOTICE
PLEASE NOTE - Tickets are NON REFUNDABLE! If the event is POSTPONED your ticket will be honored on the NEW EVENT DATE.
PLEASE NOTE - Your EventBrite ticket will need to be exchanged at the Ticket Booth on the day of the event for your special event entry ticket. This process begins at 10am at the stadium ticket office. Please come early on event day for easiest entry.
PLEASE NOTE – All attendees must submit signed waiver at ticket-booth. This will be emailed to you in advance of the event and available on site.
Concessions & Restrooms will be available on site! No outside food or beverages allowed.
Questions / Media - contact@blasterbattle.com
More Information - www.blasterbattle.com