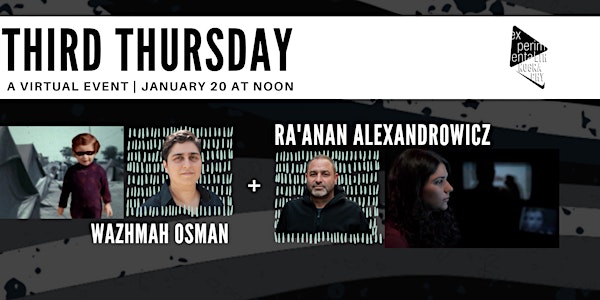 January Third Thursday
With Wazhmah Osman and Ra'anan Alexandrowicz
About this event
Join us on Thursday, January 20 2022 at noon for the Center for Experimental Ethnography's Third Thursday conversation with Wazhmah Osman, Assistant Professor at Temple University, and Ra'anan Alexandrowicz, Director, Screenwriter, and Editor. Our guests will discuss their film projects, including Osman's "Postcards from Tora Bora" and "Smokescreen", and Alexandrowicz latest piece, "The Viewing Booth".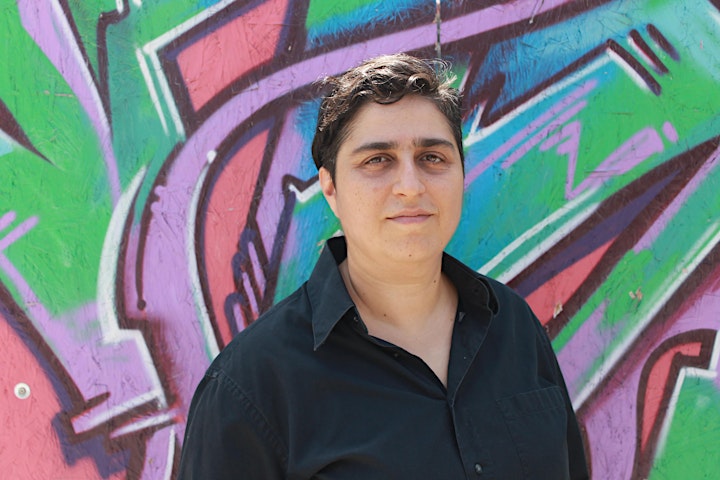 Dr. Wazhmah Osman
Wazhmah Osman is an Afghan-American academic and filmmaker. She is an assistant professor in Media Studies and Production at Temple University. In her book Television and the AfghanCulture Wars: Brought to You by Foreigners, Warlords, and Activists (University of Illinois Press, Fall 2020), she analyzes the impact of international funding and cross-border media flows on the national politics of Afghanistan, the region, and beyond. Her research and teaching are rooted in feminist media ethnographies that focus on the political economy of global media industries and the regimes of representation and visual culture they produce. In her recent work she extends these critical inquiries to the politics of representation and visual culture of "The War On Terror" including gender/sexuality discourses and how they reverberate globally and locally. Osman endeavors to intervene on these subjects beyond academia. She has appeared as a commentator on Democracy Now, WNYC, NPR, and Al Jazeera and works with community and activist groups. She has worked in television and film production for major American and international media institutions and as an independent journalist and filmmaker. Her critically acclaimed documentary films have screened in diverse venues, ranging from human rights organizations to national and international film festivals.
Ra'anan Alexandrowicz
Ra'anan Alexandrowicz is a director, screenwriter and editor. He is known for the documentary The Law in These Parts (2011), which received the Grand Jury Award at the Sundance Film Festival, a Peabody award, and numerous other prizes. His earlier documentaries, The Inner Tour (2001) and Martin (1999), were shown in the Berlin Film Festival's Forum section and MoMA's New Directors / New Films series. Alexandrowicz's single fiction feature, James' Journey to Jerusalem (2003), premiered in Cannes Directors' Fortnight and at the Toronto International Film Festival and received several international awards. Alexandrowicz's films have been released theatrically in the United States and Europe, and broadcast by PBS, ARTE, the BBC, as well as other television channels. Ra'anan served several times as an editing advisor for the Sundance Documentary Fund and his film The Viewing Booth is supported by the Sundance Art of Nonfiction initiative.
The Viewing Booth
Minimalist in approach yet far-reaching in its application and consequence, The Viewing Booth forms a one-of-a-kind cinematic testimony to the psychology of the viewer in the digital era. Recounting a unique encounter between filmmaker and a viewer the film is an exploration of the way meaning is attributed to non-fiction images in today's day and age. In a lab-like location, Maia Levy, a young Jewish American woman, watches videos portraying life in the occupied West Bank. Maia is an enthusiastic supporter of Israel, and the images in the videos, depicting Palestinian life under Israeli military rule, contradict some of her deep-seated beliefs. Empathy, anger, embarrassment, innate biases, and healthy curiosity — all play out before our eyes as we watch her watch the images of military occupation. Six months later, Levy returns to watch more footage. This time, Maia views edited footage of herself while she was watching the images of the occupation. What is revealed in the process is multi-layered, puzzling, insightful and extends beyond the Israeli-Palestinian conflict. Maia's candid and reflective analysis of her previous commentary gives the viewer a staggering demonstration of the idea that seeing is not always believing.
Postcards from Tora Bora
"Postcards from Tora Bora is a feature length documentary that follows Osman when she returns home to Afghanistan to piece together the life that was torn apart by the 1979 Soviet invasion. At the height of the Cold War, the Osman family frantically escaped from Afghanistan while leaving almost everything behind. In the ensuing chaos, their suitcase filled with family photos is stolen.
Now, after two decades in America, Wazhmah Osman, a young Afghan-American woman, returns to her childhood home. Armed only with rapidly fading memories, she recruits some unlikely and reluctant guides to put together the pieces of her past. On an alternately sad and humorous quest, she encounters confused cabbies, the enthusiastic former minister of the tourism bureau, a museum director who archives land mines and a group of angry street vendors.
As Wazhmah desperately searches for any tangible evidence of her former life, the journey leads her to many unexpected places. Amidst the rubble and destruction, she finds her estranged father, who in the aftermath of war chose his country over his family. On the road, Wazhmah frequently finds herself at a strange intersection where cultures clash, identities are mistaken and the past violently collides with the present. " from Al Jazeera 5 April 2008