Jan Gillies RECORDING LIVE: "Things I Shouldn't Say"

Saturday, March 26, 2016 from 6:00 PM to 10:00 PM
Event Details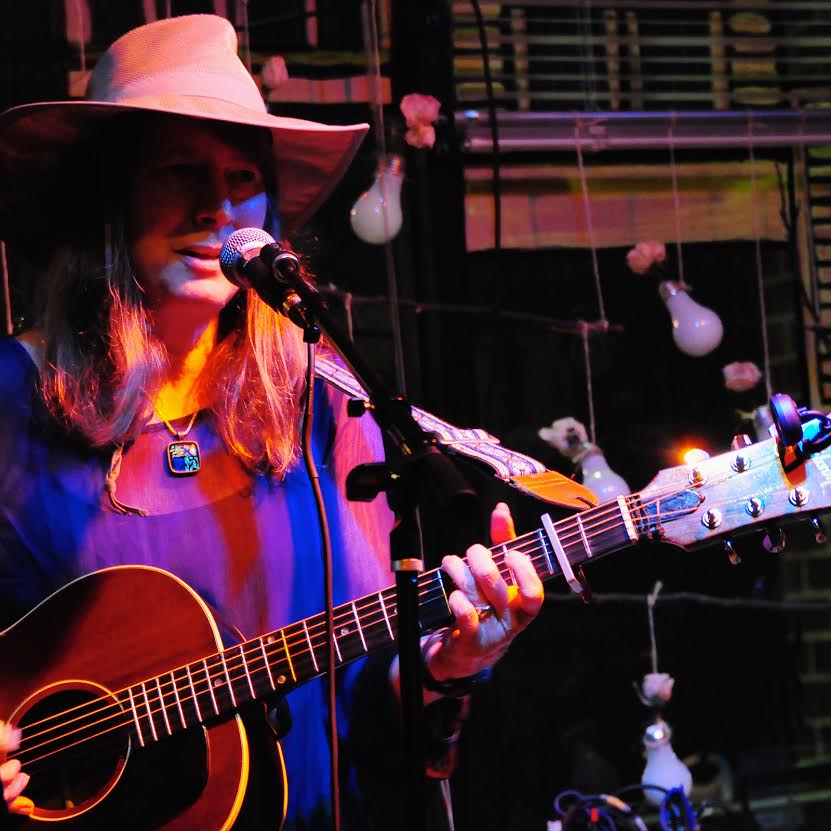 Jan Gillies is one of our best friends. If you know her, you know why. If you don't know her yet, just listen to her music...smile at her stories...be inspired by her life and work.  She really truly gets our mission of building community and creating peace through music.
Jan grew up in the swamplands of northern Indiana, became a sailor, scientist, SCUBA Diver, storyteller and songwriter.  Since first picking up a guitar at the age of 14, during the upheavals of the Vietnam War, she uses music to laugh, cry, scream & whisper about all twists and turns life has thrown at her. Developing her initial Travis-picking style in coffeehouses from the Chicago area & Kangaroo Island, Australia to Miami, Florida, she has played in swamps, on shipboards, music festivals, and a wide range of usual and unusual venues. Her story-songs and performances have been described as both educational and 'mesmerizing.'  Jan has won awards in the Mid Atlantic Song Competition and ZETA 4 Miami radio station's "Search for Sound" competition for new songwriters.  She currently has 7 CDs--1 in 41 libraries in Canada!--all covering a lifetime of experience as a scientist, naturalist, geologist, sailor, SCUBA diver, teacher, and much more.
See more at https://www.facebook.com/JanGilliesMusic 
BE HERE as she records her 8th album LIVE and boldly shares "Things I Shouldn't Say".
Peace through Music
Mary, Jeff and Dug the dog
PS click here for the 2016 Calendar for Supper and Songs. 
When & Where

Stillwaters
4279 Janes Ln
Marshall, VA 20115


Saturday, March 26, 2016 from 6:00 PM to 10:00 PM
Add to my calendar
Organizer
Stillwaters Supper and Songs
Supper and Songs is a house concert series hosted by Stillwaters Foundation volunteers Mary Shapiro, Jeff Wolf and friends to "build community and create Peace through Music". We have events at least once a month which include a potluck SUPPER (at 6 pm) and SONGS by professional touring musicians (concert time depends on the day). We end with dessert and a fun, informal open mic (where anyone who wishes shares poetry, stories and songs). "Tickets" are donations to the performers and are available on line or at the door. All ages are always welcome, and polite pets on leash when we're outdoors (April to Oct). We provides chairs and potluck supplies and Stillwaters' big beautiful event tents provide shelter (so the show goes on, rain or shine).  Questions? Call Mary at 540-364-1739. We look forward to meeting you!

2017 Stillwaters SUPPER AND SONGS Calendar
SUNDAY, JANUARY 22, 4:00 PM Dana and Susan Robinson
SUNDAY, FEBRUARY 26, 4:00 PM Claudia Nygaard
FRIDAY, MARCH 31, 7:30 PM Dennis Warner
SUNDAY, MAY 21, 4:00 PM Melissa Chavez and David Chavez
SATURDAY, JUNE 10,  7:30 PM Shawna Caspi
SUNDAY, JUNE 18 Summer Solstice Festival featuring Woven Green
JULY Please go to a Bluemont Concert
SATURDAY, AUGUST 26, 7:30 PM Orpheus Jazz

SEPTEMBER TBA***
OCTOBER Please go to"Behind the Label"or"A Will to Survive" by A Place to Be
SATURDAY, NOVEMBER 18, 6:00 PM "A Heart for Art" Annual pARTy
SATURDAY, DECEMBER 9 7:30 PM Lea
Jan Gillies RECORDING LIVE: "Things I Shouldn't Say"