Description
About Jacobs Design Conversations
Each semester, the Jacobs Institute for Design Innovation invites leading designers and makers to Berkeley to speak as part of the Jacobs Design Conversations series. Connecting diverse perspectives under one roof, Jacobs Design Conversations are spaces for dialogue on a broad spectrum of innovations and ideas.
As part of this series, Camille Utterback will share her insights with Berkeley's design innovation community on Friday, October 19. The talk will take place at Jacobs Hall, the Jacobs Institute's hub for hands-on learning and making.
About Camille Utterback
Camille Utterback is an internationally acclaimed artist and pioneer in the field of digital and interactive art. Her work combines innovative technology, elegant design, and surprising situations to reconnect us to our physicality, to each other, and to the world around us.
Since her well known Text Rain video tracking installation, created in 1999 with Romy Achituv, Utterback has created artwork using live camera data and software code, exploring the intersection of physical gestures and computational systems. For many years, Utterback has also integrated works into architectural spaces–activating sites such as hand railings and elevator call buttons to shift people's temporal experience of a shared physical site. Her newest work combines projection mapping with custom glass panels and hand blown glass to explore the potential for display surfaces that address the subtleties of our depth perception.
Utterback's extensive exhibit history includes more than fifty shows on four continents. Her most notable awards include a MacArthur Foundation Fellowship (2009), and a US Patent (2001). The Smithsonian American Art Museum, The Orange County Museum of Art, The La Caixa Foundation (Spain), Itau Cultural (Brazil), 21C Museum (Louisvillle, KY), The Pittsburgh Children's Museum, and many private individuals have collected Utterback's work. Recent large scale commissions include works for Liberty Mutual Group, Boston, MA (2013), and the Santa Cruz Museum of Art and History (2015).
Utterback earned her BA in Art from Williams College, and a Masters degree from The Interactive Telecommunications Program at New York University's Tisch School of the Arts. She is currently an Assistant Professor in the Department of Art & Art History at Stanford University and is represented by Haines Gallery in San Francisco.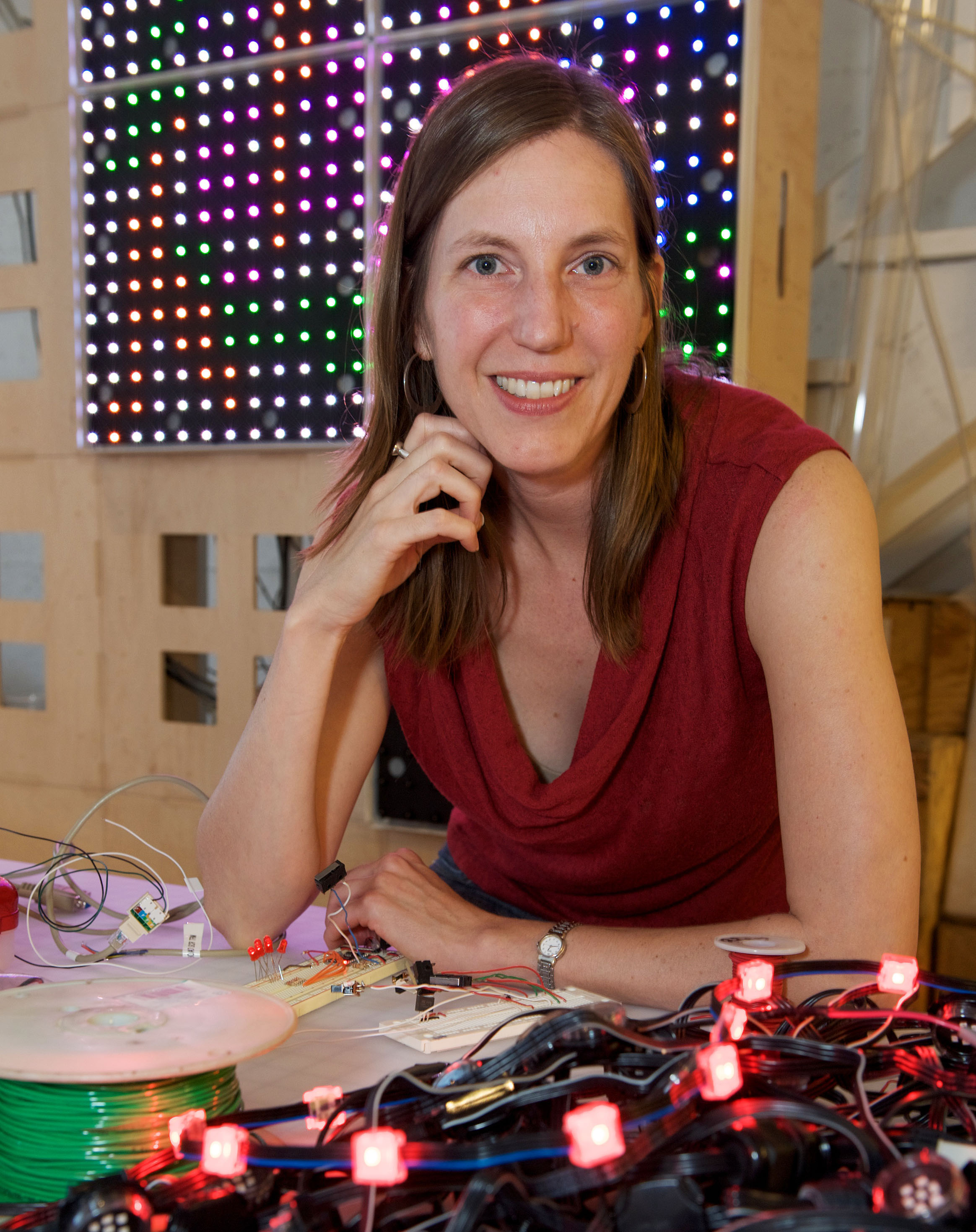 Photo courtesy of the John D. & Catherine T. MacArthur Foundation

About this Conversation
Registration and day-of attendance: This lecture-style talk is free and open to the public. While all day-of attendance and seating is first-come, first-served, if you register by Wednesday, October 17, you'll have first priority for lunch on us (we'll buy food based on registrations, so please be considerate). Registration will open one month before the talk. If you miss advance registration, don't worry: day-of guests are more than welcome!
Getting here: Jacobs Hall is located at 2530 Ridge Road, on the northeast side of the UC Berkeley campus. For information on campus shuttles and links to public transit, please visit Bear Transit.
Questions? You can reach event organizers at jacobsinstitute@berkeley.edu or 510-664-7574.