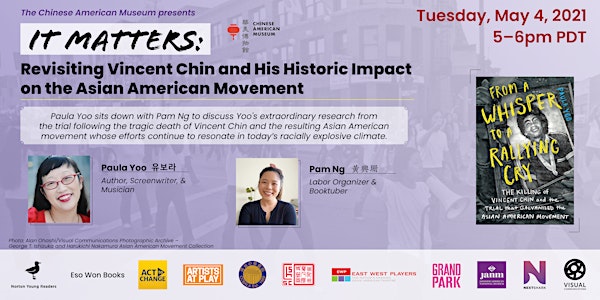 "It Matters" A Conversation with Paula Yoo and Pam Ng
Paula Yoo sits down with Pam Ng to discuss Yoo's extraordinary research from the trial following the tragic death of Vincent Chin.
About this event
CAM invites you to take a seat with Paula Yoo and Pam Ng as they discuss themes explored in the timely release of Yoo's YA nonfiction book, "From a Whisper to a Rallying Cry: The Killing of Vincent Chin and the Trial that Galvanized the Asian American Movement." Listen in as Paula and Pam talk about the tragedy of Vincent Chin, the resonating wounds of racial injustice, and the present call to end discrimination towards Asian Americans so many years later.
"From a Whisper to a Rallying Cry," releases on April 20, 2021. To pre-order your copy of the book visit Eso Won Books – An Independent Black-Owned Bookshop in Los Angeles at www.esowonbookstore.com/.