Description
Puerto Rico Top Level Domain (PRTLD), dominio de Puerto Rico (.pr) se enorgullece en anunciar la celebración de su 30 Aniversario durante agosto 19-23 de 2019. A su vez, celebraremos el DNS Week en colaboración con Latin American and Caribbean ccTLDs Organization (LACTLD), Internet Corporation for Assigned Names and Numbers (ICANN) y el Internet Society Puerto Rico Chapter (ISOC). El propósito del DNS Week es abordar diferentes temáticas del Domain Name System (DNS) referentes a la región en la que se realiza. Este año, al realizarse en el Caribe, la principal temática a abordar será: Resiliencia a Desastres Naturales, Taller Especial de IPv6, LAC DNS Forum entre otros.
Prontuario: IPv6 Workshop
Trabajos directamente sobre dispositivos en un entorno virtualizado:
• Demostración de Cabecera IPv6
• Tipos de Direcciones IPv6
• Neighbor Discovery Protocol (NDP), NS, NA, RA, RS, Solicited Node Multicast
• Captura de paquetes (sniffing) IPv6: NS, RA, RS,
SNM, Enrutamiento (Dual Stack), RIPNG, OSPFv3, MP-BGP
•Breve introducción de Linux + IPv6, DNS
• IPv6 (Linux + Bind) (dual Stack)
Servidor Web Dual Stack (Apache)
•Seguridad
Sistema Operativo (64 bit)
Nota Importante: Estos cursos, requieren que usted tenga un conocimiento tecnológico general en materia de enrutadores y protocolos de Internet. El tener estos conocimientos, le permitirá sacar el mejor provecho tanto al curso teórico como al de práctica ("hands on").
Para más información favor de comunicarse al 787-349-2628 / info@dnsweek.pr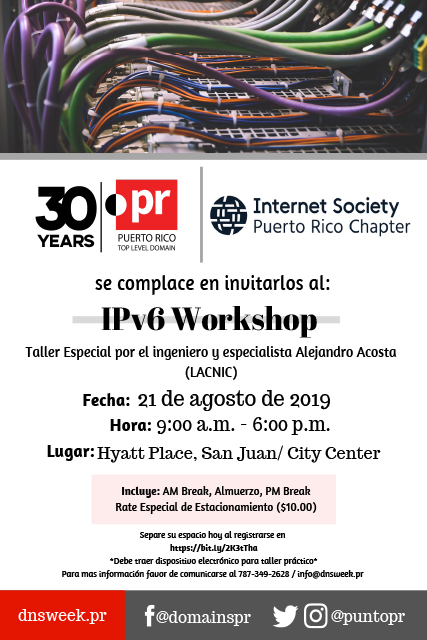 Organizer of IPv6 Workshop