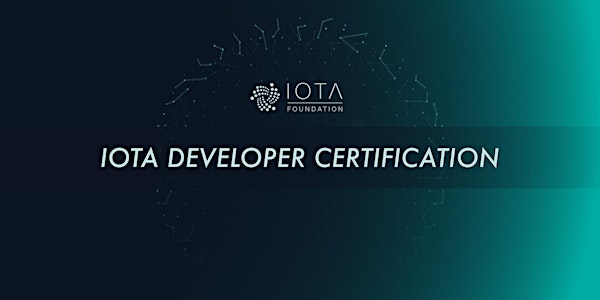 IOTA Developer Certification
Refund Policy
Refunds up to 7 days before event
Description
Description
Booking this certification is the first step to becoming an IOTA accredited and officially IOTA Foundation certified developer.
Certification Process
In order to complete the certification process, you will have to demonstrate your IOTA knowledge in two assessments:
An online assessment
A personal 15min assessment (video call through google meet)


Online Assessment
After completing the buying process on eventbrite you will receive a link to an online assessment with a series of questions. The assessment needs to be passed in order to proceed to step 2.
After passing the online assessment you will be able to select the time of your choice from a series of available meeting slots.
Personal Assessment
A representative of the IOTA Foundation will send you a personal invite through google meet to the Email address with which was provided by eventbrite. It is not possible to change the email address between the first and second assessment. At the time of your choosing, the IOTA representative will go with you through the questions, follow-up on the online assessment and inquire more details about your decisions of the previous test, as well as a couple more questions to test your understanding of the IOTA technology.
IOTA Developer Certification
After passing both assessments the attendee is eligible to carry the title of a certified IOTA developer. The IOTA Foundation will issue a digital certificate. The details of the certificate will be held on the IOTA Tangle in an encrypted transaction so that the validity of the certificate can be verified through the IOTA Tangle at https://certification.iota.org (see example below).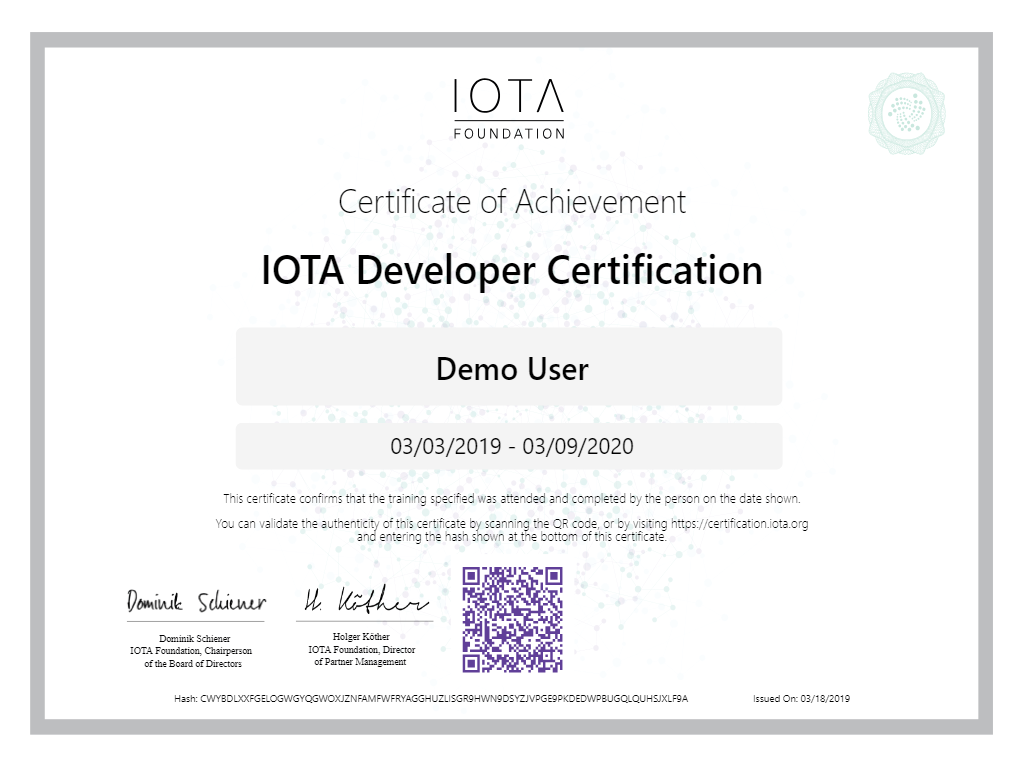 Validation link of Demo User Certificate on the IOTA Tangle: https://certification.iota.org/CWYBDLXXFGELOGWGYQGWOXJZNFAMFWFRYAGGHUZLISGR9HWN9DSYZJVPGE9PKDEDWPBUGQLQUHSJXLF9A
Important
This is NOT a training course. (Please visit https://training.iota.org or contact training@iota.org for onsite or group trainings.)
Please test your technical setup to participate at a video call before the personal meeting (https://meet.google.com/). A no-show >3 minutes after the planned meeting will result in a failed certification.