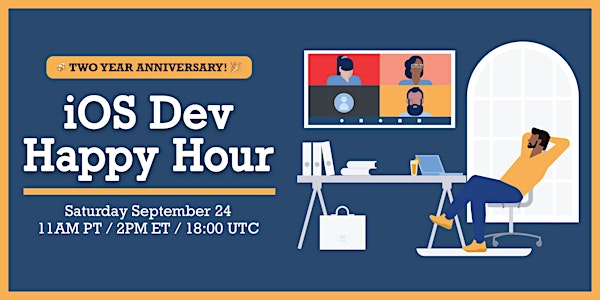 iOS Dev Happy Hour: TWO YEAR ANNIVERSARY!
A place for iOS Devs to hang out!
About this event
The goal of #iOSDevHappyHour is to allow current and aspiring iOS Developers a place to share experiences, share knowledge, simply hang out, build community, and even enjoy a drink or two online during a time where face to face contact is limited.
This month's event marks TWO YEARS of iOS Dev Happy Hour. In the past two years, we've grown from a small gathering with tens of people, to a staple in the iOS dev community with hundreds across the globe attending monthly. We've created a tradition of celebrating your stories through our community guest speakers. We've had amazing sponsors such as Twitter, Bitrise, Realm, Capital One, and more share their technology and provide job opportunities to the community. We've even broken out from the digital world and hosted IRL events at WWDC 2022. iOS Dev Happy Hour is truly something special, so come celebrate two years with us!
This month's event includes:
A special announcement about the future of iOS Dev Happy Hour
Two community guest speakers
Three breakout rooms (topic-based and random assignments)
One giveaway (must be present!)