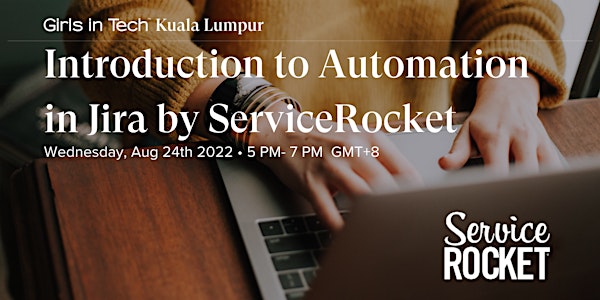 Introduction to Automation in Jira by ServiceRocket
Girls in Tech Workshop in collaboration with ServiceRocket
About this event
As the leading provider of tech-enabled services helping fast-growing companies in the acceleration of their growth, ServiceRocket is excited to offer this Jira Automation workshop. Geared to women in startup technical roles, participants will work with our technical experts who will share their expertise. Learn to build Jira automation solutions and bring your curiosity to learn! Get a head start by checking out Jira cloud learning materials available online.
Benefits gained
Internship opportunities
Skills gained - Jira, Cloud, Configuration Management (CM), Troubleshooting
Pre-requisites determination
Command line skills - Linux & Win, Logical thinking, Java exposure would be welcome
Main Speakers
Kai Fung Chong - As Engineering Lead, Kai Fung manages a growing team of ten software engineers at ServiceRocket. Her 15+ years experience enhance ServiceRocket's vibrant culture of innovation, including extensive development expertise in Java and Scala, Agile methodology and problem-solving.
Suba Veeriah - Suba is a technical content manager with over 20 years experience in IT, including software support and operations, application development and knowledge management. She currently leads the technical content team at ServiceRocket where she creates straightforward content that enables users to succeed.
Facilitators
Nurul Hanisah - Super-talented Nurul has comprehensive experience in software development and deployment and writing automated tests, including applications built with Ruby on Rails and containerized JVM-based applications hosted on AWS. Nurul's expertise has been invaluable in migrating ServiceRocket's Jira application from Server to Cloud.
Siti Hajar - A new member of ServiceRocket's Apps Support Services team, Hajar brings a customer-focused mindset to her work as shown by the many kudos she's received from teammates and the many heroes she's already enabled. Kudos to Siti for becoming CSP-certified within a few months on the job.
PRE-EVENT INFORMATION
Requirements
Webinar is open to all who are interested irregardless of the gender. The webinar talk will be held on Zoom . Please create a Zoom account to interact directly with the speakers.
ABOUT GIRLS IN TECH
Founded in 2007 by Adriana Gascoigne, Girls in Tech is a nonprofit organization dedicated to eliminating the gender gap in tech. We have more than 60,000 members in 50+ chapters around the world.
Girls in Tech started with an idea: There is a strong, smart and outspoken girl within all of us. We exist to make sure that girl is heard. Because when every voice, every perspective, every personality is honored and respected, we do better work and live richer lives. At Girls in Tech, we are passionate about inclusivity, because we know that tech today requires people of all skills and backgrounds. Whether you're a data analyst, a creative, a strategist, an entrepreneur or a coder, you are needed.
JOIN US!
Interested in joining our community? Let's join forces! Click this link to become a member.
As a member, you'll have access to in-person and virtual events and workshops designed to help you grow professionally and personally. Plus, find a mentor, build meaningful relationships, and take advantage of our opportunities to find a job that's right for you.