INTERFACE, by apidays 2021 - It's APIs all the way down
It's APIs all the way down
About this event
In January, Jeff Lawson, CEO and co-founder of Twilio, published "Ask Your Developer", a book about Twilio's success, and how by leveraging the API mindset inside and outside a company, you can achieve outstanding growth and maximum potential, if you understand what you do. This is what we will talk about for two days at Interface.
In fact, APIs change the company and its ecosystem. With developers, partners, and customers, APIs enable lower transaction costs and create connection opportunities that would have been too costly before. Now you can maximize your ecosystem footprint and influence by being the single point of value.
Internally, APIs enable communication between many stakeholders: teams that were not talking together in big organizations, IT and Business, or even cross departments, APIs enable to create innovation with cross-pollination of ideas and bits.
APIs enable the programmable economy, where your value can be discovered, distributed, and scaled, in a self-service and consumable approach, and enable your business to expand dramatically.
In order to accommodate most regions of the world, this conference will be broadcasted in 3 time zones: PDT for North America (June 30/July 1), Singapore time for APAC (July 1&2) and CET for EMEA (July 1&2).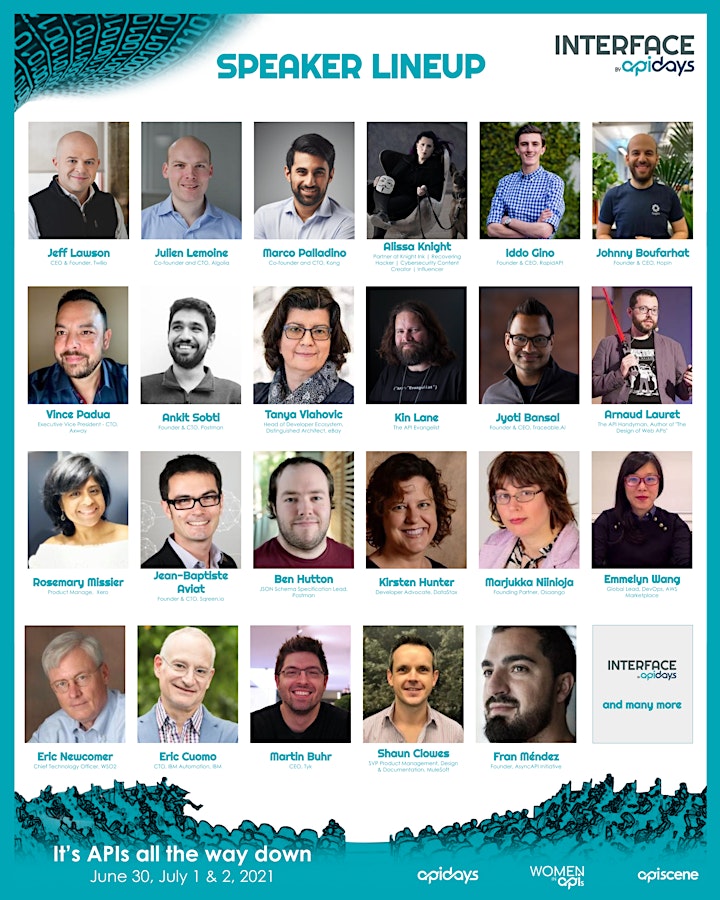 This year's lineup of speakers include:
Jeff Lawson, CEO & Founder of Twilio
Julien Lemoine, Co-founder & CTO of Algolia
Eric Newcomer, CTO at WSO2
Marco Palladino, Co-founder & CTO of Kong
Tanya Vlahovic, Head of Developer Ecosystem, Distinguished Architect at eBay
Alissa Knight, Hacker and Partner at Knight
Asanka Abeysinghe, Chief Technology Evangelist at WSO2
Claire Barrett, Strategy Translator and Women In APIs Lead at APIsfirst
Kin Lane, The API Evangelist
Ankit Sobti, Founder & CTO of Postman
Johnny Boufarhat, Founder & CEO of Hopin
Arun Narayanaswamy, Director of Engineering at Amadeus Labs
Marcelo Leite Araujo, API Center for Enablement Lead at Bosch USA
M. Scott Ford, Co-Founder & CEO at Corgibytes
Muktesh Mishra, Senior Software Engineer at Adobe
Iddo Gino, Founder & CEO of Rapid API
Jean Baptiste Aviat, Founder & CTO of Sqreen.io
Jyoti Bansal, CEO and Founder at Traceable.AI and Harness.io
Ben Hutton, Json Schema Specification Lead at Postman
Fran Mendez, Founder at AsyncAPI Initiative & Director of Engineering at Postman
and many more . . .
Explore the 2021 tracks and agenda here :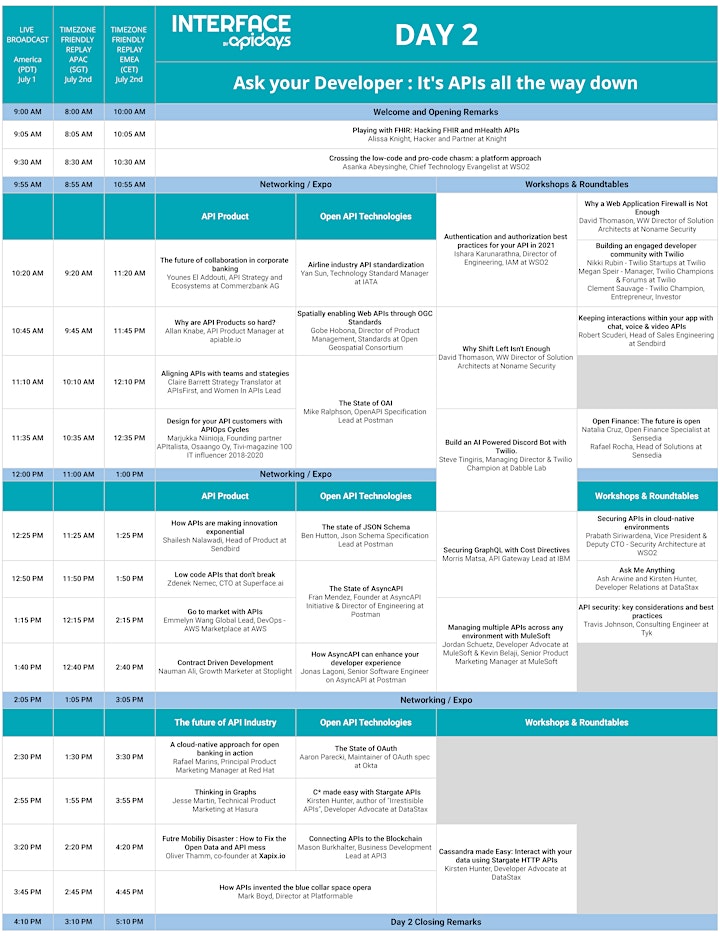 Organizer of INTERFACE, by apidays 2021 - It's APIs all the way down
Created in 2012 in Paris, apidays has organized 50+ events in 14 countries, gathering over 30,000 attendees and 2,000+ speakers. Its aim is to democratize and evangelize the opportunities and the use of APIs for corporations and businesses to fully enter the next wave of the digital transformation, the era of automation.

Watch our conferences on-demand here.