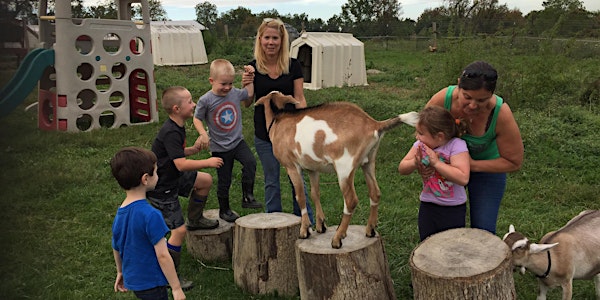 Interactive Farm Tour
When and where
Location
Back to the Future Farm 240 Browns Road Westtown, NY 10998
Description
Back to the Future Farm offers free educatonal interactive farm tours. We enocurage knowlage of the dairy industry and how small family farms are operated. We belive that consumers should know where the food comes from and know the farmer (and their animals) who provide your food. Come play with our calves and goats in their pens. Feed bottle babies. Althought our tour is FREE we do hope that you will support our farm by purchasing products in our farm store. We dont want to charge for tours but purchases are encouraged.
Your tour will begin with calling the cows into the barn yard area from the pasture. From there we will enter the barn where you will learn some dairy facts and be able to pet and touch our beautiful Jersey Cows. You will be able to learn how to milk a cow and get to the "The Girls" by name.
We will go out to the calf and goat run so you can play King of The Hill with the goats and pet the baby calves. If we have bottle babies at the time of your visit you will be able to help feed them.
After our tour we will go to the Farm Store where you will be able to taste the milk that is bottled right here on our farm.
FAQs
How can I contact the organizer with any questions?
You can Contact Rose at 845-283-0366 with any questions.
What should I wear?
Please remember this is an active dairy farm. We recomend rubber boots or closed toe shoes. Also please wear clothing that you wont mind if it gets dirty.
Can I bring my dog?
As much as we would love to meet your canine friend our "girls" may become frightend. Happy Cows make delicious milk remember.
Is there Parking?
Yes, we have ample parking in the second driveway by the farm store.
FAQs