Description
Infrastructure Summit
Broadband, Energy, Water, Transportation, Waste Management, Transportation.
Stuck in traffic? Join us.

Water issues? Join us.
Internet too slow? Join us.
High utility rates? Join us.
RSVP now for a day of fascinating panel discussions on the current state of infrastructure needs in Monterey County.

---
DRAFT AGENDA
April 30, 2018
Embassy Suites, Seaside, CA
7:30 Registration
8:00 - 8:05 Opening Remarks - MaryAnn Leffel
8:05 – 9:05 AM Salinas Ground Water Panel
Moderator: Norm Groot, Farm Bureau
Panel: Gary Peterson, Salinas Valley Basin Groundwater Sustainability Agency (SVBGSA); Eric Salbosice, California Water Services Company, David Chardavoyne, Monterey County Water Resources Agency, Possible: Carmel Area Wastewater District and Parjaro/Sunny Mesa Community Services District
9:05 -10:35 AM Coastal Water Panel
Moderator: TBD
Panel: Eric Salbosice, California American Water Co.; Keith Van Der Maaten, Marina Coast Water District (MCWD); Paul Sciuto, Monterey One Water (MOW); David Stoldt, Monterey Peninsula Water Management District; Dale Huss, Ocean Mist Farms
10:35 – 10:45 AM Break
10:45 – 12:15 PM Future of Water Panel
Moderator: Phyllis Meurer
George Riley, Public Water Now; Eric Salbosice, California American Water Co.; Paul Sciuto, MOW; Melody Schumacher, Deep Water Desal; Gary Peterson, SVBGSA; Keith Van Der Maaten, MCWD
12:15 – 1:00 PM Lunch
1:00 – 2:15 PM Transportation Panel
Moderator: TBD
Carl Sedoryk, Monterey Salinas Transit, Deborah Hale, TAMC; CALTRANS; Association of Monterey Bay Governments; Richard Stedman, Monterey Bay Air Resources District, Michael LaPier, Monterey Peninsula Airport District
2:15 – 2:30 PM Break
2:30 – 3:30 PM Regional Waste Panel
Moderator: Dennis Allion, City of Del Rey Oaks
Salinas Valley Recycles; Monterey Regional Waste Management District; Greenwaste Recovery; Waste Management Co.
3:30 – 4:30 PM Broadband/Teclom Panel
Moderator: TBD
Lisa Ludovici, Charter Communications; Steve Blum, Central Coast Broadband Consortium, Tony, Cricelli, Redshift
4:30 PM Reception
---
Special thanks to the County of Monterey for its ongoing support of the Monterey County Business Council's efforts for economic development and education.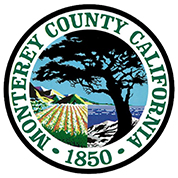 ---