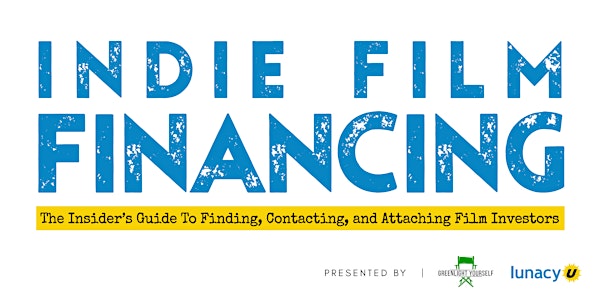 INDIE FILM FINANCING: How To Find, Contact, and Attach Film Investors!
Producer & fundraising expert Stu Pollard breaks down fundamental techniques filmmakers can use to find (and attach) motivated investors!
About this event
INDIE FILM FINANCING: The Insider's Guide To Finding, Contacting, and Attaching (Enthusiastic) Film Investors!
Filmmakers!!
If you're anything like me, the desire to make movies is your reason for getting up in the morning. 
Whether you're writing, directing, producing - or all three - there's something magical in the act of storytelling that takes the emotions and images in your head and puts them on a 60-foot screen.
However, there is one big problem:
Making a movie is freakin' expensive!
For example, many "low budget" indie films cost at least $100,000. That's a lot of money! But even with $100K you've barely got enough to feed your crew, let alone pay them.   
Let's be real: for 99.9% of us, it's impossible to bankroll our own films. 
So what do you do?
The answer is as simple as it is challenging: if you're going to have a sustainable career as a filmmaker, you have to know how to find, contact, and secure a steady stream of enthusiastic film investors!
Here's the good news: I can show you how to do that.
My name is Stu Pollard. I'm an independent producer who has raised millions of dollars and made over 20 features. My films have been seen on Netflix, Amazon, HBO, Hulu, Showtime, most streaming platforms, and sold internationally across dozens of countries - and not one of them was financed by a major studio.
In addition to making films, I regularly teach at Film Independent and the USC School of Cinematic Arts, I guest lecture at dozens of festivals and film organizations across the country, and I support filmmakers through the education wing of my production company, LunacyU. 
I've been where you are right now. I know what it's like to be a filmmaker with big dreams but no money. 
But I have good news: you DON'T have to stay there!
Just imagine: YOU can have access to film financing and more control over your career trajectory!
Because when you learn how to find, contact, and attach motivated film investors, you can greenlight yourself!
This is where my INDIE FILM FINANCING masterclass comes in...
THIS LIVE ONLINE SEMINAR WILL TEACH YOU:
The #1 tool you need to have to help you find and secure motivated film investors (and it's NOT a pitch deck or business plan!)
How to build an authentic outreach strategy for high net worth individuals and other potential film investors - even if you don't know a single "rich person."
What to say in the room when you finally secure a meeting with a potential investor (and why it should not be a pitch!)
How to identify and present a mutually-beneficial partnership that guarantees "psychic profit" so that more first-time investors become repeat investors!
PLUS - A Live Q+A Session!! Hit me with questions related to film financing, investors, business structures, and even crowdfunding (my co-host will be Justin "The Kickstarter Guy" Giddings, the #1 crowdfunding coach for Film with over $9 million raised and 250+ successful campaigns)!
Stop waiting for your career to "take off" and start taking action to get your next film financed!
We invite you to register and I hope to see you there!
- Stu