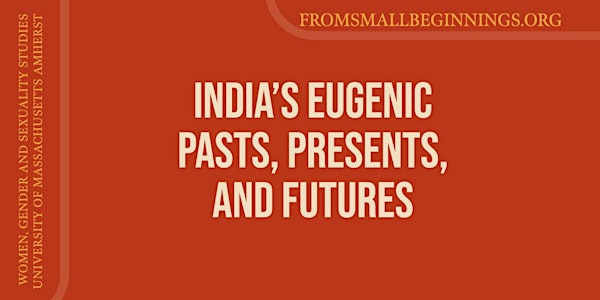 India's Eugenic Pasts
"India's Eugenic Pasts" will focus on the varied histories of eugenics in India.
By Asha Nadkarni and Banu Subramaniam
Date and time
Friday, July 30, 2021 · 6 - 8am PDT
About this event
Topics may include colonial eugenic projects, eugenics as a site of contestation between colonialism and nationalism, pro-natalist projects pre-independence, birth control movements in India and their connections to international movements for birth control, the links between eugenics and population control policies, the rhetoric of overpopulation in India and globally, eugenics during the Emergency, and others.
Panelists:
Betsy Hartmann
Betsy Hartmann, professor emerita of development studies at Hampshire College, received her B.A. from Yale University and her Ph.D. from the London School of Economics. Her research, writing, and lecturing focus on the intersections between population, migration, environment, and security issues. During her time at Hampshire, she served as the director of the Population and Development Program. She is the author of The America Syndrome: Apocalypse, War and Our Call to Greatness and the feminist classic Reproductive Rights and Wrongs: The Global Politics of Population Control as well as two political thrillers about the far right, The Truth about Fire and Deadly Election. She is the co-author of A Quiet Violence: View from a Bangladesh Village and co-editor of the anthology Making Threats: Biofears and Environmental Anxieties. In 2015 she was a Fulbright-Nehru Distinguished Chair based in New Delhi, India. She is currently working on a novel about the opiate crisis and war on drugs.
Sanjam Ahluwalia
Sanjam Ahluwalia is an Associate Professor in the Department of History and Women's and Gender Studies Program and at Northern Arizona University. Her research interests are in the fields of women/gender histories with an emphasis on histories and politics of reproductive rights and sexualities. She offers graduate and undergraduate courses in areas of interest both in the Department of History and Women's and Gender Studies Program. Her monograph Reproductive Restraints: Birth Control in India, 1877-1947 was co-published by Permanent Black Press and Illinois University Press,2008. She is currently working on her book length project on the history of sexology in India, locating it within a larger global context. She has recently been awarded a residential research fellowship to participate at the Leslie Center Humanities Institute on the Global History of Sexual Science, at Dartmouth College over the summer of 2013. She serves as the book review editor (South Asia) for Journal of Asian Studies. She is also a member of the editorial board for the Journal of Women's History.
Sarah Hodges
Sarah Hodges (University of Warwick, UK) asks questions about how health and medicine serve as linchpins within regimes of governance over bodies, markets and environments in modern India. She has pursued these questions across three major international and interdisciplinary projects: women's reproductive health, medical waste economies ("Biotrash") and, most recently, the trouble with "fake" pharmaceuticals ("What's at stake in the fake? Indian pharmaceuticals, African markets and global health"). "What's at stake in the fake?" is a five-year research project spread across India, South Africa, Tanzania, Kenya and Zimbabwe. Its team of project researchers critically re-examine our collective common-sense about fake drugs and global health, using the tools of contemporary history and cultural anthropology. In her own work for "What's at stake in the fake?" Sarah Hodges is currently writing a monograph, provisionally titled Small Pharma: Fake drugs, middle-men and the distribution of suspicion.
Mohan Rao
Mohan Rao was, till recently, a Professor at the Centre of Social Medicine and Community Health (CSMCH), School of Social Sciences, Jawaharlal Nehru University, New Delhi. A medical doctor specialised in public health, he has written extensively on health and population policy, and on the history and politics of health and family planning. He is the author of From Population Control to Reproductive Health: Malthusian Arithmetic (Sage, New Delhi, 2004) and has edited Disinvesting in Health: The World Bank's Health Prescriptions (Sage, New Delhi, 1999) and The Unheard Scream: Reproductive Health and Women's Lives in India (Zubaan/Kali for Women, New Delhi, 2004). He has edited, with Sarah Sexton of Cornerhouse, UK, the volume Markets and Malthus: Population, Gender and Health in Neoliberal Times (Sage, New Delhi, 2010). With Sarah Hodges, he has edited Public Health and Private Wealth: Stem Cells, Surrogacy and Other Strategic Bodies (OUP, 2016). His latest work is the edited volume The Lineaments of Population Policy in India: Women and Family Planning (Routledge, 2018). He has been a member of the National Population Commission, and several Working Groups of the National Rural Health Mission of the Government of India. He has worked on the Committee established by the National Human Rights Commission to examine the two-child norm in population policy. He is on the Executive Committee of the Centre for Women's Development Studies. He is also actively involved in the Jan Swasthya Abhiyan (People's Health Movement). Mohan Rao is a referee for essays and books for leading journals and publishing houses and is on the editorial board of the Indian Journal of Gender Studies, the Journal of Social Policy, and the on-line journal Social Medicine. He is currently an independent researcher based in Bangalore
Sharmila Rudrappa
Sharmila Rudrappa teaches on, and researches issues related to gender, race, and labor. Her specific interests are on reproductive markets, with a focus on the U.S. and India. She is author of Discounted Life: The Price of Global Surrogacy in India (New York University Press, 2015).She is also the author of Ethnic Routes to Becoming American: Indian Immigrants and the Cultures of Citizenship (Rutgers University Press, 2004), which explores race and activism in late 20th century Chicago