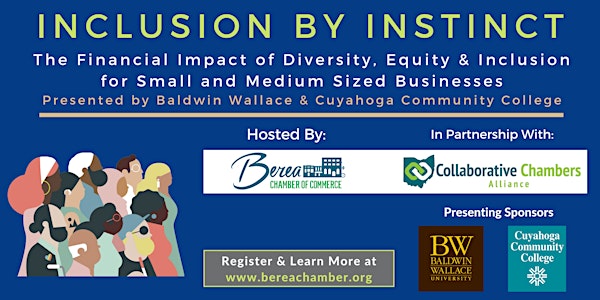 Inclusion by Instinct
The Financial Impact of Diversity, Equity & Inclusion for Small and Medium Sized Businesses.
About this event
Inclusion by Instinct : The Financial Impact of Diversity, Equity & Inclusion for Small and Medium Sized Businesses
Presented by Baldwin Wallace & Cuyahoga Community College
This virtual series is designed to help small and medium sized business owners, professionals, and HR staff learn about the financial benefits of Diversity, Equity and Inclusion. The series will look beyond internal strategies for HR, recruitment/hiring and thought leadership, and dive into how inclusive practices can help businesses attract a diverse community of customers. Attendees will get tangible tools for implementing inclusive practices as well as vital resources and community connections for professional growth.
The series will take place over 5-parts with each session featuring speakers who represent a diverse community. Through their personal and professional experiences, they will help provide tangible practices you can implement to help be part of the solution in encouraging an inclusive environment for all people.
Each session will cover areas such as:
Buying power and economic trends of different communities
Values, cultural competencies, accommodations, and other factors that can help create a more inclusive environment
Things to keep in mind for physical and digital spaces to create an environment of inclusivity
Talent attraction and retention for members of diverse communities
Appealing to diverse customers - putting your business where they are instead of waiting for them to come to you
Improving the diversity of your suppliers and vendors
Resources and organizations that can help you further connect with different communities
Join us for the conversation, connection and education from an esteemed group of speakers who are working diligently to promote DE&I in the workplace and to improve our community as a whole.
Thanks to the generous support of our sponsors, this series is FREE and open to all. In order to receive the Zoom link for each session, pre-registration is required.
Series Schedule :
Session 1 - Thursday, September 29: 8:00-9:30am
Focus: What is Diversity, Equity & Inclusion and How Does It Affect Small and Medium Sized Businesses? High Level Panel Discussion with group of DE&I Professionals
Speakers:
Nolan Andersky - Head of DE&I Marketing, North America, Avery Dennison
Cathy Belk - President and Chief Executive Officer, Deaconess Foundation
Magda Gómez, Ed.D. - Executive Director, Diversity & Inclusion, Cuyahoga Community College
Session 2 - Tuesday, October 11: 8:00-9:30am
Focus: LGBTQ+ Community
Speakers:
Amanda Cole - Executive Director, Plexus LGBT + Allied Chamber of Commerce
Shanelle Johnson (she/her) - Sr. Deal Flow Associate, JumpStart Inc.
Tim Marshall (he/him) – Director, Digital Marketing Center & Assistant Professor, School of Business, Baldwin Wallace
David Robinson - Director of Events & Engagement, University Circle Inc.
Session 3 - Thursday, October 27: 8:00-9:30am
Focus: People with Disabilities
Speakers:
Krista Allison - Ms. Wheelchair Ohio 2022
Connor Kobilarcsik - Realtor, Russell Real Estate Services
Sera Nelson - Executive Director, W.A.G.S. 4 Kids
Rin Oliver - Software Engineer & Co-Chair of Neurodiversity Chapter, Disability Business Resource Group for U.S. Bank
Nick Walczak - Chardon High School Shooting Survivor
Session 4 - Thursday, November 10: 8:00-9:30am
Focus: BIPOC Community
Speakers:
Cynthia Connolly - Director of Programming, The City Club of Cleveland & Executive Board Member, Lake Erie Native American Council
CJ Harkness - Director of Spiritual Life (former Chief Diversity Officer), Baldwin Wallace University
Dr. Rachel-Yvonne Talton - CEO, Synergy Marketing Strategy and Research, Inc
Session 5 - Thursday, November 17: 8:00-9:30am
Focus: Women+
Speakers:
Barbara Daniel - Publisher/Editor, The Cleveland Women's Journal & Immediate Past President, NAWBO
Dani Esperanza - President, Athens Area Chamber of Commerce
Cindy Torres-Essell - Chief People Officer, Heinen's