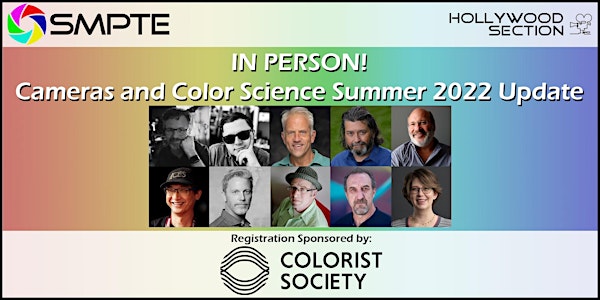 In Person! Cameras and Color Science Summer 2022 Update
Industry experts will explore the latest developments in camera color science and their impact on production and post-production.
When and where
Location
Academy of Motion Picture Arts & Sciences Linwood Dunn Theater 1313 Vine Street Los Angeles, CA 90028
About this event
SMPTE Hollywood to Highlight Advances in Camera Color Science
SMPTE Hollywood will explore the latest developments in camera color science and their impact on production and post-production at its monthly meeting slated for August 25th at the historic Linwood Dunn Theater in Hollywood. Doors open at 6:00 PM for on site camera demos and refreshments, followed by presentations and Q&A in the theater starting at 7:00 PM.
The event will include presentations from leading cinema camera manufacturers, ARRI, Blackmagic Design, Canon, and Sony. This will be followed by an open Q&A session with Colorists & Color Scientists from Arsenal FX Color, Margarita Mix, MTI Film and Picture Shop. Colorist Society (CSI) is SMPTE Hollywood's featured sponsor for the event, which is free and open to all.
Participants
Art Adams, Cinema Lens Specialist, ARRI, serves as an evangelist for ARRI's current and future lens products, including Signature Primes and Zooms, Master Primes, Master Anamorphic Primes, Ultra Primes and FSND filters. His previous experience includes 26 years as a cinematographer focused on commercial and visual effects, with occasional forays into corporate marketing, documentary, multi-cam and VR.
Tyler Rocheleau, Technical Sales Representative, ARRI, represents camera systems, specializing in camera stabilizer systems (CSS). He also works as a camera operator.
Bob Caniglia, Director of Sales Operations, the Americas, Blackmagic Design directs multiple sales channels for the DaVinci Resolve and Revival product lines. Having begun his career as an editor, producer and director, Caniglia has spent the past 20 years working for production and post production manufacturers, including senior sales roles with Panasonic, Quantel, Snell and DaVinci Systems. He joined Blackmagic Design in 2009.
Tor Rolf Johansen, Cinematography Product Specialist, Blackmagic Design, is a winner of six Emmy Awards for directing and producing, and one as director of photographer in the Los Angeles market. As a freelance cinematographer and stills photographer, he has worked for clients including Cedars Sinai, MedVa, The Beverly Hilton Hotel, Pinkberry, CJ Jeans, GWP, Neiman Marcus, InStyle Magazine, The Discovery Channel, KCET, ESPN, MTV and The Magic Johnson Foundation.
Michael Bravin, Fellow-Marketing Operations, Canon Burbank, based out of Canon's customer experience and training center. He has over 35 years of experience in broadcast, motion picture and television production, beginning as a producer/director, later as a technical engineer, educator, and on-set consultant, and as a technical marketing executive. He is an Associate Member of the ASC and SOC, a member of SMPTE and HPA and a founding member of the Digital Cinema Society.
David Doko, Technical Specialist, ITCG Marketing Operations, Canon, supports color processing and post workflows for Canon's cinema products. He promotes HDR reference display use on set and raises awareness of HDR imaging standards and ACES color management for Canon products. He previously worked in post-production at IMAX.
Simon Marsh, Senior Product Manager, Sony Electronics Solutions America, is responsible for VENICE digital cinema camera. He works directly with engineering and design groups in Japan to define product direction and new features. He also conducts daily interaction with the company's North American sales and marketing team to demonstrate and promote product solutions to customers and resellers.
Dan Perry, Sales & Business Development Manager, Sony Electronics Solutions America, manages sales of Sony Professional products on the West Coast and works with production companies as they transition to HD and file based workflows.
Colorists:
Doug Delaney, Senior Colorist, Picture Shop, has more than 100 credits as a colorist in film and television, including recent projects for Netflix, Hulu and NBC. Prior to joining Picture Shop in 2021, he spent three years at Technicolor. His background also includes posts at Deluxe, Sony Pictures and Post Logic Studios.
Michael Mintz, CSI, Senior Digital Color Timer at Margarita Mix has been color grading short- and long-form projects for theatrical and broadcast for more than 28 years. He currently serves as Senior Digital Color Timer at Margarita Mix, Hollywood, where his work spans episodic television, features, commercials and music videos. Recent credits include Life Below Zero (BBC Worldwide), Port Protection (National Geographic), Speechless (Fox) and Bless This Mess (Disney). He is also among the founders of Colorist Society Hollywood.
Steven Porter, Supervising Colorist, at MTI Film, has been a well-respected colorist since 1989. He has worked on many high-profile projects including Showtime's Weeds, a winner of an Emmy Award for Cinematography, and HBO's miniseries The Pacific, a nominee for an Emmy in Cinematography and winner of a Hollywood Post Alliance (HPA) Award for Outstanding Color Grading.
Rory Gordon, Senior Colorist, Arsenal FX Color, has a life-long passion for the science and art of image capture. She has worked on more than 20 television series as a colorist. She also writes and speaks regularly on bridging the gap between creative production staff and color scientists for the SMPTE Motion Imaging Journal, the HPA Tech Retreat and others.
Barry Goch and Linda Rosner will moderate.
6:00 PM Doors open for on site camera demos, refreshments and networking
7:00 PM Presentations and Q&A
Entrance to the Academy's Linwood Dunn Theater and parking lot is off Homewood Ave., one block north of Fountain Ave., between Vine St. and Cahuenga Ave.
AMPAS Linwood Dunn Theatre COVID Protocols
Maintaining health and safety protocols is critical to providing a safe environment for visitors and staff. The following policies are in place to keep you and our staff safe:
• Proof of Full Vaccination OR Negative COVID-19 PCR Test – In order to attend this event, guests must show proof of full vaccination OR a negative COVID-19 test which was taken within 72 hours before arrival. A person is considered fully vaccinated against COVID-19 at least 14 days after receiving their second dose in a two-dose series (Pfizer-BioNTech or Moderna) or at least 14 days after receiving their single dose of the Janssen (Johnson & Johnson) vaccine. Booster shots are not mandated. Digital vaccine records or physical vaccine cards are acceptable proof. Guests will also need to show a picture ID in association with their vaccination or test details.
Once attendees are approved to enter the building they will receive a colored wristband indicating they have been approved by the COVID check-in team. Attendees must always wear this wristband during the event.
• Face Masks – Out of an abundance of caution, face masks are required, regardless of vaccination status. Masks must be worn at all times. Except when eating or drinking. Masks must cover the nose and mouth completely, and must not have any exhalation valves, vents, or holes of any kind. Acceptable masks include medical grade surgical masks, KN95, N95, and KF94 masks. Cloth masks are not permitted. Masks will be provided at the door upon request.
• Symptom Check – Guests are required to undergo a verbal COVID-19 symptom check prior to entry. Visitors who are feeling sick or are experiencing COVID-19 symptoms (such as cough, shortness of breath, difficulty breathing, fever, chills, or any other symptoms), or who have had contact with anyone confirmed or suspected of having COVID-19, should stay home, regardless of vaccination status. Please note that visitors displaying COVID-19 symptoms will not be allowed to enter.
• Risk – An inherent risk of exposure to COVID-19 exists in any public place where people are present. The Academy follows all applicable public health orders and guidance, but by visiting, you voluntarily assume all risks related to exposure to COVID-19.
• Visitor Conduct – All visitors are required to follow the Academy's policies. Abusive, harassing, discriminatory, or threatening statements or behavior toward Academy staff will not be tolerated.
As always, SMPTE Hollywood meetings are free and open to all, even non-members.
Sign up to be notified about future SMPTE Hollywood Events: