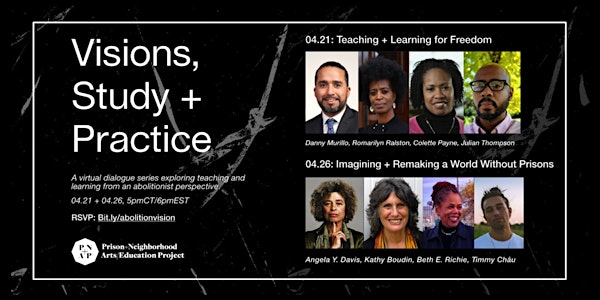 Imagining and Remaking a World Without Prisons: Visions, Study and Practice
A conversation renowned activists, organizers, and educators to reimagine a world without prisons.
About this event
In partnership with local and national community-based organizations that continue to lead the way to shape abolition – groups like Critical Resistance, Black & Pink, Love & Protect, Parole Illinois - Prison+Neighborhood Arts/Education Project (PNAP) is kicking off two years of programming with two events featuring key thinkers in conversation about teaching and learning, cultural work, and abolition.
Join us and learn from local and national organizers, cultural workers, educators, and scholars who are building radical teaching and learning pathways for currently and formerly incarcerated communities, sustaining crucial campaigns for freedom, and creating more just and beautiful communities.
This is the second event of a two-part series. We encourage you to register for Teaching and Learning for Freedom: Visions, Study, and Practice as well.
These events are free but if you have the resources and support the strong abolitionist work of PNAP please consider donating. Donate here.
Panelists:
Angela Davis
An author, activist, educator, and Civil Rights icon, Davis has authored 10 books that cover race, feminism, class, and the U.S. prison system including If They Come in the Morning: Voices of Resistance, Women, Race and Class, Blues Legacies and Black Feminism, and Freedom is a Constant Struggle: Ferguson, Palestine, and the Foundations of a Movement. Through her activism and scholarship over many decades, Angela Davis has been deeply involved in movements for social justice around the world. Her work as an educator – both at the university level and in the larger public sphere – has always emphasized the importance of building communities of struggle for economic, racial, and gender justice. Professor Angela Davis, distinguished professor emerita of History of Consciousness and feminist studies at the University of California, Santa Cruz, is an author of ten books. A political activist, scholar, educator, and founding member of the Critical Resistance, she continues her work focusing on social problems associated with incarceration and the generalized criminalization of those most affected by poverty and racial discrimination. An international lecturer known for powerful speeches and dialogue about injustice, Professor Davis has been involved in movements for social justice worldwide. Since the early 1970s, she continues to address racial injustice and social equity on an internationally recognized platform.
Beth Richie
Beth E. Richie is Head of the Department of Criminology, Law and Justice and Professor of African American Studies at The University of Illinois at Chicago. The emphasis of her scholarly and activist work has been on the ways that race/ethnicity and social position affect women's experience of violence and incarceration, focusing on the experiences of African American battered women and sexual assault survivors. Dr. Richie is the author of Arrested Justice: Black Women, Violence and America's Prison Nation (NYU Press, 2012) which chronicles the evolution of the contemporary anti-violence movement during the time of mass incarceration in the United States and numerous articles concerning Black feminism and gender violence, race, and criminal justice policy, and the social dynamics around issues of sexuality, prison abolition, and grassroots organizations in African American Communities. She has been awarded the Audre Lorde Legacy Award from the Union Institute, The Advocacy Award from the US Department of Health and Human Services, and The Visionary Award from the Violence Intervention Project and the UIC Woman of the Year Award. Dr. Richie is a board member of The Institute on Domestic Violence in the African Community, The National Network for Women in Prison, A Call To Men and a founding member of INCITE!: Women of Color Against Violence. In 2013 she was awarded an Honorary Degree from the City University of New York Law School and in 2014 she was appointed as a Sr. Advisor to the NFL to work on their domestic violence and sexual assault prevention program.
Kathy Boudin
Kathy Boudin is the Ed.D, Co-Director and Co-Founder for the Center for Justice, the Director of the Criminal Justice Initiative, and Adjunct Lecturer at the School of Social Work at Columbia University. Dr. Boudin's work focuses on the causes and consequences of mass incarceration and the development of strategies to transform the current criminal justice system in the United States and to deal with the day-to-day damage that the system has caused. Dr. Boudin, working with other women with whom she was incarcerated during her 22 years in prison, focused on strengthening mother-child relationships across the separation of incarceration including building the Teen Time program; bringing back college to Bedford Hills after the ending of the Pell grants; and on the HIV/AIDS epidemic. She received her undergraduate degree from Bryn Mawr College, her master's degree from Norwich University, and her doctoral degree from Columbia University Teachers College.
Timmy Chau
Timmy Chau is a Vietnamese organizer, lawyer, and facilitator based in Chicago. His work seeks to challenge all forms of militarism, policing, and imprisonment. He is Managing Director of the Prison + Neighborhood Arts / Education Project (PNAP) and Co-Founder and Advisory Committee member of Dissenters, a new national youth-led anti-militarist organization. Timmy's organizing methodology incorporates a restorative and transformative justice lens, and this reflects his broader commitment to anti-violent approaches to addressing harm. He believes in developing strong leaders, building popular movements, and changing systems.