Description
The Multiversal Narrative is an attempt to understand the multiversal theory within the lens of story telling. In this workshop led by artist Alan Clarke, participants will create a multiversal history, using death as the constant that threads each potential narrative together, demonstrating metaphorically the parallel histories that exist in between quantum states. Drawing materials will be provided and participants are welcome to bring anything additional they would like.
---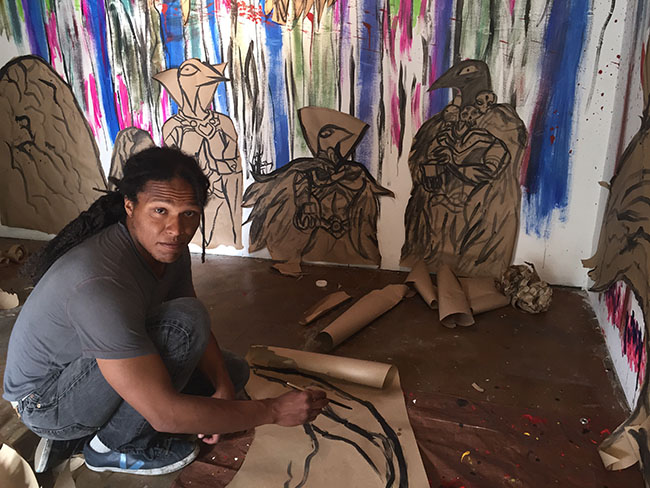 Graphic novelist and painter Alan Clark studied thermal dynamics and theoretical physics at Georgia State University. Born in New York, Clark moved to Oakland in 2013 to work on his second book, The Black Panther Party for Self-Defense, a graphic novel history of the Black Panther Party, which you can follow at dailyearthpost.com. Clark was the Artist in Residence at Krowswork in the fall of 2015, the exhibition for which can be seen at http://www.krowswork.com/alanclark.html.
---
The workshop is part the exhibition, Dimensions of Time and Space, by Lauren Marie Taylor, running concurrently with Thoughts on the Cyanometer, by Lindsay Tunkl. The two projects, classified by StoreFrontLab as The Unknown: Inquiries + Assertions, probe metaphysical and cultural pursuits into the meaning of existence.
Dimensions of Time and Space is an exploration by Lauren Marie Taylor of the cultural constructions—historical, scientific, spiritual and metaphysical—that shape our understanding of what we experience as time and space. Through weekly workshops led by artists and thinkers, the public is invited to participate in the investigation. Youth groups are invited to reflect on their own understandings of time and space. Over the month, the StoreFrontLab project space will become a laboratory for presenting these ongoing inquiries.
Thoughts on the Cyanometer
Collectively and individually, humanity has always strived to understand their existence in a world that often eludes them. Through a month long installation and a one night presentation in StoreFrontLab's new annex space, Lindsay Tunkl invites the viewer to explore constructs such as time, metaphysical inquiries, and art's attempts at making sense of our existence in an interrogation of humanity's many attempts to quantify the unquantifiable.