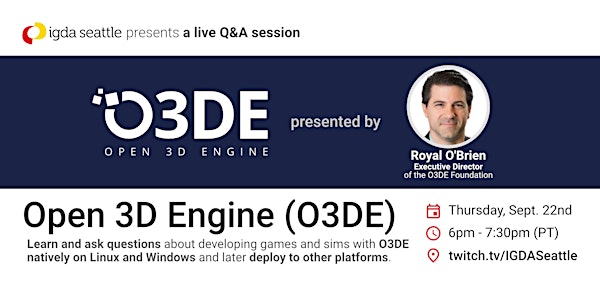 IGDA Seattle: Live Q&A about the Open 3D Engine (O3DE) with Royal O'Brien
Learn about the Open 3D Engine (O3DE) for developing games and sims! Presented by Royal O'Brien, Executive Director of the O3DE Foundation.
About this event
IGDA Seattle is hosting a live Q&A with Royal O'Brien, Executive Director of the O3DE Foundation to present its Open 3D Engine (O3DE), permissively licensed and targets a variety of platforms including consoles. Our host for the talk will be Ariana Marcassa Kim, Board Member at IGDA Seattle.
Throughout the Q&A session, Ariana will pose questions to Royal that explore a variety of topics surrounding the engine. Viewers can submit questions via chat for Ariana to ask as well!
The talk will be streamed live on twitch.tv/igdaseattle.
NOTE: ASL Interpretation is normally a part of online events at IGDA Seattle. Unfortunately, it will not be available for this stream.
About the Presenters
The Speaker - Royal O'Brien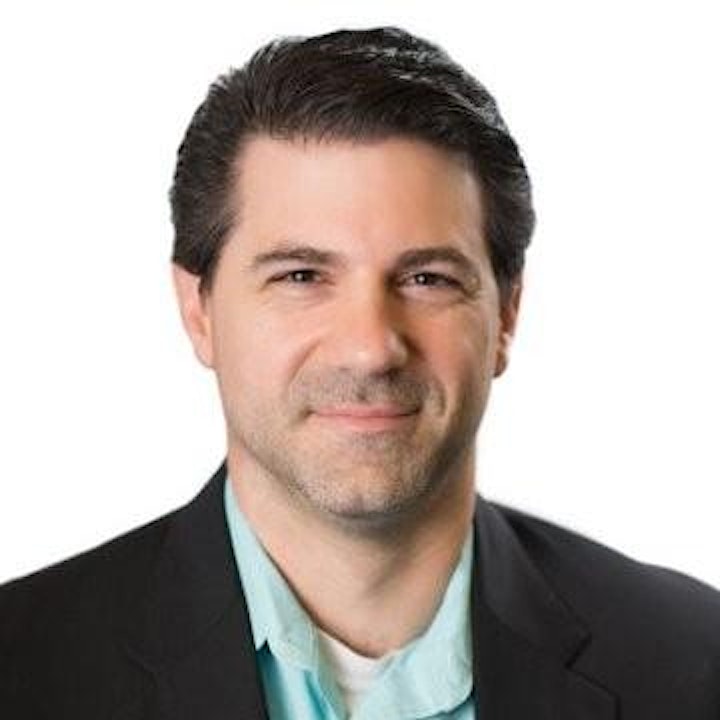 As a business and engineering veteran with over 30 years of experience in the corporate enterprise and video game industries, Royal O'Brien has founded several companies, helping develop, license and patent multiple technologies to various Fortune 500 organizations.
As a part of the Linux Foundation, Royal works with the community and its partners to create business opportunities that are synergistic with open source practices for initiatives within the Open 3D Foundation.
Prior to his tenure at the Linux Foundation, he served as the Game Tech Chief Evangelist at Amazon, working directly with product leads and the executive team to define the overall vision and strategy for the Open 3D Engine. He was responsible for delivering the open-source project, plan, license, timeline, and features for the preview and final release.
Before his time at Amazon, Royal served as an executive and serial entrepreneur responsible for corporate development, VC funding, and enterprise negotiations focused on strategic marketing initiatives. He has also proudly served our nation as a US Marine.
The Host - Ariana Marcassa Kim
Ariana connects people with jobs and supports leaders in building highly functional teams and workplaces. HR and Recruiting in the game development industry is a huge opportunity to support others. She is passionate about helping people achieve create incredible products made possible through teamwork.
Additional Information
About the Open 3D Engine (O3DE)

The Open 3D Engine is an open-sourced Apache 2.0/MIT permissively licensed 3D engine that is a complete, end to end solution.for building games and simulations.
It supports Linux native and Windows development environments, can build iOS, Android, Mac, and Console packages and is completely modular to support any component in any commercial or open source engine.
IGDA Seattle
IGDA Seattle is a local chapter of the International Game Developers Association, a 501(c)(6) non-profit professional association and a global network of individuals from all fields of game development - from programmers and producers to writers, artists, QA and localization.
For more information, visit IGDASeattle.org or find us on Twitter (@IGDASeattle).